Diego Costa's late goal earned Chelsea a 2-1 win over West Ham in Antonio Conte's first Premier League game in charge. The intensity of Costa's performance was just one of a number of positive signs for Conte, writes Adam Bate...
Chelsea's acquisition of N'Golo Kante has already been heralded as one of the most significant signings of the summer. The midfield dynamo was a huge part of Leicester's title success and the expectation is that he can help transform the Blues of London too.
Kante certainly impressed on his debut, completing 54 of 57 passes and frustrating West Ham with his typically combative approach. He was the only Chelsea player to win possession of the ball more times than he lost it.
But this was not quite the same Kante who was making more sprints per game than any Leicester player last season. With the new man playing a holding role, the thrust in Chelsea's play had to come from the team rather than any individual. Despite the other 10 players all having started in the opening game of Chelsea's disastrous title defence last season, it did.
"I think the team played a good game with a great intensity," Conte told Sky Sports afterwards. Kante made 28 high-intensity sprints on his debut at Stamford Bridge but there were seven Chelsea players who made more of them.
Chelsea's intensity
Only Liverpool (585) made more high-intensity sprints than Chelsea (510) in the first round of Premier League matches.
Indeed, only Jurgen Klopp's Liverpool made more high-intensity sprints in the Premier League on the opening weekend. Interestingly, no individual player made more of them than Chelsea forward Diego Costa.
On Monday Night Football, Gary Neville described this as typical Costa - "involved in everything, angry, snarling" - and while he was fortunate to stay on the pitch for a challenge on West Ham goalkeeper Adrian, this was a far cry from the lacklustre figure of a year ago. In fact, he made more sprints than in any game last season.
Most sprints in Premier League 2016/17
| | | |
| --- | --- | --- |
| Diego Costa | Chelsea | 82 |
| George Boyd | Burnley | 76 |
| Sadio Mane | Liverpool | 75 |
Costa's fitness wasn't the only issue. Conte had pointed out in Friday's press conference that he didn't want his striker to go wandering, instead asking him to be the team's "point of reference". But here he was both - running everywhere but providing a target too.
"I like the spirit of Diego," said Conte. "He always shows great passion. I'm the same. I'm seeing a good attitude from Diego to work and to improve in different situations. I think Diego can give a lot to this team. I'm sure he'll have a good season." This was some start.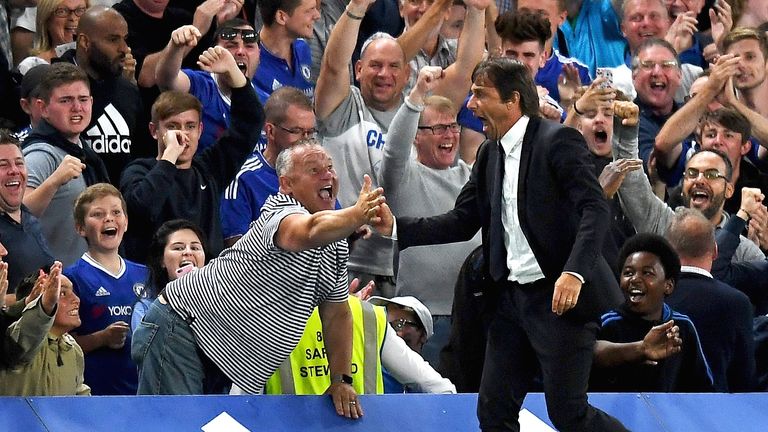 Touchline watch
Antonio Conte's animated antics in the technical area seem certain to endear him to the home supporters. There were high fives with the front row following Diego Costa's winner.
Hazard too has made a very different start to this season, picking up his man of the match award having confidently opened the scoring from the spot. "Last season is finished," he told Sky Sports afterwards. "Now we are looking forward to the future."
Despite impressing, Hazard's levels appeared to dip in the period prior to West Ham's unexpected equaliser, thinking the game had been won. No team conceded more equalisers at home last season than Chelsea and it's the sort of habit Conte must break.
Here, he was proactive. Conte made what Neville described as the first of two big calls by substituting Hazard. The second was the decision to switch to a 4-4-2 formation by bringing on striker Michy Batshuayi to partner rather than replace Costa in attack.
Conte recently spoke of having "found two different tactical solutions" and it certainly helped provide the answer to beating West Ham as a long ball up to Batshuayi eventually found its way to the feet of Costa who drove the ball beyond Adrian low into the net.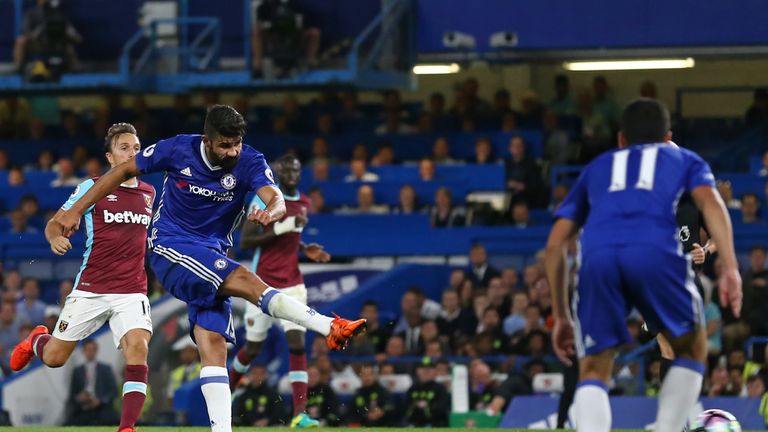 "It was classic centre-forward play with two strikers," said Neville. "Credit to Conte for putting them up top together." Jamie Carragher added: "It does look like at times he's going to use two front men. That shows it can work." It was certainly an encouraging start.
John Terry spoke afterwards of Chelsea relying upon Hazard too much last season. But this team effort put paid to the theory that any one player will carry that burden in 2016/17. It seems that it's Conte rather than Kante who will be the man to get Chelsea playing.