Was Chelsea's defeat to Arsenal the day they won the Premier League?
Last Updated: 04/02/17 12:33pm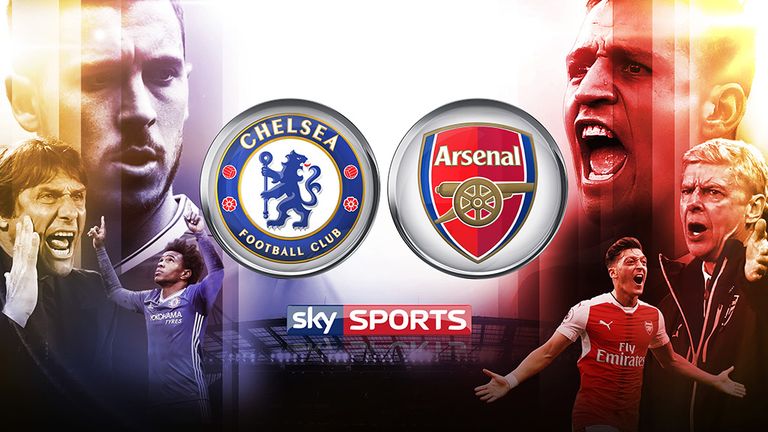 Chelsea's heavy defeat to Arsenal in September was the pivotal moment in the season, writes Adam Bate.
Chelsea's 3-0 defeat to Arsenal in September felt at the time like a defining victory for the victorious manager. It was Arsene Wenger's 20th anniversary game, his first win over Chelsea in five years and, by his own reckoning, Arsenal's best performance in years.
But a little over four months on and with the two teams set to meet again on Saturday, it has become obvious that the result was far more significant for Wenger's opposing manager. In a sense, that day at the Emirates could prove to be the day that Antonio Conte won the title.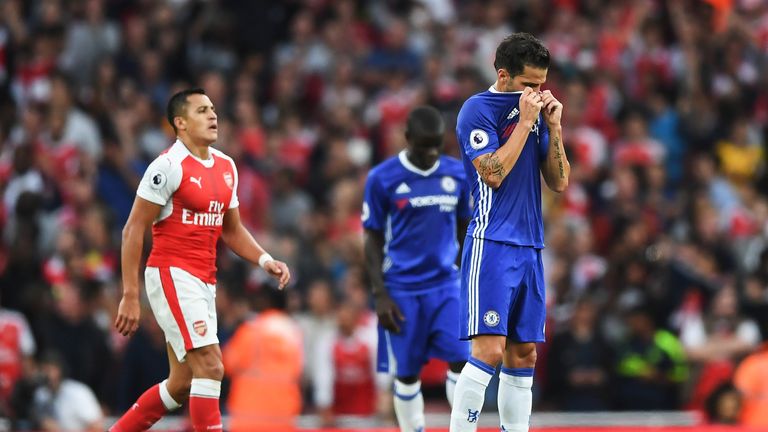 The Chelsea boss was raging afterwards. Having seen his side dismantled in the first half, Conte called it "a disaster" and pointed to the "bad attitude" of his players. But he also took the blame himself, admitting that he now understood the difficulty of the Premier League.
"If we want to come back very soon," he said, "to fight for something important in England, it is important to improve."

So would he have sleepless nights? "When I don't sleep, I reflect," he added. "And it's important to reflect. I have to find the solution very, very soon."
With Chelsea having conceded nine times in four matches, Conte spoke of the need to get a "good balance" in defence and attack. "I have to solve the situation," he concluded. "Two at the back, three at the back, four at the back, I don't care. I just have to solve this."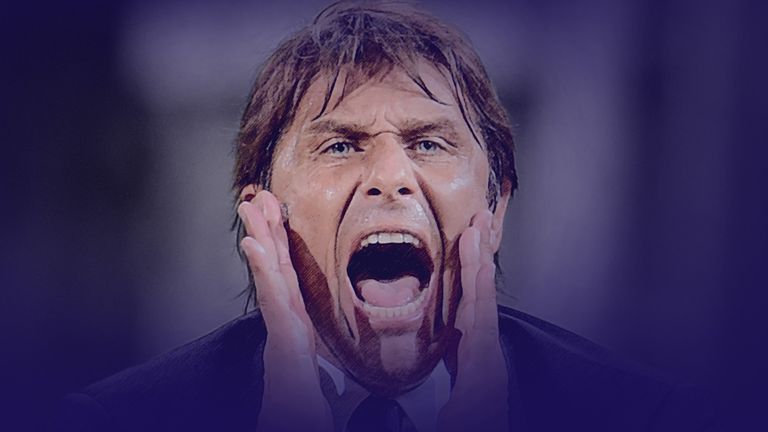 I have to solve the situation. Two at the back, three at the back, four at the back, I don't care. I just have to solve this.
Antonio Conte after the Arsenal defeat
And solve it he did. Sticking with the 3-4-3 formation that he switched to in order to stem the tide in that second half at Arsenal, Conte and his team promptly embarked on a run of 13 consecutive Premier League victories - equalling the record in the competition.
Chelsea go into Saturday's game having won 15 of their last 17 league games. Astonishingly, they have conceded only seven goals in that period. Most importantly, of course, they are nine points clear at the top of the table with the Premier League title in their sights.
What changed? Speaking to Thibaut Courtois at Cobham soon after, he was adamant that the tactical tweak was the key factor in the turnaround. "I think it is the system," he told Sky Sports. "We decided to go to three at the back. Since then we have trained it constantly."
Courtois acknowledged that this was not a masterplan that had been formulated in pre-season. When Oscar spoke of Chelsea having "two formations" ahead of the campaign, he meant 4-3-3 and Conte's favoured 4-2-4 that they had worked on in Austria in July.
"I wanted to start this way because when you have strong wingers, I like to play with two strikers very close," explained Conte. "But then I changed." He added: "When you lose, it's important to have a good idea and change to improve and explain why you had this defeat."
This explanation almost suggests that Chelsea's formation change had a placebo effect on the team. Perhaps like Dumbo with his 'magic feather' they just needed something to cling to that would convince the players that they could soar.
Certainly, Willian's words on the subject suggest that faith in the new formation was crucial to its success. "The manager has given us a lot of confidence," he told Sky Sports. "We always have a plan going into the game. We have to trust in the plan and we've done that."
But it is obvious that there were practical advantages to the switch too. There have only been two personnel changes between the team that lost to Arsenal and the one that has dominated the Premier League since then but both have been significant.
Branislav Ivanovic was the stand-in skipper that afternoon but it was the last Premier League game that he would start for the club. A bit-part player from that point onwards, he ended his nine-year stay at Stamford Bridge in midweek by joining Zenit St Petersburg.
Many attributed Chelsea's hitherto defensive sloppiness to John Terry's absence but Conte found a new solution with the introduction of wing-backs. Victor Moses and Marcos Alonso have come in and not only set a trend but got others into better positions.
In particular, Eden Hazard has been unleashed, revelling in his new freedom. Pedro is finding the positions for which he was famous at Barcelona. All made possible, of course, by taking advantage of N'Golo Kante's unique ability to make a two-man midfield appear impenetrable.
Only Cesc Fabregas has lost out but Conte's concern is the team. "I think this is the right way for the players," he has said of the new system. "It is a good fit for the team. We have found a good balance." And crucially, opponents have struggled to find a way to stop it.
Presented with a different problem, teams who face Chelsea must deal with players popping up in awkward positions or adapt their own approach. Numerous sides have looked to match up but with mixed success. Everton and Leicester tried it and lost 8-0 on aggregate.
Having practiced this 3-4-3, memorised its movements and nailed it, Chelsea are enjoying first-mover advantage. As Conte puts it: "When you change the system, you change the situations." Having hit upon something that works, Conte is in no mood to loosen his grip.
After all, Chelsea's formation, the confidence that the players have in it and the problems it is causing for others, has become arguably Conte's greatest weapon. And curiously, it is a weapon that was constructed amid the carnage of that September defeat in north London.
Grab a NOW TV Sky Sports Day Pass and watch the top of the table clash, Chelsea v Arsenal, for just £6.99. No contract