Cesc Fabregas insists he "100 per cent" sees himself at Chelsea next year and has not had any thoughts of leaving the club this season.
The 29-year-old's future at Stamford Bridge has been subject to speculation after seemingly falling out of favour with head coach Antonio Conte. He has started just five Premier League games this season and has largely been used as a substitute.
However, the Spaniard told Sky Sports that he is relishing the challenge of trying to force his way into Conte's starting XI on a regular basis.
Asked if he sees himself at Chelsea next season, he said: "100 per cent. I am not thinking about anything else than challenging myself here. The situation from six months ago to now has changed massively.
"From the beginning it has been a big challenge and there are always rumours, you cannot stop that, but I don't even care what people say. Not for one second did I want to leave.
"Sometimes it's so easy, you don't play two games, you get frustrated and upset and want to move somewhere else, but for me it's the opposite; I want to challenge myself.
"I know in my brain what I can do and if I am better than others or not. I know what I can bring to this team and by improving and listening to the manager and what he wants and doesn't want, I know myself what I can give.
"I have been proving myself every time I have had a chance and I will not stop until I play every game which is what I want."
The impressive form of midfielders N'Golo Kante and Nemanja Matic has largely restricted Fabregas' opportunities but he insists he is determined to prove himself.
"It's been shown in many games this year, even when I have come on for five minutes, I have done something to make a change in the team," he said.
"The most important thing is when you have the chance you take it and I think I have done that throughout the season. It's a challenge to be ready every time the coach needs you and then change his mind and trust you more and make it into the team.
"You always have to compete against players. Sometimes you are on the pitch and have to compete with players so they don't overtake you. This season it has been the other way around, I have had to compete more in training or in the little minutes I had to prove myself to try to be in the starting XI.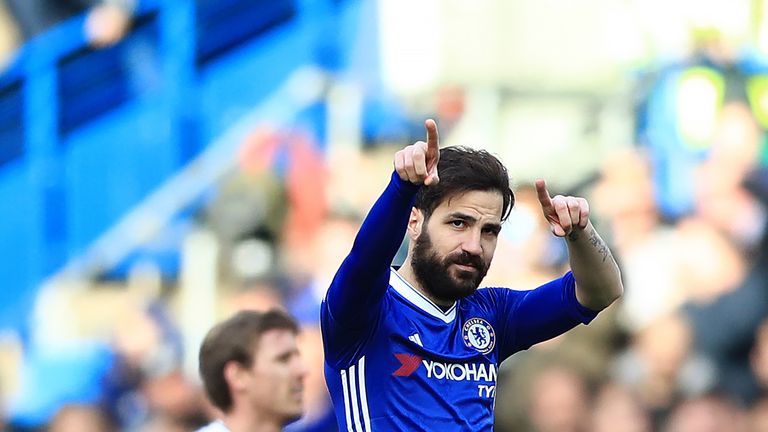 "Now I am playing much more than at the start of the season and hopefully I am changing the manager's mind a little bit and can get many more starts."
Fabregas is in line to make his 300th Premier League appearance on Saturday when Chelsea host Swansea, looking to extend their eight-point lead at the top of the table.
The midfielder made his debut with Arsenal in 2003 and, after three seasons in Spain with Barcelona, returned to England when he signed for Chelsea in 2014.
"I started very young and worked very hard every season to be here today," he says. "You have to be the best every single game otherwise someone else will come in, the manager will change you, or the team will not want you anymore.
"Some of the best players in the world are playing in the Premier League and to always be on top is not easy every year, that's what makes me most proud, to be at the top of the game for so many years from a young age, I have had to work really hard for it."
Reflecting on Chelsea's form and what they need to do in the final few months of the season to win the title, Fabregas' message is simple: don't look too far ahead.
"You have to think it's still the beginning and you have to win every game," he said.
"Sometimes when you get closer you start to make calculations and think we have to win this many games. That's the first big mistake. You have to go game by game. It's not good to start thinking too far ahead.
"We are focused on the same direction and want to win. We want to have a fantastic season and for that we need everyone together."
Watch the interview with Cesc Fabregas on Soccer Saturday from midday on Sky Sports News HQ.
New customers: Grab a NOW TV Sky Sports Month Pass for £20pm for the first two months and catch a blockbuster period of live Sky Sports action. No contract.