Antonio Conte says young players have to be ready at Chelsea to get chance
By Sky Sports News
Last Updated: 26/08/17 11:47pm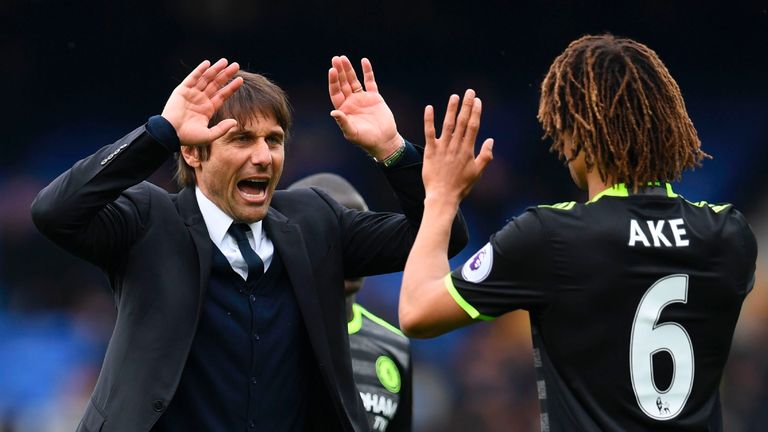 Chelsea boss Antonio Conte has defended his record at nurturing young talent but insists they have to earn their opportunities.
Having admitted new signings are needed to help retain the Premier League title with Alex Oxlade-Chamberlain and Danny Drinkwater on top of his list, Conte has been criticised for allowing several young stars leave Stamford Bridge.
Tammy Abraham, Ruben Loftus-Cheek, Kurt Zouma and Ola Aina have gone out on loan, while Nathaniel Chalobah, recently called up for England's senior squad, and Nathan Ake have moved to Watford and Bournemouth.
Speaking ahead of Sunday's showdown with Everton, Conte said: "I put Paul Pogba at 18 into the Juventus team, for Claudio Marchisio. But you must have players who are ready to play regularly with Chelsea, a great team.
"Otherwise, it's very difficult to make this decision. You must decide if you want to fight for the title or develop your young players. Two different ways.
"Show me young players who deserve to play regularly for Chelsea and I'm ready to pick them. Don't forget my first game in Serie A, I was only 16. I'm the first person open to do this because another coach did this with me.
"But, I repeat, you must have the possibilities to do this. Not to invent them."
Few could question the depth of young talent at Chelsea having won the FA Youth Cup in four successive years and conquered Manchester City in last season's final and Conte suggested the club's loaning activities would not stop.
"It's very important the young players are ready to play. Otherwise, you provoke damage to the players. Also to the club and the team," added Conte who singled out Everton's Wayne Rooney and Manchester United's Marcus Rashford as rare gems to blossom as teenagers.
"Usually in this type of football, there is a path for the young players. It's very difficult to see players when they are 16, 17, 18 years old playing regularly. And they have to develop and then come back to play regularly with a great team. This is the right way.
"I repeat, I like to work with young players. Last season, if you saw our squad, we had eight players from the academy and we won the League with eight players from the academy, and 14 or 15 senior players."