Maurizio Sarri's 'Sarriball' at Chelsea: The stats that show the system is failing
Chelsea face Manchester City in the Carabao Cup final on Sunday, live on Sky Sports Football at 4:30pm
By Ben Grounds
Last Updated: 19/02/19 5:09pm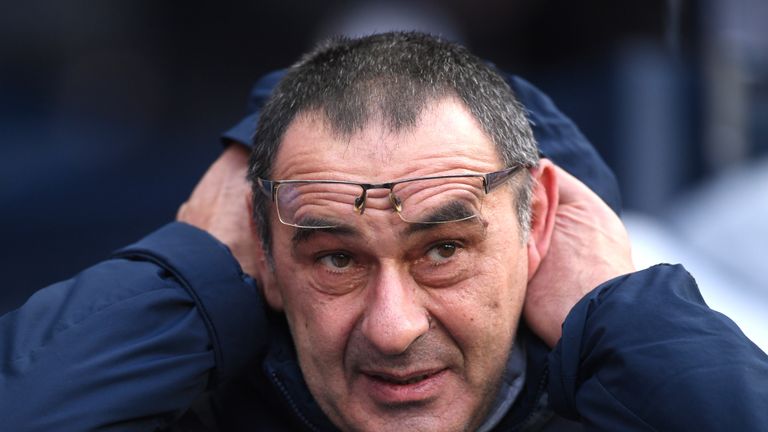 Maurizio Sarri began brightly at Chelsea, but the stats show how things have gone drastically wrong, writes Ben Grounds.
Deep into stoppage time, Maurizio Sarri issued one final instruction to his players. He was captured repeating the message several times, but the Italian was drowned out by the din coming from a bouncing Shed End at Stamford Bridge.
Manchester United are reborn under Ole Gunnar Solskjaer, but they were not the only supporters making their feelings known at the end of a convincing FA Cup fifth-round win.
Some Chelsea fans have had enough, bored of the style of football under their head coach, the manner of each defeat the same as the last. Sarri, though, still has belief in his system.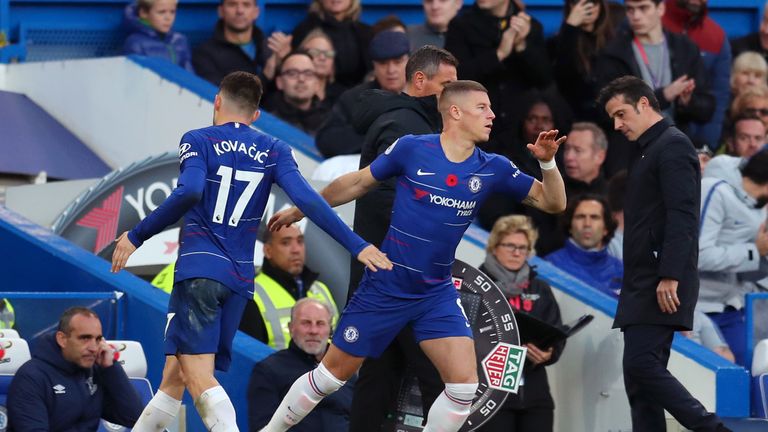 Predictable Sarri
The Manchester United defeat saw the 20th time this season that Ross Barkley and Mateo Kovacic have interchanged in a substitution.

Since the 3-1 defeat to Tottenham in November, Sarri has only made four changes in the league that have not been like-for-like.
He said: "I'm concerned about the results, of course. I can understand the fans because the result was no good, of course. I am worried about the results but I have to work on my players, not on the fans."
When pressed on whether he should look to adopt new tactics, Sarri added: "I don't think so, personally. I'd like to see this football played in the right way, and then we can change.
"We played confused football in the second half but in the first half we played well.
"I'm worried about the result but not about the fans' reaction because I understand the situation. I was really worried when I was in League Two in Italy, not now."
A nervous smile broke across Sarri's face, but the stats suggest he needs to be worrying, or at least seek a different approach:
Chelsea failed to score for only the second time in their past 51 home games in cup competitions, also drawing a blank against Arsenal in the League Cup semi-final in January 2018 (0-0).
Chelsea only attempted two shots on target, with both coming in the 11th minute.
Sarriball is built around possession-based football, but Chelsea are struggling to break down teams prepared to sit in and adopt counter-attacking tactics:
PL 2018/19 10+ Pass Sequences (Open Play)
| | |
| --- | --- |
| Manchester City | 661 |
| Chelsea | 556 |
| Liverpool | 505 |
| Tottenham | 407 |
| Arsenal | 376 |
| Manchester United | 335 |
PL 208/19 Build Up Attacks
| | |
| --- | --- |
| Manchester City | 194 |
| Liverpool | 112 |
| Chelsea | 103 |
| Arsenal | 83 |
| Tottenham | 77 |
| Manchester United | 64 |
PL 2018/19 % of 10+ Passes Sequences Leading to a Shot or Touch in the Opposition Box
| | |
| --- | --- |
| Cardiff City | 30.0 |
| Manchester City | 29.3 |
| Crystal Palace | 25.1 |
| Southampton | 22.5 |
| Liverpool | 22.2 |
| Arsenal | 22.1 |
| West Ham | 20.7 |
| Manchester United | 19.1 |
| Tottenham | 18.9 |
| Chelsea | 18.5 |
Chelsea are building a similar number of possession chains as Liverpool and Manchester City, but compared to those two title contenders, not many of those passing sequences are resulting in chances being created.
In September, Chelsea dropped their first points of the season when they were held to a 0-0 draw at West Ham in a game that would act as a precursor for what was to come under Sarri.
Jorginho broke the Premier League record for attempted passes, 180 in total, but the midfield metronome failed to cut through the West Ham defence with any of them.
It left many Chelsea supporters baffled, and if they were unimpressed then by what Jorginho had to show for all of his touches, worse was to follow when opponents found a way of minimising his time on the ball.
Teams began to man-mark the Italian, with Gylfi Sigurdsson nullifying his influence during Everton's 0-0 draw at Stamford Bridge, and when Tottenham brought about a defeat in November, Jorginho's inability to replicate the defensive shield of N'Golo Kante was brutally exposed by Heung-Min Son.
Chelsea's season has quickly unravelled since that match and they have now lost half of their past 10 games in all competitions (W5 L5); as many defeats as they suffered in their previous 41 (W28 D8).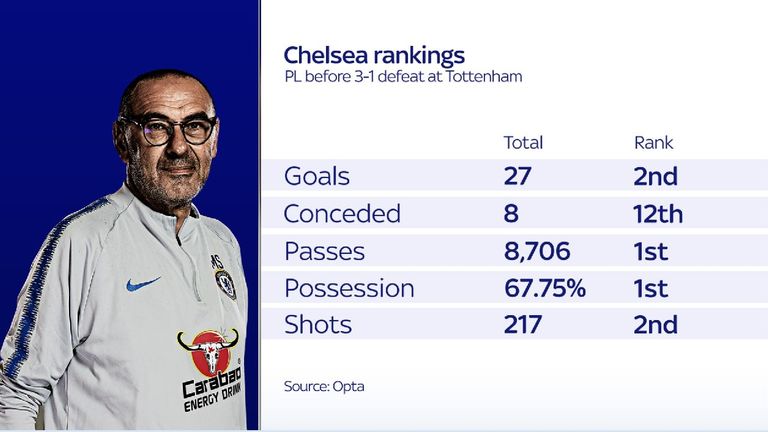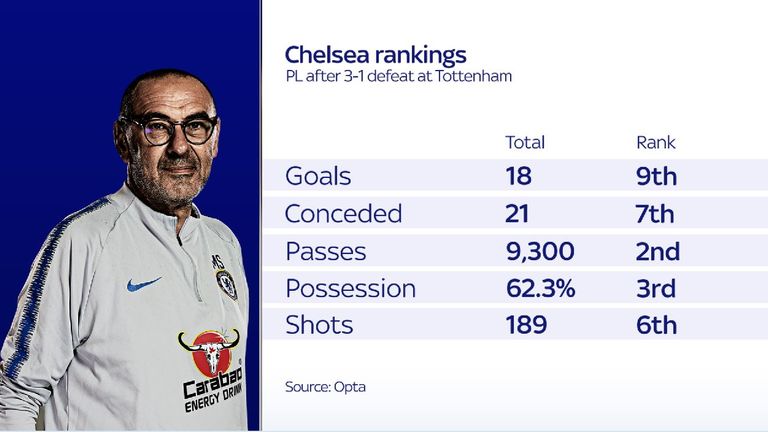 As supporters spilled onto King's Road on Monday night, there were calls for Frank Lampard to return as a manager, having seen the impact a former player can have on lifting the mood with their very own eyes.
But Italian football expert Adam Digby believes Chelsea must now back Sarri in the same way Napoli did previously.
He told Sky Sports: "The key thing with Sarri for me is he's 60 years old - he is who he is at this point. He's been the same before Napoli and he'll be the same for as long as he keeps coaching. The players at Chelsea are used to things being done a certain way.
"Until those players buy into Sarri's philosophy, it's never going to be successful. He doesn't have a Plan B, much like Jurgen Klopp and Pep Guardiola.
"These managers who have their own philosophy and approach, that is who they are, they don't compromise on that. They don't have a Plan B because they don't expect Plan A to fail.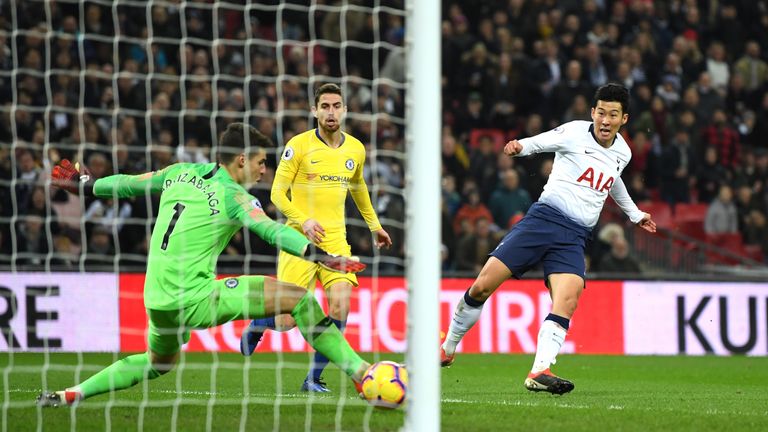 "Sarri's system is very rigid, it's very dogmatic. At Napoli, it took him 18 months to get the team working the way that he wanted - the side that, according to Guardiola, was the best he had faced last season.
"The people who appointed him at Chelsea have to have known that. He needs time, because if you don't give him that, then it was a waste of time appointing him in the first place.
"It was always going to be a long-term solution to a big problem at Chelsea. It was never going to be an overnight success."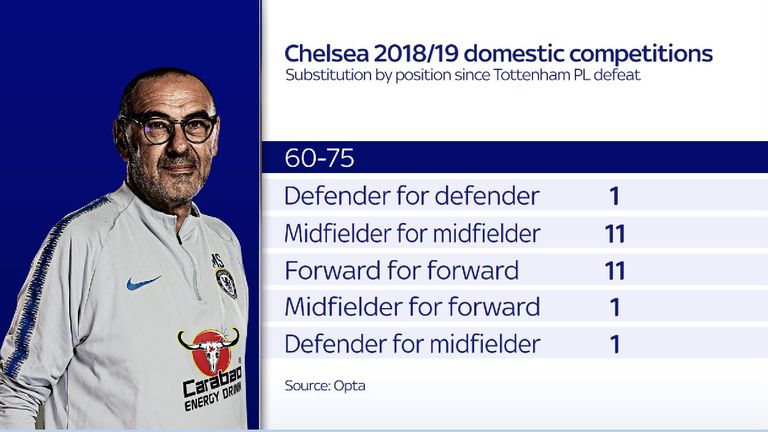 Chelsea are used to cycles, and February has been a time when previous poor results has led to a change in manager, with Sarri's struggles already having been compared to those of Andre Villas-Boas and Luiz Felipe Scolari.

While the recent 6-0 defeat at the Etihad has left wounds that are yet to heel, Chelsea found a way of beating Pep Guardiola's side in the reverse fixture in December.
Sunday's Carabao Cup final is the perfect opportunity for Sarri to silence his critics - but he may have to lift the trophy now in order to save his job.
When asked if the Wembley showdown is must-win for Sarri, Matthew Le Tissier said: "It's increasingly looking that way, and even then, if they finish sixth, I'm not sure even winning the EFL Cup could save him his job.
"It's just a bit predictable watching Chelsea at the moment. The way that they play is predictable, and especially the substitutions they make are predictable, and it just doesn't seem like there's a Plan B there when things are not going right for them."