Maurizio Sarri's Chelsea future: He has lost the support of the fans
Chelsea are out of the FA Cup after defeat to Manchester United
Last Updated: 19/02/19 2:45pm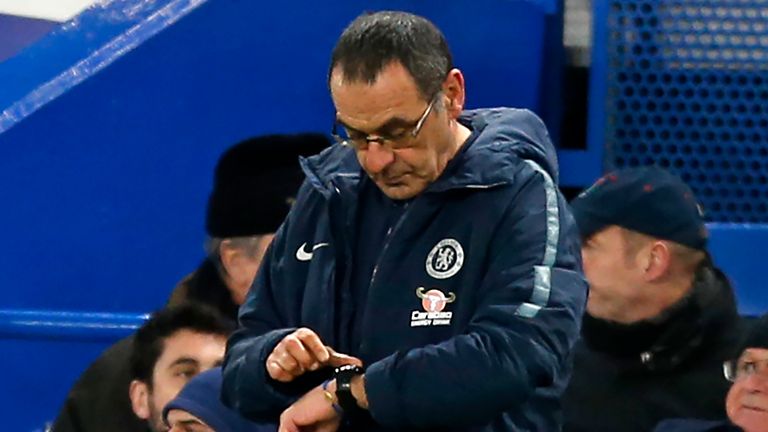 Defeat to Manchester United saw large sections of the Chelsea support turn on Maurizio Sarri. Adam Bate was at Stamford Bridge to see it and wonders if there is any way back for the Italian now...
Chelsea change their coach quite often but it is rarer to see the supporters turn on them. They have usually been sacked before then. So the sight and sound of Stamford Bridge treating Maurizio Sarri with derision made for an awkward evening as his Chelsea team were dumped out of the FA Cup courtesy of a 2-0 defeat to Manchester United.
The key moments in the match came before the interval as Paul Pogba set up one goal for Ander Herrera before scoring the second himself, but the key moment as far as Sarri's future is concerned came after the break. His decision to yet again replace Mateo Kovacic with Ross Barkley seemed to sum it up for supporters. This is a man out of ideas.
There were jeers when Kovacic's number 17 lit up on fourth official Andre Marriner's board but they soon morphed into boos. Seconds later there were loud chants from the Matthew Harding Stand that, to put it delicately, suggested that these fans have rather had enough of Sarri and his football. "You're getting sacked in the morning" was their next offering.
When the details of those chants were bluntly put to Sarri in his press conference, he admitted this was a new experience for him. "For everything, there is a first time," he said. That prompted uncomfortable laughter all round but the serious problem for the Italian is that the solution appears beyond him. "We played confusing football," he added.
Sarri's stubborn commitment to his philosophy is admirable in some respects but that isn't the first word that springs to mind when he is making a like-for-like switch at right-back late in the game while Callum Hudson-Odoi sits it out on the bench. The definition of insanity and all that. It is increasingly difficult to see how exactly Sarri hopes to turn this around.
His immediate plan is "to work with the players to improve in a few days and find more determination and aggression" but a few days is all he has. Pre-season has been and gone. There is no time to regroup. It's Malmo on Thursday and Manchester City on Sunday - a cup final against the side that hit them for six just days ago feels more like a threat than an opportunity.
Pressed for details on what needs to change for Chelsea to play his brand of football, Sarri did offer some insight. "We need less individual actions," he explained. "When you have spaces, of course you can do individual actions. But when the situation is like it is in the second half, you need to move the ball faster and make more movements without the ball."
That's pretty fundamental and there are still few signs of it. The reference to individual actions might be interpreted as a veiled dig at Eden Hazard's attempts to open up the United defence on his own, but Chelsea's star man seldom seemed to have any other options at his disposal. Hazard's magic is one of the few things this team has going for it.
Asked whether the players are still with him, Sarri said: "I think so. Of course, I am not sure, but I think so." Just as worryingly, he could name only David Luiz when asked to list the leaders in the dressing room. It hardly helps his cause that some of the bigger weaknesses at Chelsea right now appear to be those players who have arrived on his watch.
As a result, with confidence being eroded by the week and belief in the manager's methods appearing to wane, this does not look or feel like a team that just needs more time. Chelsea seem to be further away than ever from producing the football that Sarri was expected to deliver. The fear now must be that there is no way back for him at Stamford Bridge.
Sarri's struggling signings
Jorginho
Jorginho was supposed to be the conduit through which Sarri's football would flow but Ole Gunnar Solskjaer became just the latest coach to block the midfielder. Juan Mata was the man tasked with the job. As early as the seventh minute there were groans when Jorginho lost out in a challenge with the Spaniard. "He ran his socks off," said Solskjaer afterwards.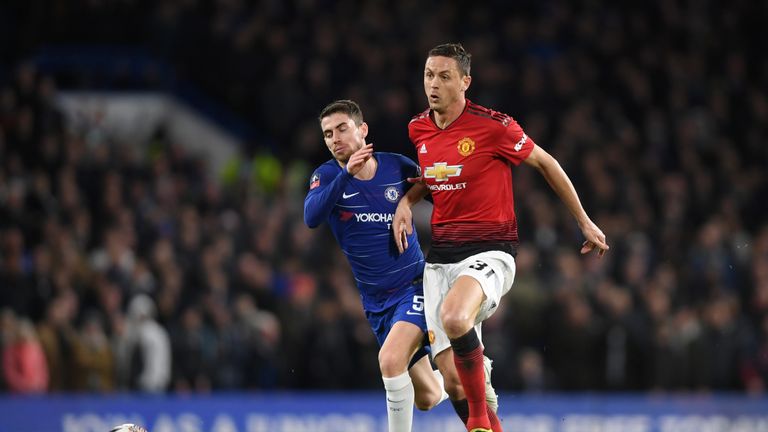 The truth is that Jorginho has become too easy to stop. He still had his moments with one lofted pass to Gonzalo Higuain almost putting the striker through but there are not enough of them. More typical was the incident later in the half when he was bullied out of it by Nemanja Matic. He is now in danger of becoming the symbol for all of Sarri's struggles.
Mateo Kovacic
So too, of course, are those infamous substitutions. Kovacic has been withdrawn 20 times now this season and while the defeat to United might have been anticipated even that was not as predictable as the moment that came in the 71st minute when Sarri opted to bring on Barkley to replace the Croatia international in midfield.
Kovacic was his neat and tidy self but that hardly feels anywhere near enough in a midfield that still seems to be missing something. Now 34 games into his season-long loan spell from Real Madrid, he is yet to score a goal. Kovacic was only ever supposed to be a quick fix but it is hard to work out quite what he is fixing in this Chelsea team at the moment.
Kepa Arrizabalaga
As for Kepa Arrizabalaga, he might be the world's most expensive goalkeeper but that only seems to add to the pressure right now. His loose control almost allowed Marcus Rashford to intercept his clearance after 25 minutes and while he could do little with the opening goal, his failure to keep out Paul Pogba's header was disappointing.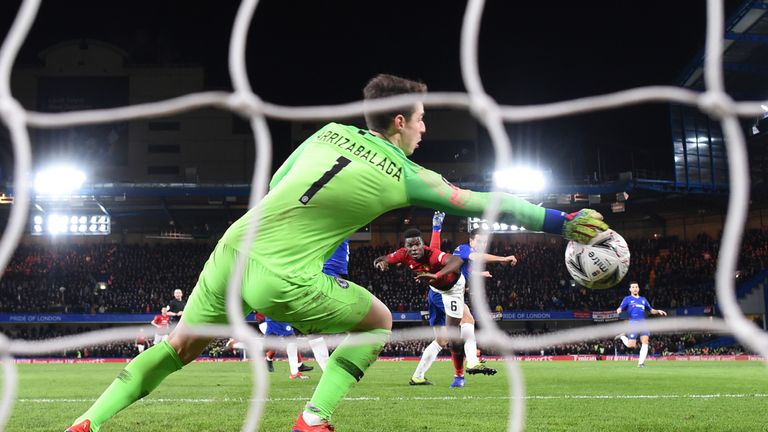 It is not that the former Athletic Bilbao goalkeeper has endured a miserable time of it at Chelsea, it's that he appears to be a downgrade on Thibaut Courtois and has not even had the magic moments that will convince fans that better performances are to come. Kepa is likely to be a long-term investment but Sarri's problems are in the here and now.
Gonzalo Higuain
Of course, that is where the loan signing of Higuain was supposed to help. Most Chelsea fans had sympathy with Sarri's centre-forward situation given that Alvaro Morata's confidence had long since drained away, but Higuain has not been the difference maker either. The Argentine scored twice against Huddersfield but they are his only goals so far.
There were hints of the quality that has made Higuain such a consistent scorer over the years, his subtle movement engineering space in the right channel early on and a header flying just wide soon after. But the problem is that this squad's faith in Sarri's football had already started to fade even before Higuain arrived. Chelsea are beginning to look broken.