Atletico Madrid striker Falcao is keen to play in the Premier League and has always 'loved' Chelsea
Atletico Madrid striker Radamel Falcao 'has always wanted' to play in the Premier League and is a big fan of Chelsea.
Last Updated: 03/09/12 10:03am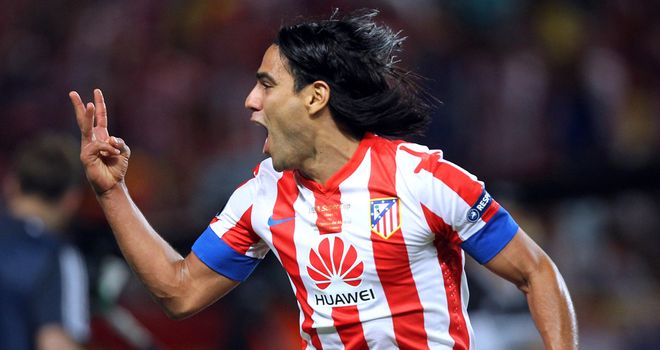 The Colombia international is one of the most prolific forwards in world football and produced a devastating display in Atletico's Super Cup mauling of Chelsea on Friday night.
Falcao plundered a first-half hat-trick in the 4-1 victory in Monaco to demonstrate what Chelsea could be buying in the January transfer window.
The former Porto hit-man's father, Radamel Garcia, has claimed that Chelsea are one of three clubs interested in his son and that a New Year move is a possibility.
"Yes, it's very likely," Radamel Sr was quoted by the Colombian media, when asked if his son could move to the Premier League in January.
"There are three teams interested - Manchester City, Chelsea and a Russian team.
"Falcao has always wanted to play in the Premier League. Ever since he was a boy he has loved Chelsea and has always thought it would be an honour to play for a big Premier League team."
There have been reports in Colombia that Chelsea have already reached a pre-agreement to sign Falcao, but his father would not be drawn on the speculation.
He added: "I don't want to talk about pre-agreements.
"I spoke to Falcao yesterday. The release clause in his contract is about €55million (£43.5m) but Falcao doesn't want to talk figures."