Roberto Di Matteo: John Terry still Chelsea's leader
Chelsea boss Roberto Di Matteo has insisted John Terry can still be considered the club's "leader".
Last Updated: 23/10/12 7:01pm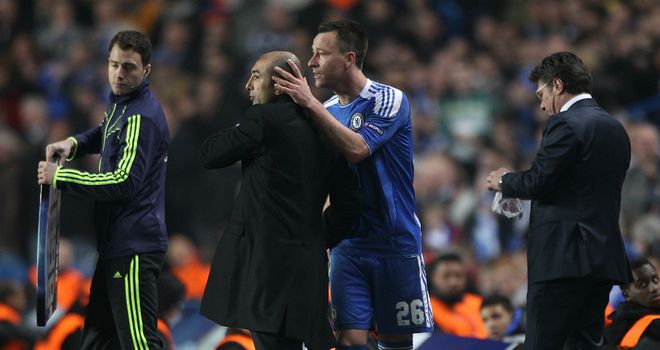 Terry is expected to start in Chelsea's UEFA Champions League Group E game in Ukraine at a time when he is serving a four-match domestic ban for racially abusing Anton Ferdinand.
But the man who inspired the famous Stamford Bridge banner 'Captain, Leader, Legend' can still fulfil that role for the European champions, according to his manager.
"He has realised that he used language that was inappropriate and he has apologised for that and has certainly learned from that issue," said Di Matteo.
"And with good performances and good behaviour in the future he should still be looked upon as the leader for our club."
The 31-year-old centre-back is set to captain the side wearing an armband bearing the slogan 'Unite Against Racism' as part of a Football Against Racism in Europe (FARE) campaign scheduled for this week.
And Di Matteo added: "I've never been concerned about picking him.
"He's been able to focus on the games and that's what the players love to do, playing football and it's good for them that they can focus on that.
"What is common for players is that, even if they have family problems or some kind of issues outside in their private life, they tend to be able to focus on the football because it kind of just helps them."
Di Matteo has insisted Manchester United on Sunday will be the furthest thing from his mind when he comes to pick his team.
"I won't think about Manchester United, only this game. We've got to focus on it, try to win the game and that's a big, big boost for our campaign in the Champions League."
Di Matteo will be aware of the number of matches played by the likes of Fernando Torres, David Luiz and Branislav Ivanovic this season and may decide one of them needs a break.
He added: "There are always knocks and bruises and maybe some fatigue as well considering the majority of our team have been away on international duty.
"Some of them have played two games for their country. All these things are things to think about."