Metropolitan Police begin probe into alleged comments made by Mark Clattenburg
The Metropolitan Police have confirmed they have launched an investigation into the allegations against Mark Clattenburg
Last Updated: 30/10/12 7:00pm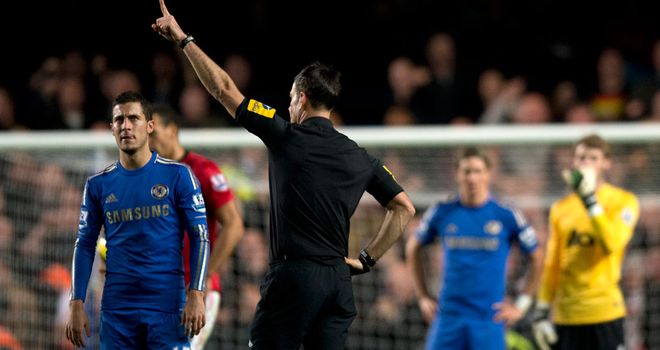 The referee is alleged to have used inappropriate language to two Chelsea players during the 3-2 defeat to Manchester United at Stamford Bridge on Sunday.
Clattenburg is adamant he did nothing wrong and has already said he will co-operate with an FA probe in a bid to clear his name with the full support of the other match officials.
But he now faces a separate investigation after the Metropolitan Police confirmed they have received an official complaint from the Society of Black Lawyers and will be working alongside Chelsea to determine if any action needs to be taken.
One of the incidents is thought to involve Jon Obi Mikel, although early reports that the language used contained a racial element have not been confirmed by the London club.
Mikel angrily accused Clattenburg of abusing him in the aftermath of the game with Chelsea manager Roberto Di Matteo, assistant manager Eddie Newton and chief executive Ron Gourlay all present.
But Clattenburg's assistants on the day, Michael McDonough, Simon Long and Michael Jones, have denied hearing anything of that nature over the officials' microphone link-up.
The Metropolitan Police became embroiled in their second high-profile football racism case in 12 months after the man behind the mooted black players' breakaway union, Peter Herbert, wrote to them demanding they investigate Clattenburg.
Herbert defended his intervention, telling Sky Sports News: "What we don't want is for it to be swept away under the carpet. It must be subject to a full and proper investigation. It is to lend some seriousness and some weight behind what is happening in football."
Herbert admitted his complaint was based on reports rather than first-hand evidence but added: "We weren't there but we don't need to be there in order to report an incident.
"This appears to have had some cogency and so it needs to be addressed as a matter of urgency. I think the Met Police have huge resources, expertise, and I have no doubt that this matter will be resolved and the truth will come out.
"If we've got this completely wrong then, of course, the police will tell us."