Premier League: Frank Lampard fears Chelsea have lowered standards
Frank Lampard is concerned that Chelsea have lowered their expectations after falling behind in the title race.
Last Updated: 15/01/13 6:31pm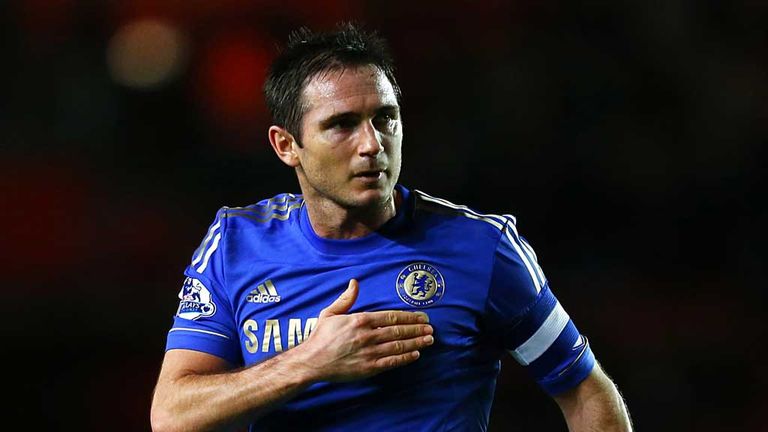 Chelsea's league form has improved after Rafael Benitez took charge, but they are sitting in third, 14 points behind leaders Manchester United.
Lampard has helped Chelsea win three league titles, four FA Cups and one Champions League during his 11 year stay, and he does not like seeing the club slip behind the two Manchester giants in the Premier League pecking order.
The Blues have finished outside the top two on just four occasions during Lampard's spell at Stamford Bridge and the 34-year-old midfielder insists second place should be the minimal target.
"That's where this club has to be," he said. "I hate the idea of standards dropping. We have been up there a long time trying to win the league... a bad year was coming second.
"The minute you drop your standards too far below then you will settle for that and there is a desire and a determination among the players and the staff, from the squad and the club to keep where we want to be."
Chelsea host Southampton on Wednesday and Lampard admits the team must improve their home form if they are going to finish the campaign with a flourish.
"At the moment we are a better away team than home team because the results speak for themselves," he said.
"But that has got to change against Southampton on Wednesday. We have to start quicker and get the movement and the passing going like we did at Stoke (where the Blues won 4-0 on Saturday).
"We can play different ways and we are doing it well away from home, but it is a case of sustaining things when you are attacking - following up the play and trying to play quickly on either side.
"It is all things we can do and I think people will see us do it now. We have to."