Premier League: Fernando Torres says he expects to remain with Chelsea
Fernando Torres expects to stay at Chelsea for the remainder of his contract, which has three-years left to run.
Last Updated: 24/04/13 9:18pm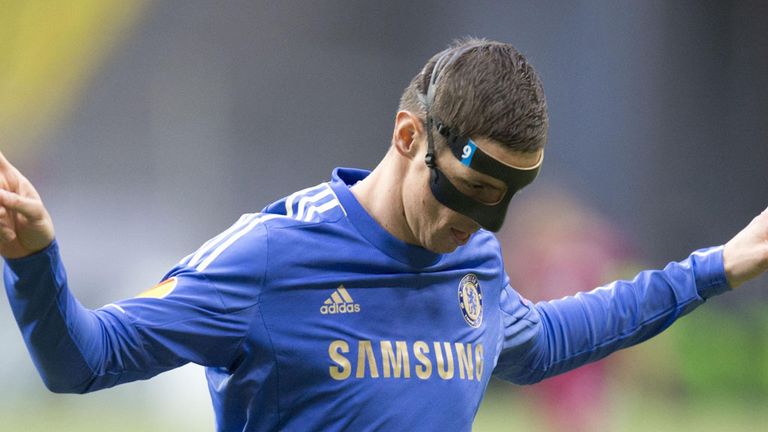 The 29-year-old Spain striker has struggled to reach the heights he scaled at
Liverpool prior to his £50million move to Stamford Bridge in January 2011.
Torres netted 81 goals in 142 games for Liverpool, but his confidence spiralled in a comparatively barren start to his Blues career, which has regularly seen suggestions Roman Abramovich is running out of patience with his biggest on field investment and is prepared to cut his losses.
Torres has been linked with a move back to his former club Atletico Madrid even as a possible make-weight in a deal for Radamel Falcao.
But the Spanish striker suggests he is staying put and said: "I have many things still to give to this club.
"I have three more years contract so I'm expecting to stay at least three years. We won the Champions League last season. Hopefully we can win the Europa League this one. It is our priority as well as finishing in the top four.
"We want to go back to the Champions League next season and keep winning trophies.
"I think we have a great squad and a young squad to build on. We are sure that we are a great team and we want to show everyone. I would like to be involved."
Benitez was recruited, in part at least, to rejuvenate Torres. He appears to have been successful to an extent and attributes the improved displays to a training programme of strength and finishing drills similar to the one utilised at Liverpool.
Benitez, who was appointed in November after Roberto Di Matteo's side exited the Champions League, now has the chance to finish the season on a high and Torres is optimistic.
"It's never easy to change the manager in the middle of the season," Torres said. "It happened to us last year and we won the Champions League. It happened this season again with Robbie and when Rafa came.
"We know each other from our time in Liverpool. It was a great time for everyone, but the situation at Chelsea is different. It is another club, different players, different mentality.
"It has not been an easy season for anyone, but I think we have improved as a team and we are all focused on the same targets. We still have one trophy to fight for and to finish in the top four so let's talk after the season about whether it has been good or bad."
Mask
Recent weeks have seen Torres playing with a head-guard to protect a broken nose, but he says that will soon be coming off.
"It's getting better, but next week we will go with the doctors to get another scan to see if we can play without the mask," he said.
"It's not comfortable at all and it depends on the results (of the scan). Maybe (I will wear it) until the end of the season because there is not many games to come."
Torres also insists that Chelsea are looking to take the Europa League crown.
"All of the team is enjoying this competition," said Torres.
"To be out of the Champions League was a very disappointing time for us but we changed our minds and started thinking about the Europa League.
"It is one of the most important targets for us this season.
"We are showing everyone who were talking about Chelsea not caring about the Europa League this it is not true.
"We are already in the semi-finals and we want to go through.
"The team is doing a really good performance so it is easy for the striker to score goals when the team is doing well."