Chelsea's Eden Hazard wants to match Cristiano Ronaldo and Lionel Messi
Eden Hazard wants to match Cristiano Ronaldo and Lionel Messi and feels he has matured under Jose Mourinho at Chelsea.
By Kristof Terreur
Last Updated: 27/01/14 12:17pm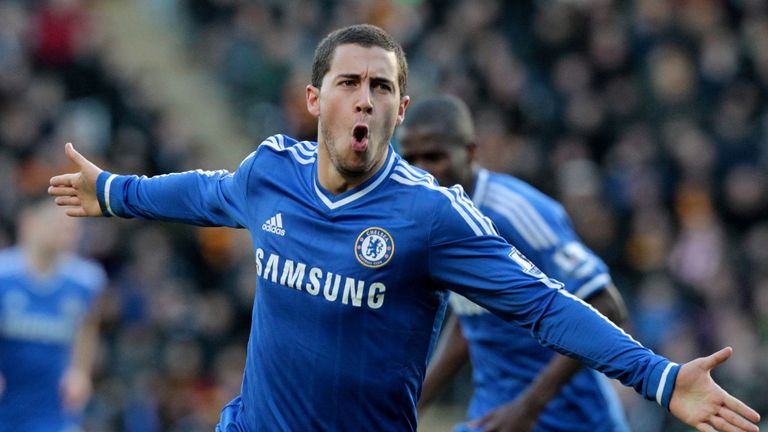 The Belgium international has been in fine form for the Stamford Bridge club this season, with his playmaking efforts alongside Oscar contributing to the Blues' decision to sell Juan Mata to Manchester United.
Hazard did not find the net for Chelsea in the Premier League this season until the 3-1 victory away to Norwich in October, but since then he has added eight further goals to keep Jose Mourinho's men firmly in Premier League title contention.
The 23-year-old, who arrived in West London in a £32million deal with Lille in summer 2012, accepts he has the ability to follow in the footsteps of Barcelona ace Messi and Real Madrid's Ronaldo, who have claimed the Ballon d'Or honour for the world player of the year on multiple occasions.
"Of course I want to be the best in the world," he told Het Laatste Nieuws. "Previously I was more worried about the game itself: football was just a game for me, I wanted to amuse myself and didn't bother what the people thought about me.
"But since I'm here at Chelsea, I've become more aware of my qualities, I guess. Before I knew I was a good player, but not one of the better players in the world.
"Now I realise that I can compete with Messi and Ronaldo in the near future, if I put in some more effort. I don't know if I will ever reach their level. It'll be hard, they have incredible stats, but I accept the challenge."
Hazard believes the influence of Mourinho, who returned to Chelsea for his second spell in charge of the Stamford Bridge side in the summer, has also had a major impact on his career, with the Portuguese coach encouraging his attacking charge to reach greater heights.
"I agree, I've matured," Hazard added. "On the pitch, I haven't changed much. I'm still the same, but I realised that, if I want to be among the best in the world, I'll have to perform consistently, game in, game out.
"I'm now important for the team, I give good passes, I score more goals and Chelsea is performing well.
"Everyone expects more from me. I hear it every day. Maybe I need these little comments, too. When a manager always says 'Eden, you're doing great', there is a threat that you can snooze.
"As a professional, you have to challenge yourself every day. Put yourself in front of a mirror. The manager is close to his players, but when he has something to say, he does to your face, in a friendly way. And he knows how to challenge his players.
"At Lille, in France, I sometimes played on a high level too, but I was more focused on the beauty of the game and how I could entertain the audience. I still try to do that, but I've become more efficient now and have become a real team player.
"I have the image of someone who doesn't care. I've been playing professional football for five seasons now, I rarely was injured, I follow a strict diet, I sleep well, I rest and I'm always on time.
"No-one can ever accuse me of not living for my job, because I do."
With Chelsea firmly in the title race and through to the last 16 of the UEFA Champions League and FA Cup, Hazard feels that they should be aiming for a minimum of two pieces of silverware this season.
The Blues trail Arsenal by two points in the top flight and are one behind Manchester City, who they must travel to in the FA Cup fifth round, while Galatasaray and Didier Drogba await next month in Europe.
He said: "We are still in the race for the title, the Champions League and the FA Cup. We have to win at least one or two of these competitions.
"Chelsea is a club that goes for prizes and I want to win trophies too."