Chelsea manager Jose Mourinho questions Eden Hazard's team ethic
Jose Mourinho has questioned Eden Hazard's team ethic in the wake of Chelsea's midweek Champions League exit.
Last Updated: 08/05/14 9:17am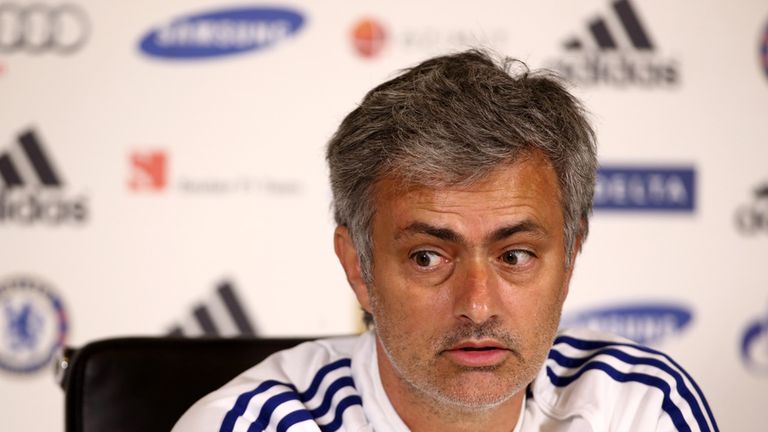 Chelsea let slip a 1-0 lead as Atletico Madrid won 3-1 at Stamford Bridge to reach the final, and the visitors' first goal came as a direct result of Hazard's failure to track a Juanfran run.
The midfielder appeared to criticise his manager's tactics after the semi-final exit, claiming Chelsea were set up solely to counter-attack.
And, while Mourinho has praised Hazard's willingness to work at times this season, there was little support for the Belgian at Chelsea's pre-Norwich press conference.
"I listened to the interview," said Mourinho. "There was nothing critical in what he said. When the comments come from a player like Eden it's normal because he's not the kind of player to sacrifice himself for the team.
"Normally you get these kind of comments from players like him, from players that can't resolve a problem like we had in the first goal.
"Eden is the kind of player that is not so mentally ready to look back to his left-back and to leave his life for him.
"If you see the first goal of Atletico you completely understand where the mistake was and why we conceded that goal.
"The perfect team at the top level cannot make these kinds of mistakes."
Mourinho showed his ruthlessness in January, selling fans' favourite Juan Mata because of a perceived inability to adapt to his tactics, and Hazard has been linked with Paris St Germain in recent weeks.
"I'm not happy," Mourinho said. "I speak all season and I try to improve him all season."
Attention now turns to the Premier League and the club's outside chance of snatching the title from under the noses of Manchester City and Liverpool.
Chelsea - two points behind leaders Liverpool and one ahead of City, who have a game in hand - host Norwich on Sunday before travelling to Cardiff seven days later.
Mourinho said: "The only thing we can do is win both our matches. We play against two teams who desperately need the three points.
"At this moment City have three matches to win to be champions but you never know.
"It's because of matches like Villa and Sunderland that we're not in a better position. It's not been a bad season, it's been a transitional season, and to arrive where we have is very good."
"To fight for the title until the end is very good and to reach the Champions League semi-final is a good step."
Watch Chelsea v Norwich on Sky Sports 1HD from 15.30 on Super Sunday