Champions League: Jose Mourinho keen for Chelsea to avoid 'the sharks' in draw for last 16
Last Updated: 11/12/14 11:54am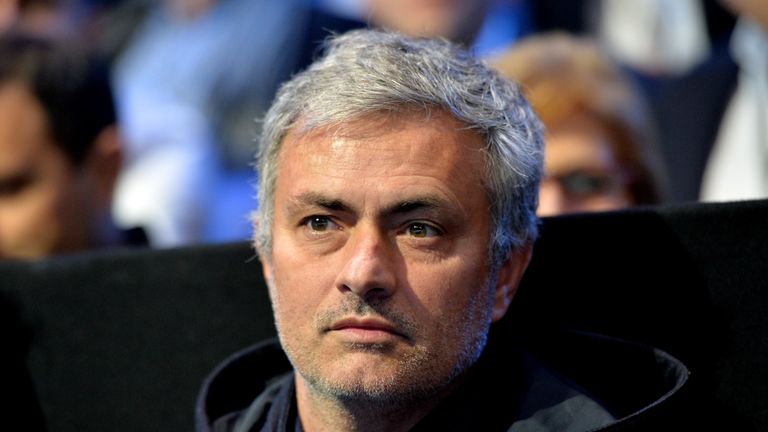 Jose Mourinho has told Sky Sports News HQ he is keen to avoid one of the "sharks" lurking in the draw for the last 16 of the Champions League.
Chelsea topped their group, sealing their fourth win in six games with a 3-1 victory over Sporting Lisbon, but now Mourinho is expecting the going to get much tougher.
Monday's draw - which you can follow live on Sky Sports News HQ - will pair Chelsea against either Juventus, PSG, Basel, Bayer Leverkusen or Shakhtar Donetsk.
"We don't fear anybody, but we know there are very good, strong teams still in this competition," Mourinho said.
"Last year we were close and we didn't have the team playing at such a high level as we do this season, so we can dream we will do it. But let's see if the sharks let us, because there are a few sharks in the ocean."
Asked if he likes swimming with sharks, Mourinho said: "Yes, I like. In a cage. I did it in French Polynesia. I didn't want to go, but my wife and my kids, they pushed me."
Everyone is hard. You think Basle is easy? We lost twice against them last year
Jose Mourinho
A Cesc Fabregas penalty and goals from Andre Schurrle and John Obi Mikel - only his fifth goal in more than 300 appearances for the club - earned the Stamford Bridge win. Mourinho knows his preferred destination for the round of 16.
He said: "Paris would be good, because it's easy to travel for us, for the fans. It would be good, but we can't decide the draw.
"The hardest? Everyone is hard. You think Basel is easy? We lost twice against them last year. They beat Liverpool and three years ago they beat Manchester United.
"Leverkusen, Shakhtar... I don't think there are easy teams at that moment. I don't think any of the big teams is out of the Champions League now. Maybe Liverpool, but all the teams that want to win the competition, they're all in the competition.
"Season after season you repeat this; normally everyone is in the last 16. Everybody's there, so the Champions League starts now."
Watch the Champions League last sixteen draw live from UEFA headquarters in Nyon, from 11am on Monday December 15. The Europa League draw follows an hour later.