Jose Mourinho feels, with more quality, Chelsea could have taken advantage of space afforded to them by Liverpool after their 1-1 draw in the Capital One Cup semi-final first-leg at Anfield.
Despite leading for much of Tuesday's match, it was Liverpool who enjoyed the lion's share of the chances, with Blues goalkeeper Thibaut Courtois forced to make several fine saves.
However, Mourinho believes that Liverpool left themselves open on occasion, and admitted his disappointment at seeing his side miss an opportunity to take advantage.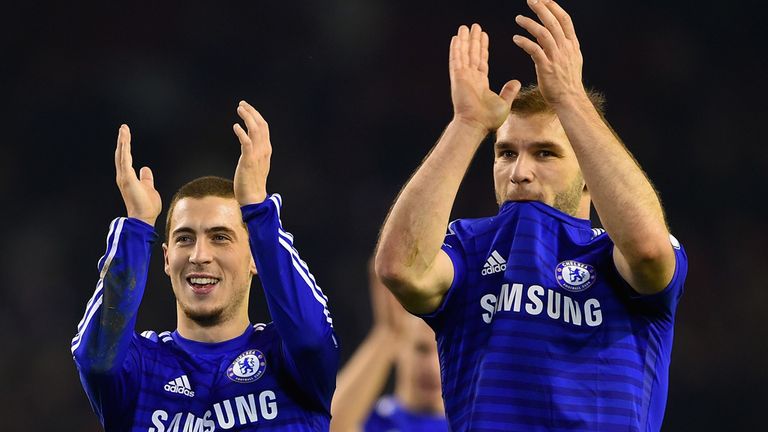 We had plenty of half-chances with the space we had, but with more quality we would have scored more goals.
"We played to the top of our potential and so did Liverpool, it was a proper semi-final," Mourinho told Sky Sports.
"I think it was a fair result. Liverpool did not deserve to win this game, but we were in control.
"The way they played, with three defenders, we had a lot of space to counter-attack, but we were not very efficient in our passing.
"We had plenty of half-chances with the space we had, but with more quality we would have scored more goals."
After hammering Swansea 5-0 at the weekend, Mourinho expected more from his side, especially after they took the lead.
"We had lots of situations where we recovered the ball and were facing a three defenders tactical system with lots of space to counter-attack," said the Blues manager.
"Eden (Hazard), Willian and Diego (Costa) were in great positions but we missed so many passes.
"Exactly the opposite that happened against Swansea. Against Swansea, recover the ball, the right pass and choice and counter-attack.
Live Capital One Cup Football


"It was fantastic defensive work, recover the ball against a very good team with creative players, fast players, but we were not efficient in the transition. To score only one goal frustrates me.
"But to transform the two-leg semi-final into a one-leg semi-final with that leg at Stamford Bridge is obviously better for us."
Raheem Sterling scored a very impressive equaliser at pace in the second-half, carrying the ball forward and finishing expertly with his left foot.
That equaliser sets it up nicely for next week's return leg – an encounter Mourinho is relishing.
"It is so difficult to play here, but I love it," Mourinho added.
"Some people say that the League Cup is a secondary competition, but for big clubs like Liverpool and Chelsea in the semi-final it's not.
"I am not saying we are favourites, but Liverpool have to come and win at Stamford Bridge now."
Watch Chelsea v Liverpool on Sky Sports 1 HD from 7pm next Tuesday.