Daniel Sturridge has spoken of his frustration at being deployed on the wing by Jurgen Klopp and underlined his desire to play at centre-forward for Liverpool.
Sturrridge started wide in the 2-0 defeat against Burnley last Saturday and came off the bench to score twice in the 5-0 win against Burton Albion in the EFL Cup second round on Tuesday, where Divock Origi started up front. 
Speaking after the win at Burton, Sturridge told The Guardian: "Of course it is more difficult for me to play wide. I'm a centre-forward. In the modern day game you have to try and be flexible but everyone knows my best position.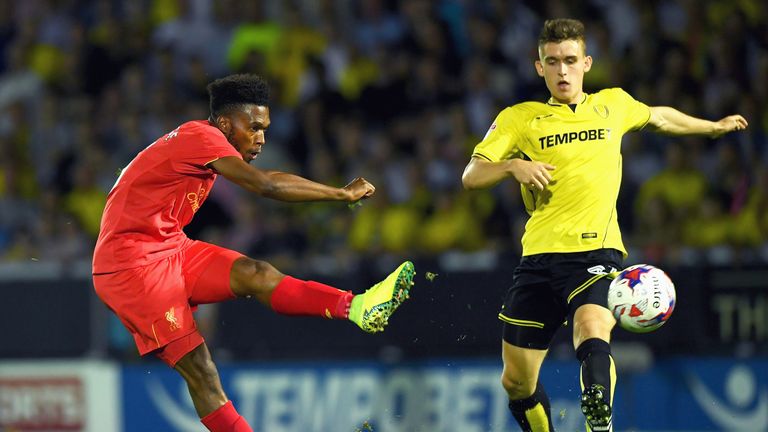 "Everyone knows where I enjoy playing the most. I'm a player who plays on instinct, and in the middle I have clarity on movements and things that I have been doing for years. I am on autopilot there. You just do things because you are used to doing it. 
"But when you are out wide, you have got to worry about different things. It's just a different way. The way you move, the way you play - it is all different. You can't play the same as you do as a centre-forward."
Asked whether he was happy playing out wide, Sturridge said: "Well, I have to do a job for the team. That's not saying I am happy to do it. That's saying I have got to do a job for the team. It's a team game. If I am put in that position, I have to play there."
Sturridge was deployed on the wing for his previous club, Chelsea, and was again used in that position at the European Championship finals by Roy Hodgson in the summer. He does not know if he will be asked to reprise that role under new national coach Sam Aallardyce.
"It is a different regime, a different coaching style," he said. "I've never worked with Sam or Sammy Lee, so I don't really know how they work. But if I am in the squad, it will be a good occasion. We want to start the campaign with a win."