Jurgen Klopp has welcomed Sir Alex Ferguson's endorsement but joked he is in no position to return the compliment.
Ferguson admitted a year ago he was concerned by Klopp's arrival at Liverpool, the club he famously succeeded in "knocking off their perch" during his 26 years at Manchester United.
And the Scot this week said Klopp's impact at Anfield means the Reds are genuine contenders for a 19th English title and a first since 1990.
Asked for his reaction to such praise from one of Liverpool's most bitter rivals Klopp, whose side go into the weekend level on points with leaders Manchester City, said: "Is it allowed for me to say I like Alex Ferguson?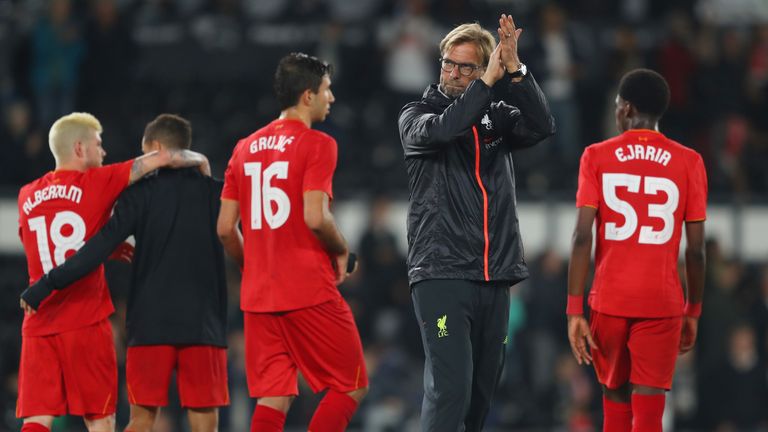 "I knew him before and he's a really nice person. He did what he had to do at Manchester and that automatically means it's not good for Liverpool.
"When he has to say something positive about Liverpool, it's better than if he would say something negative so it's all good. But it doesn't mean a lot. It doesn't disturb us or help us."
Ferguson claims Klopp has restored the club's "identity" and "enthusiasm", and the German said: "Maybe we had to change the minds of fans about the past, but while I don't know too much about enthusiasm I feel there is a positive atmosphere in and around Melwood at moment.
"That's good. It's not cool when you always think about football that you're 20 per cent more upset, you should be feeling better. That's our job to do. Until now it's worked somehow. It's really, really intense even when football isn't the most important thing."
Klopp revealed his own admiration for Crystal Palace ahead of Saturday's trip to Selhurst Park and believes Alan Pardew's side are realistic contenders for next season's Europa League.
He said: "It's a difficult place to play, small, atmosphere. We are looking forward to it. We have to prove we want to stay on track.
"Palace are a good team and very experienced in defence with high-quality offence. They have made good signings in the summer and in my opinion they can aim for Europe. They're a really good team."
One of those summer signings was Christian Benteke, signed from Liverpool after failing to convince Klopp he was worth a regular first-team place.
"Every player needs the space to develop and show things," the Reds boss said. "The move made sense. Palace bought the player.
"In the last year he always showed his qualities, especially good at heading. We had to make decisions. I'm always honest. My door is always open. The agreement we have is work hard."
James Milner is a doubt for the Palace game with a knock, while young defender Joe Gomez will not be back before the international break.
Daniel Sturridge made a case to start with both goals against Tottenham in the EFL Cup, and Klopp said: "I wasn't surprised by his performance. My selection isn't more difficult than before the game."