Jurgen Klopp said he had to remind the Liverpool fans that his side needed help after Sunderland "parked the bus" in the Reds' 2-0 win at Anfield.
In a bizarre incident in the second half, Klopp berated the home fans, gesturing angrily to gee the crowd up as Liverpool struggled to break down a stubborn Sunderland.
Divock Origi eventually broke the deadlock with 15 minutes remaining, before James Milner's late penalty sealed three points, and Klopp said the fans' reaction helped his side.
Klopp said: "I never saw a football game where a team which played that defensive football like Sunderland, and the offensive team creates chances second after second after second after second.
"Of course there are moments when the guys have to take a breath and have another look at the situation. I can understand it was not that loud in the stadium at that moment, but we all need to learn that games against, the English saying 'parking bus' teams, the excitement is in the detail, and everyone has to do their job.
"My job in that moment was to remind the crowd that we needed help, especially in situations like this. They reacted very well, and helped us a lot, so it was a nice afternoon.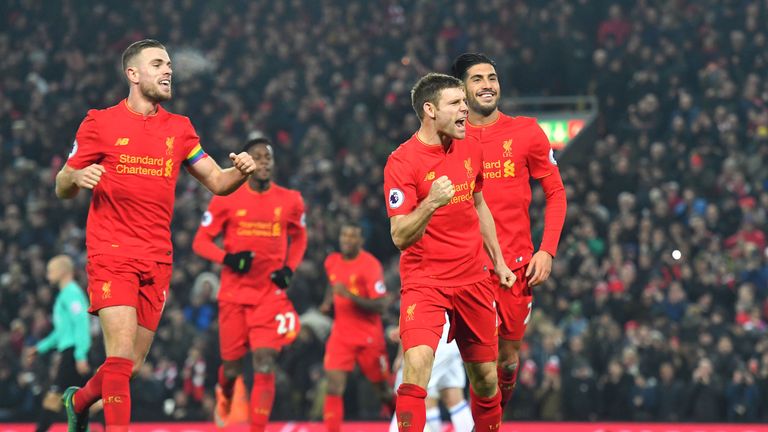 "Actually I think they played more defensive than anyone could expect actually. Usually they have one-and-a-half strikers, today it was like 0.75 strikers.
"That of course you cannot expect. But you have to find a solution, and the guys stayed cool enough, to find this one moment. We gave nearly nothing away, of course there were one or two difficult situations but that's normal.
"They worked really hard and deserved the three points."
Origi, who came on as a first-half substitute for the injured Philippe Coutinho, superbly finished in front of The Kop as Liverpool looked like they would have to settle for a point.
Klopp praised the Belgian striker, saying he hasn't had the easiest time in the past few months at the club.
"He was in the game from the first second. It's not easy, not a situation where you expect to come on the pitch, and he really needed to switch on in a second, and he did.
"He deserved it, he is so hard-working. He is patient, knows where he has to improve, and is still positive. And he is the player today who perhaps deserved it most as he hasn't had the easiest time behind him."