The Liverpool line-up that Philippe Coutinho rejoins will be a stronger one for having shown they can cope without him, writes Adam Bate.
When Philippe Coutinho went down with an ankle injury against Sunderland last month, there was concern. Concern for the player's health and for the team's prospects. Fantasy football managers rushed to make their transfers. Fans wondered what would happen next. But Jurgen Klopp was sanguine. "Of course we can handle it," he said.
Almost a month on and Liverpool are still going strong. Sadio Mane's stoppage-time winner in the Merseyside derby secured back-to-back away wins and means the Reds spent Christmas Day in second spot. Naturally, the Brazilian has been missed. Liverpool stumbled against both Bournemouth and West Ham. But their attacking potency has remained. 
Perhaps that should not be a surprise. It's part of Klopp's design. His teams do not place the onus on one playmaker. By winning the ball high up the pitch through pressing, the same goal of getting in good positions is achieved. "No playmaker in the world can be as good as a good counter-pressing situation," Klopp told Monday Night Football earlier this season.


So while Coutinho's quality is not in dispute, even the man who curled in that free-kick on the opening weekend at Arsenal is not the key to Liverpool's success. "Phil, as good as he is, cannot decide games on his own even if it looks like that at times," said Klopp. "He dribbles, he shoots and he is important but it is really a team performance that we have created."
The statistics bear that out. Liverpool are averaging 2.4 goals for every 90 minutes that Coutinho has played in the Premier League this season. When Coutinho has not been on the pitch? Liverpool average 2.4 goals per 90 minutes then too. Whether it's Mane or Adam Lallana, Roberto Firmino or Divock Origi, the system prevails and the team keeps scoring.
Coping without Coutinho
| | | | |
| --- | --- | --- | --- |
| With Coutinho | 967 | 26 | 2.4 |
| Without Coutinho | 563 | 15 | 2.4 |
That owes much to the team's pressing principles but also the positioning of their forwards. The wide men in this 4-3-3 formation are not expected to stay wide. Instead, Liverpool's width comes from their full-backs with Nathaniel Clyne having created more chances from that position than anyone else. James Milner is not far behind in third spot.
That overload allows the wide forwards to come inside and embrace the responsibility of scoring goals. It's working so far. Mane, playing from the right, is Liverpool's top scorer with eight Premier League goals and on course for the best haul of his career. Liverpool legend Jamie Carragher feels this shared responsibility is a real positive for Klopp's team.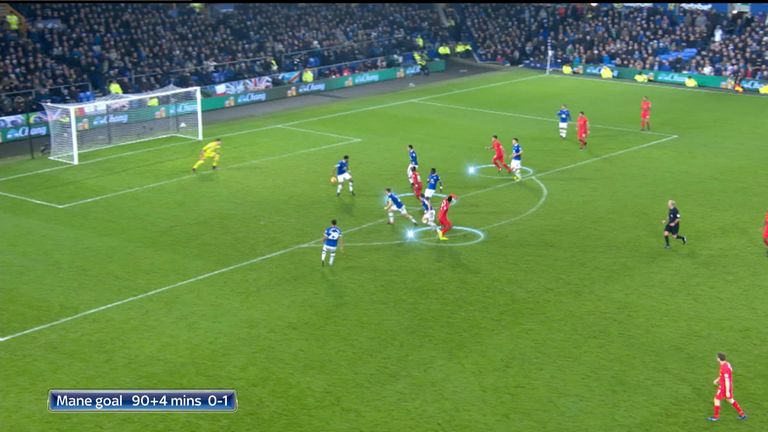 "Liverpool play very narrow," Carragher told Sky Sports. "That's why I think the front three, whoever they are, score goals. I'm sick of wide players who all they do is stand on the touchline. They never score a goal. I think it's a major strength of Liverpool. They haven't got one outstanding goalscorer but the front players all chip in."
Liverpool have five different players with five or more Premier League goals so far this season. No other team in the competition has more than three players who have done that. As a result, while they do not have a Diego Costa or a Sergio Aguero, they are arguably a more robust outfit in the face of injury because they are not so reliant on any one player.
Top-four comparison
| | | | |
| --- | --- | --- | --- |
| Chelsea | Diego Costa (13) | 35 | Two |
| Liverpool | Sadio Mane (8) | 41 | Five |
| Man City | Sergio Aguero (10) | 36 | Two |
| Arsenal | Alexis Sanchez (12) | 38 | Three |
Even so, Coutinho's forthcoming return will no doubt be a welcome one. The showdown with Manchester City looms and with Mane off to the Africa Cup of Nations with Senegal next month, the Liverpool squad will be tested. But first there is Tuesday's game against Stoke at Anfield and the chance to hit the 40 point mark after only 18 matches.
If Coutinho can slot seamlessly back into the side then he will be returning with greater optimism than ever. Speaking to him earlier this season, he said: "This used to be a team that didn't really believe in itself." Well, that belief is growing. In part because of players like Coutinho. But also because of what Klopp's team are capable of achieving without him.