Liverpool's Georginio Wijnaldum aims to break away scoring duck against Spurs at Wembley
By Richard Morgan and Rob Palmer
Last Updated: 21/10/17 2:51pm
Georginio Wijnaldum is hoping to score his first-ever Premier League away goal when Liverpool travel to Wembley to take on Tottenham Hotspur on Sunday afternoon.
Despite netting 17 times at home for both Newcastle United and Liverpool in the league, the midfielder is still waiting to get off the mark on the road more than two years after making his debut for the Magpies.
However, what better place to end that perplexing drought than at the home of football in a fixture of huge importance on Super Sunday.
"I get the chance to do it! I will try to score goals, but first I have to help the team," Wijnaldum told Soccer Saturday.
"And if it is without scoring a goal, then that is it. But it would be nice to score a goal at Wembley!"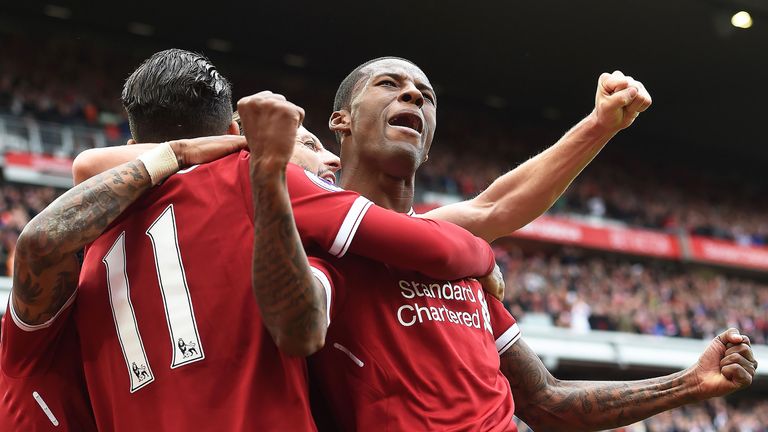 Wijnaldum's own struggles in front of goal - the Netherlands international is yet to get off the mark for his club this season - mirror those of Liverpool's at times, with Jurgen Klopp's side having been guilty of spurning a host of chances so far this campaign.
That was all forgotten on Tuesday night, though, when Liverpool thrashed Maribor 7-0 in the Champions League.
Wijnaldum, however, says the team have been working hard in recent weeks on their finishing and being more efficient in front of goal, with positive results in Slovenia in midweek.
"Especially when you create a lot of chances, like we did the last couple of games, it was a big problem," he said.
"And we know that, so we trained hard to be a better team. To be an ugly team for other teams to beat.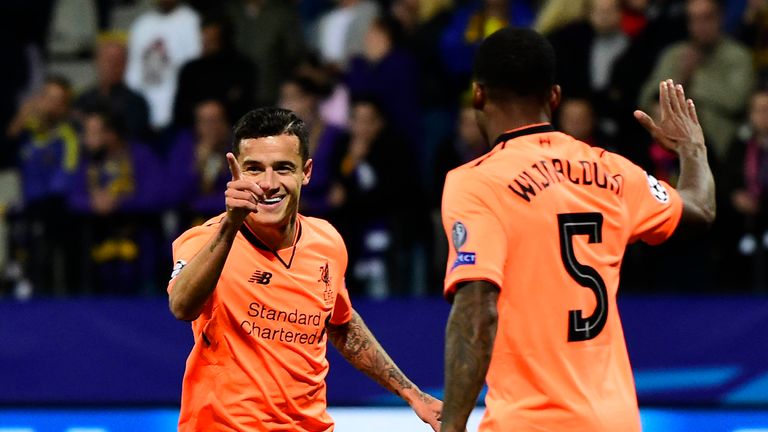 A team with Coutinho is better than a team without Coutinho.
Georginio Wijnaldum
"In a few games, we played really good football, nice football to look, but in the end we were not ruthless in front of goal."
One person who has not found it hard to hit the back of the net of late is Tottenham striker Harry Kane, a player Wijnaldum and company will need to pay close attention to on Sunday.
Only Barcelona playmaker Lionel Messi has scored more goals than Kane in Europe's top leagues this year and Wijnaldum has labelled the Englishman a "world-class" forward.
"It is difficult to say, as you never know what is going to happen over the years," he said.
"From what I see now, he gets better every year. He already puts in world-class performances.
"I do not know how long he is going to do that, so it is difficult to say. But his performances now in the league are already world class."
Liverpool have a world-class star of their own in Philippe Coutinho, a player chased by Barcelona all last summer.
The club's owners rejected Barca's big-money bids for the Brazilian and while Wijnaldum understood his team-mate's desire to move to the Nou Camp, he is also glad he will be in the Liverpool team against Spurs this weekend.
"Normally if a player does something like that and he wants to go another club, then you will give him another hand and say, 'good luck,' because you did so many great things for the club," he said.
"But on the other side, because Liverpool also have ambitions, a team with Coutinho is better than a team without Coutinho, especially Liverpool.
"Also on that side, we wanted him to stay, so it was a difficult situation, but we are happy that he is still here.
"You always have to wait how he is going to settle in again because he was disappointed, so you have to wait how he is going to do it after that. But he did it great."
Watch the full interview with Georginio Wijnaldum on Soccer Saturday from noon on Sky Sports News.