Joe Gomez making centre-back berth his own with Virgil van Dijk at Liverpool
Joe Gomez has shone alongside Virgil van Dijk this season
Last Updated: 01/09/18 1:21pm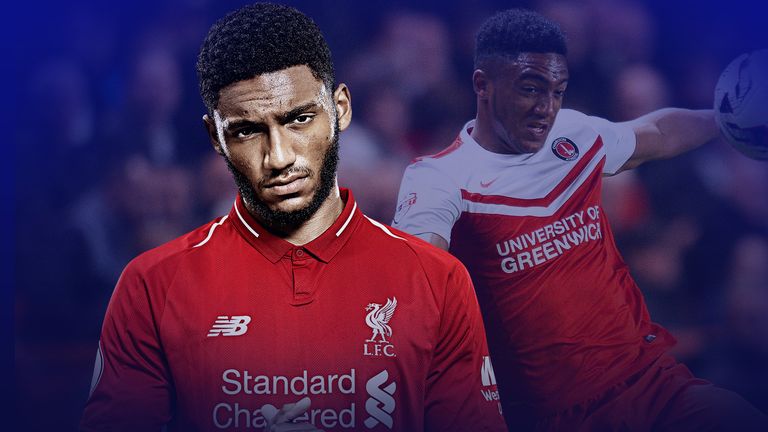 Joe Gomez is making the most of his chance in the centre of Liverpool's defence. With help from Jason Euell, his mentor at boyhood club Charlton Athletic, Nick Wright finds out how he was always destined to shine in the middle - once he ironed out a surprising flaw.
There were more plaudits for Virgil van Dijk as Liverpool continued their perfect start to the season against Brighton on Saturday. The Dutchman has been outstanding lately, helping Liverpool keep three consecutive clean sheets for the first time in over a year, but his introduction to their back four predates the recent improvement. It's Joe Gomez who has brought them something different.
Of course, Gomez is no newcomer. This is his fourth season at Liverpool. In between the injuries which dogged the first three, there were 29 Premier League starts. But none of them came in his preferred position. No matter how much Liverpool's central defenders struggled, Gomez remained at right-back. Under Brendan Rodgers, he even played on the left.
Gomez never complained, showing impressive versatility and applying himself in every position, but his patience has paid off now. With an uninterrupted pre-season behind him and with Dejan Lovren sidelined by injury, he has played every minute alongside Van Dijk.
Gomez's assured performances are a major positive for Jurgen Klopp, who made his intentions clear when he rejected suggestions that an injury to Joel Matip could force Liverpool back into the transfer market in July. "When you see Joe Gomez in that role tonight as a central defender, he combines a lot of things you don't find in the transfer market," he said.
It was a clear show of faith from Klopp, and there was another when he allowed Ragnar Klavan to join Cagliari two weeks later. Gomez, emboldened by his manager's trust, has grasped his opportunity. With the £67m Alisson Becker directing proceedings in goal, Liverpool's defensive unit looks stronger than it ever has under Klopp.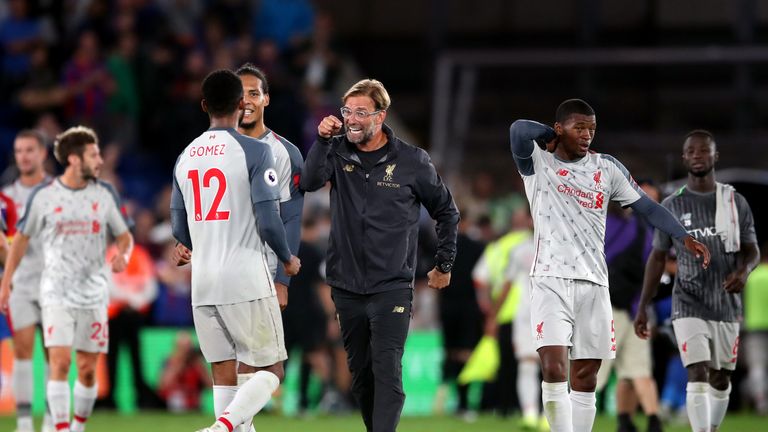 For the London-born Gomez, who came through the youth ranks at Charlton Athletic, the transition from full-back to centre-back is a familiar one. During the 2014/15 season - the breakthrough campaign which prompted Liverpool to take him to Anfield - Gomez's 21 Championship appearances were split across both positions.
"He was always going to be a centre-back," Jason Euell, a youth coach at Charlton since 2012, tells Sky Sports. "But he had the option to play at right-back because he's athletic enough to do that role. And when he gets into the final third, he has the quality as well. He's technically very good, so it all adds up. Playing in different positions has helped his game."
Gomez's combination of athleticism and technical quality served him well at right-back, and it has been the same story in the centre. Gomez has completed 90 per cent of his passes this season. In the first half of the recent win over Crystal Palace, he could be seen outpacing Wilfried Zaha. According to Premier League tracking data, Gomez has clocked the highest top speed of any Liverpool player this season.
34.29km/h - Joe Gomez registered the highest top speed by any Liverpool player this season during last Monday's 2-0 win over Crystal Palace.
In a team which contains Mohamed Salah and Sadio Mane, it's no mean feat. "Joe was always physically advanced at a young age," says Euell. "He was one of those where his body was in line with his growth. Some boys shoot up quickly and become a little bit gangly, but his body kept pace with his growth."
He can thank good genes for his speed and power, but other elements of his game did not come so naturally. Gomez was always expected to go on to big things in Charlton's excellent youth academy, but in order to make it as a centre-back, it was vital for him to improve his heading ability.
"We're very strong on creating pathways for our young players at Charlton, so with Joe it was only really a matter of time until he stepped up, but that was one of those things that probably would have stunted his progression," says Euell.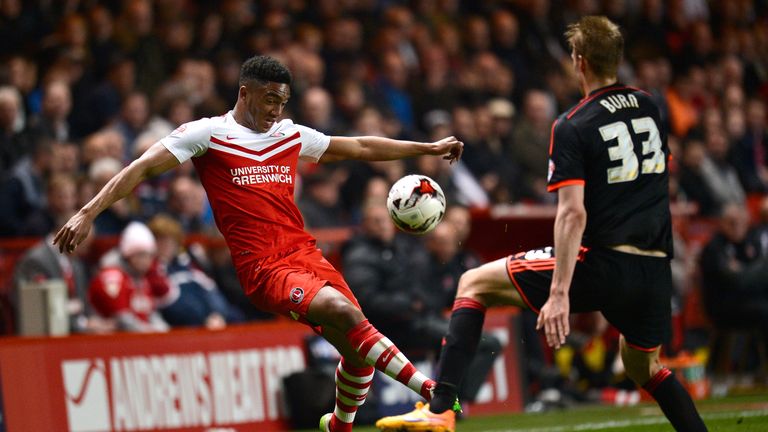 "Paul Hart, our academy director at the time, used to drill it into him. 'If you're going to play at centre-half, you're going to have to head the ball, and you're going to have to be better at heading it.' He knew how good Joe was on the ground with his feet, but he kept emphasising that if he wanted to step up to the first-team, he was going to have to head it better."
It may seem surprising that a player of Gomez's stature was reluctant to head the ball, but from a young age his inclination was always to get it down and play.
Even when he had time and space, he was told to go and head it, just to get into the habit.
Jason Euell on Joe Gomez
"When you're coming up through the academy system, you're not playing against 6ft 4ins centre-forwards where the ball gets knocked up long," says Euell. "Yes, you are going to have some aerial challenges, but not nearly as frequently as in men's football.
"It was a habit that he had to develop. He had the ability to read the flight of the ball and pick up loose balls, so sometimes he would just use his body to put the player off or even chest it down, but he had to be encouraged to just go and head the ball. Even when he had time and space, he was told to go and head it, just to get into the habit.
"It was about training it, but even if you have all that repetition with certain drills in the week, you only get the realness when you're playing games. Paul Hart wanted our defenders to defend, so it was about making sure that in games, when there were opportunities to head it, he went and did it. It's what he needed to go to the next level."
Gomez embraced the challenge and the fruits of all that extra work are obvious now. Against Brighton on Saturday, he coped impressively with an aerial bombardment. "Joe has been very good and today was a big test," said Klopp afterwards. "Obviously Brighton thought 'let's pick Joe Gomez for the long ball challenge with [Glenn] Murray' and Joe did really well."
The statistics prove it. Brighton deliberately directed their long balls away from Van Dijk, who had dominated Crystal Palace's Christian Benteke in Liverpool's win at Selhurst Park five days earlier, but Gomez's response was to win more aerial duels than anyone else on the pitch.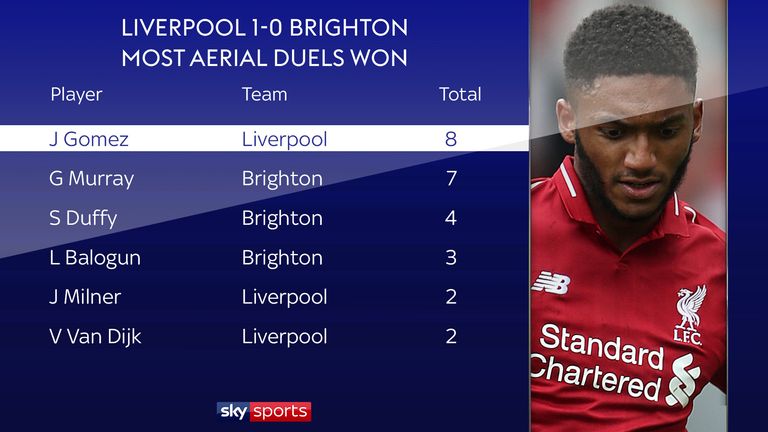 Gomez's commanding performances are a source of pride for everyone back at Charlton, including Euell. The former forward only coached Gomez briefly at U16 level, but away from the pitch he acted as a mentor. And like many others at the club, he was always struck by the youngster's maturity.
"Nobody at Charlton could say a bad word about him," he says. "He was a well-mannered and very humble boy. I think Manchester City were the first big club to really be talked about as showing an interest in him, in January of that season. I remember speaking about it with him and Andre Bikey, who we had in defence at the time, but we didn't need to tell him much because he knew it was down to him to make those decisions.
"He knew he was an asset and the club would probably sell him, but he was saying he didn't want to go to a bigger club after half a season in the Championship and play in their U23s. He felt that wasn't going to help him. He was in a good place playing men's football, so why change?
"The move didn't go through in January in the end, so when he did go to Liverpool in the summer, it went how he had wanted. That's Joe. He was always very thoughtful in terms of his career and what he wanted to do. He was never trying to get ahead of himself."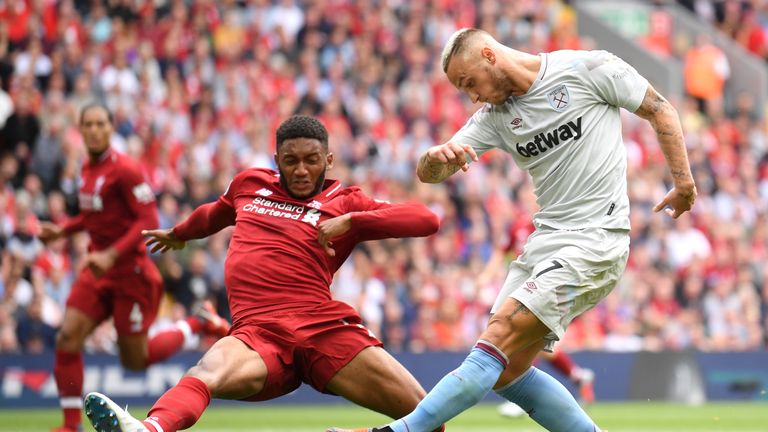 His thoughtfulness and maturity have been invaluable attributes at Liverpool. They helped him through the long period on the sidelines which followed his cruciate injury in 2015, and they helped him understand why playing at full-back was just another step in his development.
"He knows he's in a good place and at a good club," says Euell. "Even when he had the injury, or when he went into the team as a right-back under Klopp, his attitude has always been, 'No matter what, I'm learning'. Whether he's injured, he's playing at right-back or centre-back, he's always thinking about what he's learning."
It's with that attitude that he has approached his new centre-back partnership with Van Dijk. Gomez has described the Dutchman as a "big brother" figure - "Hopefully I can keep learning from him and keep progressing," he said recently - and the admiration is mutual.
"I was not really worried to be fair," said Van Dijk when asked about Gomez's move to centre-back earlier this season. "I have a very good relationship with him, a very good understanding outside of the pitch as well. That helps and hopefully we can build something."
Three games and three clean sheets later, it certainly seems as though the foundations after coming together. Gomez has had to be patient, but he's central to Liverpool now. Recent evidence suggests he's here to stay.
If you're reading on skysports.com comment below to get involved in the debate, but please adhere to our House Rules. If you wish to report any comment, simply click on the down arrow next to the offending comment and click 'Report'.