Gini Wijnaldum admits Tottenham talks before Liverpool move
Watch Tottenham v Liverpool live on Sky Sports Premier League
By Richard Cooke
Last Updated: 15/09/18 11:51am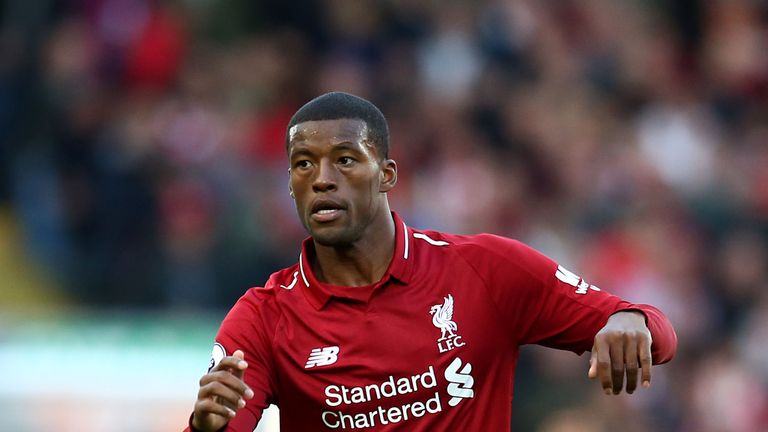 Gini Wijnaldum admits he spoke to Tottenham manager Mauricio Pochettino before joining Liverpool from Newcastle two years ago.
The 27-year-old moved from St James' Park to Anfield in July 2016 on a five-year contract for an initial £23m fee but not before he sounded out the Spurs boss.
Speaking to the Daily Telegraph ahead of Liverpool's match against Tottenham on Saturday live on Sky Sports the Netherlands international said: "I met Pochettino when I left Newcastle. I just felt Liverpool wanted to come to an agreement quickly.
"Tottenham have shown over the years the quality of their players and manager.
"I see Tottenham as a team like us, wanting to play good football. They are always looking for solutions in the game and play as we do.
"That's why people say this is a 'big game'. In the situation we are in, they say it makes it bigger."
Wijnaldum missed last year's 4-1 defeat against Spurs at Wembley with a knee injury but he remembers the match well.
"Not a good day," he recalled. "I like Tottenham as a team - Dembele, Eriksen, Son, Alli. I could name them all. We are in a similar situation, trying to chase the team at the top."
Liverpool are top of the table going into the game with many predicting they could win the title for the first time in 28 years. But Wijnaldum is refusing to get carried away.
"No one has to tell us what we have to do," he went on. "We play for Liverpool. It is always our intention to win. All the players here want to compete at the top and win.
"The manager does not have to say to us, 'we want to win a trophy'. We do not play for Liverpool not to win.
"With respect, we are not playing for a team that is fighting relegation thinking it is impossible. We know what we can do.
"We were so close already. We have done everything to win something but the fact is it is not so easy. There are a lot of good teams who also want to win the same trophies."