Jurgen Klopp wants to 'fulfil dreams' as Liverpool continue Premier League title pursuit
Last Updated: 04/02/19 8:07pm
Jurgen Klopp says he feels a responsibility to help "fulfil dreams" as Liverpool continue their pursuit of a first league title in 29 years.
Liverpool can re-establish a five-point lead at the summit of the Premier League with victory against West Ham on Monday Night Football, live on Sky Sports.
Kenny Dalglish led the Reds to their last top-flight success in 1990 and Klopp is well aware of the significance a first Premier League title would mean for the long-suffering Anfield faithful.
"I don't dream too much. My dream is to stay healthy until I am 96, 97, having no disease, can remember everything," Klopp told Sky Sports.
"I dream of that. [Being] together with my missus, having grandchildren - that is my dream.
"I don't dream in the job. I am working to be honest! Our job is to fulfil dreams. Not our own ones. Maybe the boys have one. I am not a big dreamer. I am still a happy person."
Liverpool missed an opportunity to extend their advantage at the top of the table over nearest rivals Manchester City in midweek to seven points, but Klopp is intent on seeing the title run-in as an opportunity to seize rather than squander.
"Somebody told me before the game [Leicester] that if we won we would be seven points ahead," he added.
"Only one team in the history of English football dropped that advantage. It was Kevin Keegan's Newcastle and I thought what do we do with this information? But human beings are like that.
"You can lose something - a lead or something else when you have that feeling - but we don't feel like we can lose something. We don't expect being six, seven, eight, 12 points ahead and then we feel safe.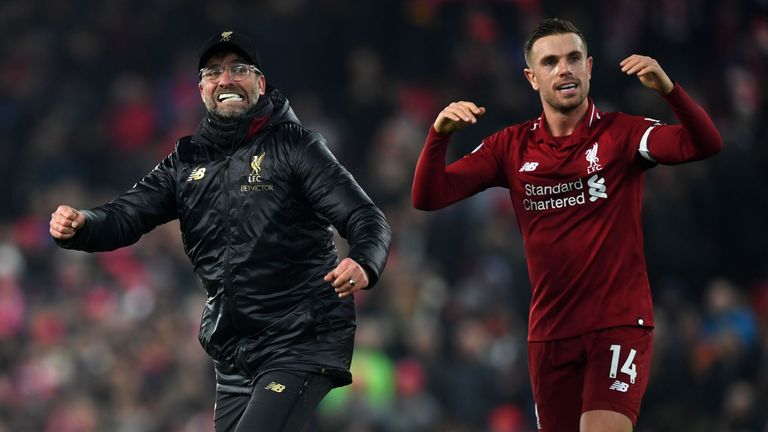 "We only do our job and so far we have done it really well. That is what we will do again. You decide what you think, I decide what I think."
"We are relaxed in this situation - not too relaxed, it is not that we don't care,. We care a lot but we know that we have to give our best until the last match and then we will see what happens and where we will finish the season.
"It is not about losing. It is about the opportunity to win something. We are in the situation that we can win something. Do we think we will win it? No, because we cannot be sure but we can do everything to try and be as high as possible in the table. I can promise that."
Despite being roared on by the Anfield crowd, Klopp understands why supporters have a sense of anxiety at stages during matches and believes the situation the club is faced with is no different to any he has experienced before.
"There were a few discussions about the atmosphere in the last game [Leicester] but since I am in when we are 1-0 up the people are not relaxed, because they think we can still concede of course," he said.
"The atmosphere is completely fine and it is our job to perform on the pitch and create atmosphere. Our crowd is always ready to step in and do their job. No doubt about that.
"Everything is fine but people understandably become a bit nervous in situations like that. That is normal. My experience at [Borussia] Dortmund was no different there. It's not like they celebrate when you are 1-0 down. They pushed us on Wednesday.
"Everything is like it should be but of course we haven't won a title for 29 years so it is normal that the people are not used to it. They really care about it and I like that fact."