Georginio Wijnaldum's importance to Liverpool is underrated
Liverpool visit West Ham on Monday Night Football
Last Updated: 04/02/19 7:03pm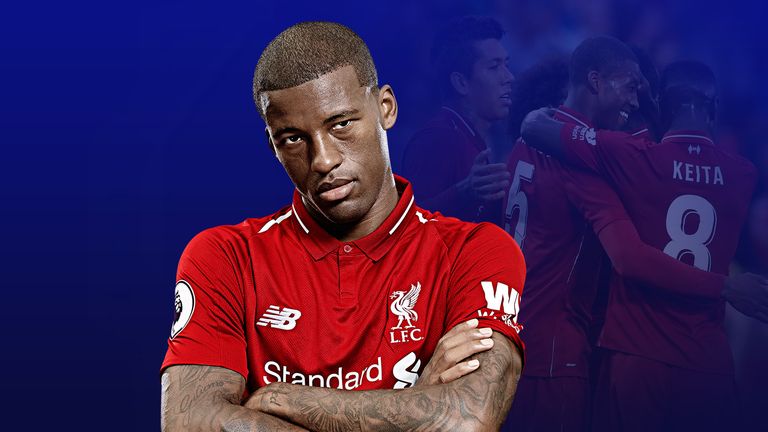 Premier League leaders Liverpool have plenty of midfield options now but it is no coincidence that Jurgen Klopp continues to put his faith in Gini Wijnaldum. Is he the most underrated player in the Premier League?
Fabinho became a Red out of the blue, while Naby Keita's arrival had long been anticipated, but both were expected to spark an overhaul at Anfield. As well as Liverpool's midfield trio had done, these two brought something different. With James Milner now a cult hero and Jordan Henderson club captain, nobody appeared more vulnerable than Gini Wijnaldum.
But here we are, the other side of another January transfer window. Liverpool are two points clear at the top of the Premier League table with a game in hand on nearest rivals Manchester City. And who is the midfielder who has made the most appearance for Jurgen Klopp's team in this potentially historic season for the club? It's that man Wijnaldum.
The Dutchman has done more than merely survive amid the increased pressure for places, he has thrived. It may have taken some time for everyone to fully appreciate just what Wijnaldum brings to this team, but there is now a growing appreciation that he makes a difference. Liverpool's quiet man in the middle is a big noise on the pitch after all.
It was against Crystal Palace that Wijnaldum was omitted from the line-up for the first time in a Premier League game at Anfield this season. The match was won 4-3 but control was surrendered. Notably, the only other home game in any competition that he hasn't started was also the only defeat at Anfield - 2-1 to Chelsea in the Carabao Cup. He was missed.
Still the main man?
Gini Wijnaldum has made as many Premier League starts this season (20) as Naby Keita (10) and Fabinho (10) combined.
So, what is it exactly that Wijnaldum brings to the team that others do not? Right from the start of his career, he has been a difficult player to define. During his youth at Feyenoord, his dribbling ability encouraged coaches to push him out to the flanks, a trend that continued even at Newcastle, but the player himself has always insisted he is a midfielder.
What type of midfielder though? In his final season at PSV, Wijnaldum scored 17 goals as he captained the club to the Eredivisie title. But as well as being able to operate as a number 10, he can be used as an eight or as a six. There was speculation that he would be at right-back against Leicester having even played at centre-back last season against Brighton.
As a hybrid midfielder, Wijnaldum's contribution can be hard to measure. He is not at the top of the list of tacklers, but nor is he high up for goals and assists. But it is his near constant involvement in both the defensive and attacking phases of the game that helps to knit this Liverpool team together and gets them flowing when they are at their very best.
The Premier League tracking data shows that Wijnaldum consistently covers 11 kilometres a game for Liverpool this season. He does not produce the intense sprints of Mohamed Salah or the conspicuous charging runs of Andrew Robertson, but he does offer the perpetual motion, moving from box to box, that typifies Klopp's brand of football.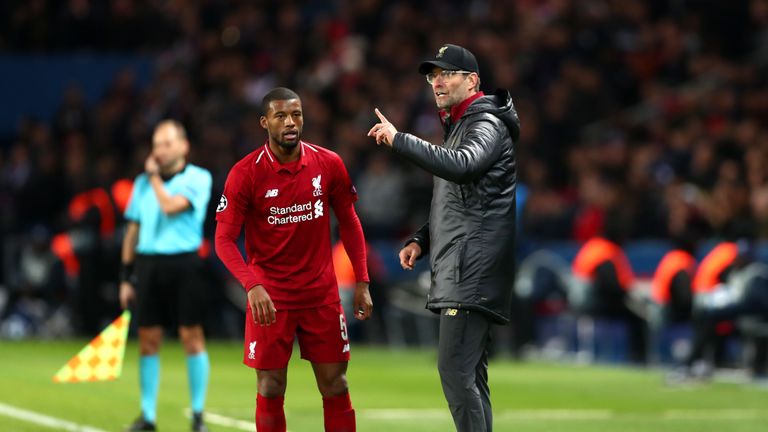 "He is an outstanding player," Klopp explained recently. "He combines a lot of things that you need. On a one-on-one situation, he can keep the body between the opponent and the ball, then pass the ball. I don't know how many positions he has played. In the double-six he plays really well. He can play all three positions in midfield and that is really nice."
Such is the competition for praise at Anfield this season that he hasn't yet picked up a player of the month award for the club this season, although he did make the podium in November. He is now regularly cited by supporters as a candidate for the most underrated player, not just at Liverpool, but in the entire Premier League.
Sometimes all it takes is a moment to crystallise a feeling that has long been coming. For Robertson, it was, of course, that one-man press that he put on the Manchester City defence last season. Perhaps for Wijnaldum it was the opening goal of the game in the 2-1 win over Tottenham at Wembley in September that reinforced their flawless start.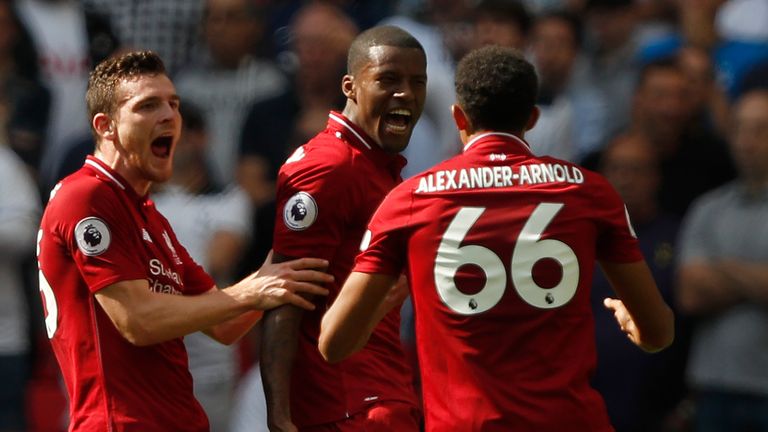 That was the fifth Premier League game of the campaign and Wijnaldum did not miss a minute of those five victories. He was arguably the best player on the pitch in the third of those matches against Brighton as Klopp named an unchanged team for the third game in a row. His faith in Wijnaldum has been completely justified by his performances.
In the past, it has been too easy to accuse Wijnaldum of going missing. But the 28-year-old midfielder is making more passes per 90 minutes and having touches per 90 minutes this season. Klopp has seen what happens to his team's flow when he actually is missing and is unlikely to risk going without Wijnaldum too many more times with the title on the line.
That is because the man most vulnerable following the new arrivals of the summer has instead become the man most important. Four seasons into his Liverpool career, he is a mystery no more. Wijnaldum's underrated influence on a team that can once again go five points clear at the top with victory at West Ham is finally being understood.