Liverpool could win the Premier League title at a neutral venue under police proposals.
Police have set out the Premier League matches they would like to be played at neutral venues, which could include Liverpool matches where the title could be won.
Jurgen Klopp's side need two more wins - or one, if Manchester City lose their game in hand against Arsenal - to reach a points total which City would be unable to overtake.
The matches which have been requested to take place at neutral grounds are:
Everton vs Liverpool
Manchester City vs Liverpool
Manchester City vs Newcastle
Manchester United vs Sheffield United
Newcastle vs Liverpool
The police statement adds that "the game in which Liverpool could secure the league title" should also be moved, but this may end up needing to be more than one match if the Reds did not clinch it at the first attempt.
Deputy Chief Constable Mark Roberts of South Yorkshire Police, the UK's football policing lead, said in a statement issued to the PA news agency: "Our discussions with the Premier League throughout this process have been positive, with a shared focus on the priority of public health.
"As such we have reached a consensus that balances the needs of football, while also minimising the demand on policing.
"The majority of remaining matches will be played, at home and away as scheduled, with a small number of fixtures taking place at neutral venues, which, contrary to some reports, have yet to be agreed."
Merseyside Police say they have "no objections" to any of Everton or Liverpool's home fixtures being played at their respective grounds, while Greater Manchester Police say there are three matches that "present factors which need further consideration".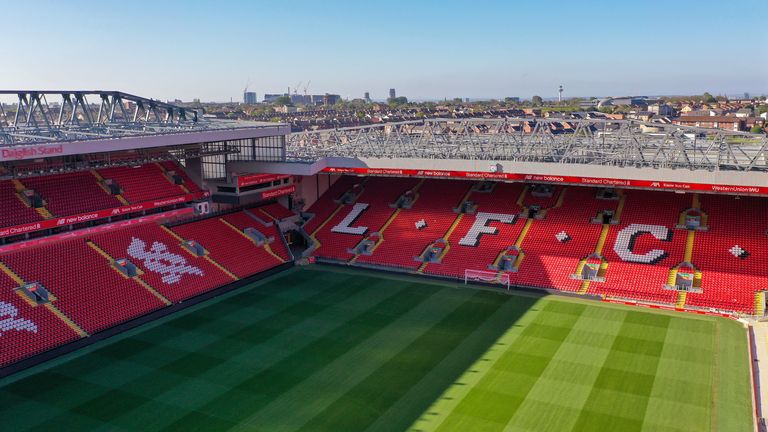 GMP Assistant Chief Constable Nick Bailey said: "Due to GMP having two Premier League clubs within our force area, we were asked to assess the risks posed in the remaining home fixtures for both Manchester City and Manchester United in the environment of Covid-19, before offering our findings to the wider national discussion with the NPCC, the Government and the Premier League.
"While all games are routinely risk-assessed in advance - with the health and safety of all those involved being the main priority - our considerations in the current climate present a different dimension and we have to ensure that government regulations and guidelines will be adhered to.
"We identified three games in our force area that present factors which need further consideration, and GMP is working with both clubs and the relevant Safety Advisory Groups (SAG) to assess if we can safely facilitate the playing of these matches at their intended locations.
"A decision will be made by the SAGs in due course and we will support whichever outcome is decided."
Thompson: City tour can be arranged at later date
There has been some confusion surrounding the need to use neutral venues to fulfil the Premier League fixtures after the statements from two key police forces, including any game in which Liverpool could win the title.
Klopp said Liverpool need 'best stay-at-home fans in the world' to get their Anfield trophy wish and former defender Phil Thompson does not believe the restrictions will ruin the celebrations too much.
He told Sky Sports: "As far as Liverpool fans are concerned, we're just happy to get the games back underway. We'd have always got the title anyway as null and void was off the table, so even if it was points per game, Liverpool would have been champions.
"But it's nice to do it playing the full amount of games. If it is at a neutral venue, we have to adhere to that. We will need to stay away, and that goes for all fans from all the games. The police have a hard enough job as it is. It's been 30 long years we've had to wait.
"It won't be the same, but maybe a tour around the city could be arranged at a later date."
Masters: We want a trophy presentation
Premier League chief executive Richard Masters accepts some games may have to take place in neutral venues.
In an exclusive interview with Sky Sports News, Masters said: "It's our preference to play the games where they were originally planned home and away but there are some concerns. We'll have a clearer picture in the next seven to 10 days but we hope the amount of games will be low.
"They (the police) have legitimate concerns but we think we can mitigate some of the issues they're trying to deal with. Ultimately we want the season to be played out on the pitch and we're discussing a number of options to make it as fair as possible.
"We'll do everything we possibly can to deliver a trophy presentation. It's really important to mark that moment and to give the fans that memory to mark it."
Liverpool mayor in favour of date changes
The Mayor of Liverpool, Joe Anderson, says he will work with both police and supporters' groups to find a solution when it comes to games which may have to be played at neutral grounds.
The Merseyside derby has been identified as one fixture that may have to be played out of the city due to fears of fans congregating outside the stadium, as Liverpool look to secure the first title in 30 years.
Anderson said: "It is important that the local authority understands the concerns of both the police and also of supporters, the major priority is the health and safety of the people of the City. But we will also listen to concerns of supporter groups.
"One thing I would question is whether the Premier League could find a way of moving the fixtures that may provide the greater challenges, such as the Merseyside derby, to later in the fixture calendar, with the intention of attempting to take away some of those concerns."
Brighton expecting home and away games
Brighton chief executive Paul Barber, one of the main opponents of neutral venues, said he expected all his side's matches would be played on a home-and-away basis.
"Obviously the majority of home games we expect to be at home for everybody," he said.
"And I understand there are some small number of games where the police do need to look more carefully at the operations for those games.
"But we don't know which games they are, we haven't been given that information so, as far as we're aware on this side, it doesn't affect our club.
"But obviously we're delighted that the police and the Government and the Premier League have found a way for the majority of games to be played at everyone's home stadiums."
How will having no fans inside the stadium impact Premier League clubs? Read more here