The Premier League is back under way - with the schedule for the first six full matchweeks confirmed.
Sky Sports has confirmed the 40 live matches to be shown when the season resumes - with 16 of those broadcast free-to-air.
Here is the schedule so far, as well the games where dates and times are still to be confirmed.
Premier League return - the new schedule
Fri June 19: Norwich vs Southampton - 6pm, Sky Sports, Sky Pick
Fri June 19: Tottenham vs Man Utd - 8.15pm , Sky Sports
Sat June 20: Watford vs Leicester - 12.30pm
Sat June 20: Brighton vs Arsenal - 3pm
Sat June 20: West Ham vs Wolves - 5.30pm
Sat June 20: Bournemouth vs Crystal Palace - 7.45pm
Sun June 21: Newcastle vs Sheff Utd - 2pm, Sky Sports, Pick
Sun June 21: Aston Villa vs Chelsea - 4.15pm, Sky Sports
Sun June 21: Everton vs Liverpool - 7pm, Sky Sports, Pick
Mon June 22: Man City vs Burnley - 8pm, Sky Sports, Pick
Tue June 23: Leicester vs Brighton - 6pm, Sky Sports
Tue June 23: Tottenham vs West Ham - 8.15pm, Sky Sports
Wed June 24: Man Utd vs Sheff Utd - 6pm, Sky Sports, Pick
Wed June 24: Newcastle vs Aston Villa - 6pm
Wed June 24: Norwich vs Everton - 6pm
Wed June 24: Wolves vs Bournemouth - 6pm
Wed June 24: Liverpool vs Crystal Palace - 8.15pm, Sky Sports
Thu June 25: Burnley vs Watford - 6pm, Sky Sports, Pick
Thu June 25: Southampton vs Arsenal - 6pm, Sky Sports
Thu June 25: Chelsea vs Man City - 8.15pm
Sat June 27: Aston Villa vs Wolves - 12.30pm
Sun June 28: Watford vs Southampton - 4.30pm, Sky Sports, Pick
Mon June 29: Crystal Palace vs Burnley - 8pm
Tue June 30: Brighton vs Man Utd - 8.15pm, Sky Sports, Pick
Wed July 1: Bournemouth vs Newcastle - 6pm, Sky Sports, Pick
Wed July 1: Arsenal vs Norwich - 6pm
Wed July 1: Everton vs Leicester - 6pm, Sky Sports
Wed July 1: West Ham vs Chelsea - 8.15pm, Sky Sports
Thu July 2: Sheff Utd vs Tottenham - 6pm, Sky Sports
Thu July 2: Man City vs Liverpool - 8.15pm, Sky Sports
Sat July 4: Norwich vs Brighton - 12.30pm
Sat July 4: Leicester vs Crystal Palace - 3pm, Sky Sports, Sky Pick
Sat July 4: Man Utd vs Bournemouth - 3pm
Sat July 4: Wolves vs Arsenal - 5.30pm, Sky Sports
Sat July 4: Chelsea vs Watford - 8pm, Sky Sports
Sun July 5: Burnley vs Sheff Utd - 12pm, Sky Sports, Sky Pick
Sun July 5: Newcastle vs West Ham - 2pm, Sky Sports
Sun July 5: Liverpool vs Aston Villa - 4.30pm, Sky Sports
Sun July 5: Southampton v Man City - 7pm
Mon July 6: Tottenham vs Everton - 8pm, Sky Sports
Tue July 7: Crystal Palace vs Chelsea - 6pm, Sky Sports
Tue July 7: Watford vs Norwich - 6pm, Sky Sports, Sky Pick
Tue July 7: Arsenal vs Leicester - 8.15pm, Sky Sports
Wed July 8: Sheff Utd vs Wolves - 6pm, Sky Sports
Wed July 8: Man City vs Newcastle - 6pm
Wed July 8: West Ham vs Burnley - 6pm
Wed July 8: Brighton vs Liverpool - 8.15pm, Sky Sports
Thu July 9: Bournemouth vs Tottenham- 6pm, Sky Sports, Sky Pick
Thu July 9: Everton vs Southampton - 6pm
Thu July 9: Aston Villa vs Man Utd - 8.15pm, Sky Sports
Sat July 11: Norwich v West Ham - 12.30pm
Sat July 11: Watford v Newcastle - 12.30pm
Sat July 11: Liverpool vs Burnley - 3pm
Sat July 11: Sheff Utd vs Chelsea - 5.30pm, Sky Sports
Sat July 11: Brighton vs Man City - 8pm, Sky Sports
Sun July 12: Wolves vs Everton - 12pm, Sky Sports, Sky Pick
Sun July 12: Aston Villa vs Crystal Palace - 2pm, Sky Sports
Sun July 12: Tottenham vs Arsenal - 4.30pm, Sky Sports
Sun July 12: Bournemouth vs Leicester - 7pm, Sky Sports, Sky Pick
Mon July 13: Man Utd vs Southampton - 8pm, Sky Sports, Sky Pick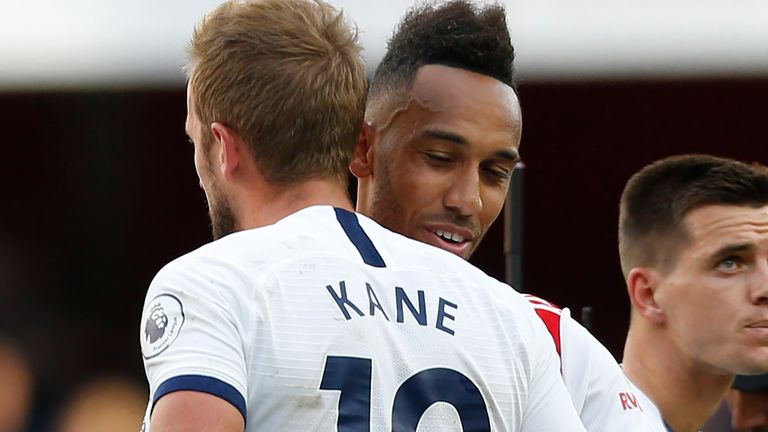 Games still to be confirmed
Matchweek 36
Arsenal vs Liverpool
Burnley vs Wolves
Chelsea vs Norwich
Crystal Palace vs Man Utd
Everton vs Aston Villa
Leicester City vs Sheff Utd
Man City vs Bournemouth
Newcastle vs Tottenham
Southampton vs Brighton
West Ham vs Watford
Matchweek 37
Aston Villa vs Arsenal
Bournemouth vs Southampton
Brighton vs Newcastle
Liverpool vs Chelsea
Man Utd vs West Ham
Norwich vs Burnley
Sheff Utd vs Everton
Tottenham vs Leicester City
Watford vs Man City
Wolves vs Crystal Palace
Matchweek 38
Arsenal vs Watford
Burnley vs Brighton
Chelsea vs Wolves
Crystal Palace vs Tottenham
Everton vs Bournemouth
Leicester City vs Man Utd
Man City vs Norwich City
Newcastle United vs Liverpool
Southampton vs Sheff Utd
West Ham vs Aston Villa