Liverpool's Steven Gerrard furious with officials, David Moyes & Phil Neville
Liverpool's Steven Gerrard has launched a stinging assessment of the derby officials, David Moyes and Phil Neville.
Last Updated: 29/10/12 1:01pm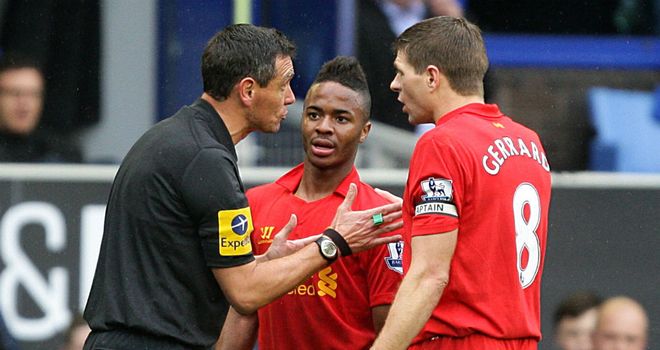 The fiery Goodison clash ended 2-2 but Gerrard insists the visitors were denied all three points when an assistant referee wrongly ruled out a last-minute 'winner' from Luis Suarez.
Speaking in the Liverpool Echo, the England skipper said: "I've seen it again and we can feel sorry for ourselves, because it was a clear goal.
"We should be taking away the three points rather than just one. There is no offside and it's difficult for me to explain it. The only person who can explain it is the linesman.
"I asked him after the game if it was offside and he said, 'I think so'. That's not good enough. If every decision in this league is based on, 'we think so' then we're in trouble.
"The linesman got it badly wrong. The benefit of the doubt is supposed to go to the attacking player anyway.
"And for their second goal, it's a clear throw-in to us. The linesman gives us the throw but the referee saw something different. He gave Everton the throw and their second goal came from that."
Everton manager David Moyes had spent the build-up to the game speaking about the trend of diving in football in an apparent swipe at Suarez.
The striker then scored Liverpool's second goal on Sunday after seeing an earlier shot deflect into the back of the net off Leighton Baines, which the Liverpool player celebrated by flinging himself to the ground in front of the home dugout.
But Everton then saw their captain Phil Neville booked for simulation before half-time to leave Gerrard less than impressed.
"I think Phil Neville badly let his manager down. His manager did every paper, every radio station and every TV channel talking about Luis Suarez," he added.
"Then his captain, who is meant to be setting an example, blatantly dives."
"If David Moyes is a real man and a real manager, which I think he is, then he will be speaking to Phil Neville about it.
"With what he said about Luis Suarez before, David Moyes was trying to get in the referee's head, which is fine, that's all part of the game stuff like that, but you don't expect your captain to dive like that.
"Luis Suarez was fantastic for us again. I can't control what he does when he scores a goal, I was just happy to see it hit the back of the net.
"He doesn't need David Moyes to fire him up. But if people want to try to get in Luis' head and wind him up then it's the wrong thing to do."