Pepe Reina says Liverpool can't compete in Premier League title race
Liverpool goalkeeper Pepe Reina has admitted the Anfield outfit 'can't compete' in the Premier League title race.
By Francisco Acedo
Last Updated: 04/02/13 12:48pm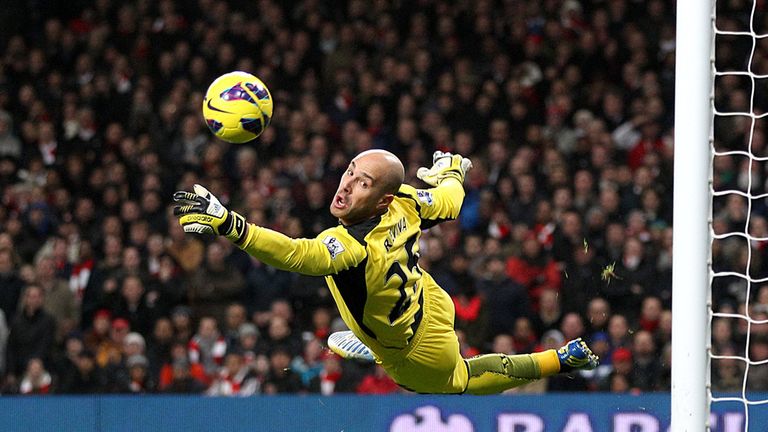 The Reds are currently 26 points adrift of leaders United in the Premier League table and remain 17 behind champions City following Sunday's thrilling 2-2 draw at the Etihad Stadium.
Brendan Rodgers' side held a 2-1 lead against City going into the closing stages, before Reina's ill-advised rush from his line allowed Sergio Aguero to score a spectacular equaliser.
And the shot-stopper believes that the difference between the financial muscle and squad strength of the Premier League's leading trio and Liverpool has reached a significant point.
Reina told Marca: "Right now we can't compete with the big guns. They have a big edge over us at the moment, both financially and squad-wise.
"There's a reason they are so many points ahead of us, and it's not because of one or two better players."
The Spain international has come under the spotlight personally this term, with his standards having slipped from previous seasons.
Reina admits this has been the most testing campaign for himself and the Reds since he moved to Anfield in July 2005, but defended his displays and insists the club need to be given time under Rodgers.
He added: "It's been a strange season for me because I've missed lots of games with injury.
"Some people say I've had a bad season, but honestly I think I only had three poor matches, at the beginning of the year.
"This has been the most unsettled season, both personally and as a team, since I joined the club.
"Liverpool is going through a transitional period, with new ideas and a different playing philosophy. That takes time. People have to be patient. It's normal for us to be erratic."