Ian Ayre: Liverpool will not sell Luis Suarez despite attack on Branislav Ivanovic
Luis Suarez will not be sold this summer despite his latest on-field indiscretion - biting Chelsea's Branislav Ivanovic.
Last Updated: 22/04/13 6:08pm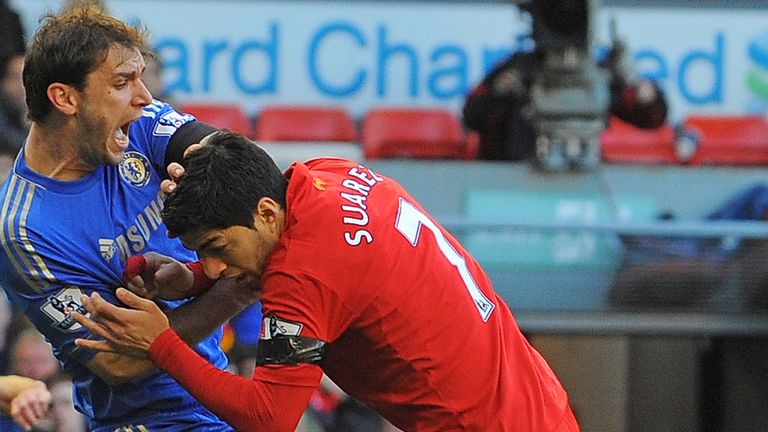 The Liverpool striker has been charged with violent conduct by the Football Association, who will press for a ban of more than three games at Wednesday's Independent Regulatory Commission, and Liverpool have already imposed a fine.
But, according to Anfield managing director Ian Ayre, Suarez will remain at the club until the end of the long-term deal he signed last summer.
Asked whether the Uruguayan's actions would affect his Liverpool future, Ayre said: "Not at all. It affects his future in the sense that we have to work with him on his discipline - but Luis is a very important player to the club.
"He's a very popular player with his team-mates. As we keep saying, he signed a new four-year contract last summer and we'd all love to see him here throughout that contract.
"He's a fantastic player, top scorer and everything we'd want in a striker, so there's no change there. This is more about getting him back on the right track and it's largely down to Brendan Rodgers now to work with him on that side of his character."
Suarez was banned for a similar incident during his time at Ajax and was last season suspended for eight matches after the FA found him guilty of racially abusing Manchester United's Patrice Evra.
Liverpool defended their £23m forward throughout that process, and Ayre says the club's American owners are happy with the way the latest offence is being dealt with.
He said: "With any major incident at the club, we're in direct dialogue with the owners, always. I spoke to them last night and they were happy with the way we were handling the matter.
"I think the most important thing is that we acted swiftly. Luis issued his apology and then we spoke with him last night and then again this morning.
"We've taken action to fine Luis for his actions. Brendan has spoken to him and I've spoken to him, and Brendan will be working with him further on his discipline.
"You can see when you speak to him how sorry he is about it and he's certainly shown quite a lot of contrition to us - and as part of that, he's also asked we donate the fine to the Hillsborough Family Support Group. I think he felt like he let a lot of people down."
Suarez has apologised for his "inexcusable behaviour" after the incident during Sunday's 2-2 draw at Anfield.
The Uruguayan wrote on his Twitter page: "For my unacceptable behaviour the club has fined me.
"I have asked the club to donate the money to the Hillsborough Family Support Group for the inconvenience I have created to the Liverpool fans and to Ivanovic."
It is the latest in a series of unsavoury incidents in Suarez's career - including a previous biting incident in Holland - and PFA chief executive Gordon Taylor said the players' union would offer the striker help to deal with his temper.
"There is no doubting his football ability, that's why it is so disappointing and embarrassing when he lets himself down," said Taylor.
"We have to work hard on anger management now. We have trained counsellors in this field and we will be offering their services to Liverpool and the player to try to improve matters."
Suarez is also one of the candidates for the PFA Player of the Year award to be announced on Sunday, and Taylor confirmed that the latest controversy would not affect his position on the shortlist.
Taylor added: "It's decided on votes and it is a football matter but of course it is embarrassing that it should happen."