Transfer news: Liverpool say Luis Suarez not for sale and must honour Anfield deal
Liverpool say they expect Luis Suarez to honour his contract in the wake of his admission he wants to leave the club.
Last Updated: 31/05/13 3:36pm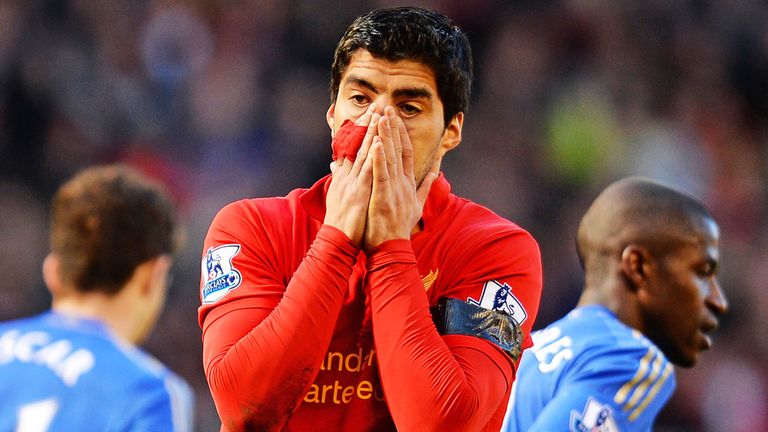 Suarez has given increasingly strong hints in recent days that he sees his future away from Anfield, culminating in an interview in which he blamed the English media for his desire to leave.
The £23m striker, currently serving a domestic ban for biting Chelsea's Branislav Ivanovic, told a press conference in Uruguay he and his family no longer feel comfortable in the Premier League.
But Liverpool have released a statement in response contradicting Suarez's claim that manager Brendan Rodgers is aware of his position.
It read: "Luis Suarez is not for sale - neither Luis or his representatives have communicated these feelings directly to LFC.
"The club remains supportive of Luis and expect him to honour his contract. We will not be making any further comment at this stage."
Suarez signed a new deal last summer and is contracted for another four years, but he told the Uruguayan press: "I think it's understandable that I leave.
"My reason for leaving is not the money. If it were the money I would have left already. My main reason is my family and my image. The coach and my colleagues know that the press didn't treat me well. I don't feel comfortable any more.
"I couldn't go to my garden or the supermarket. I couldn't do anything. I know it is normal being followed by the press, but it was too much.
"They talk about me being the named as the best player in England, but I knew that wasn't going to happen. I knew it because of the way the treated me.
"The straw that broke the camel's back (biting Ivanovic) was my mistake. I accept my fault, but they went too far."
Real Madrid are confirmed admirers of Suarez, although his agent has denied that a four-year deal with the Spanish club is already in place.
And Suarez said: "I don't have any offer yet. I don't know when I will leave or even if I will finally leave or I will stay. The club knows what I think and what I want. I don't know what will happen but I have a contract. If I stay, I will do my best."