Liverpool manager Brendan Rodgers is optimistic Luis Suarez will stay
Brendan Rodgers insists Liverpool are in complete control of the situation regarding Luis Suarez.
Last Updated: 23/06/13 7:34pm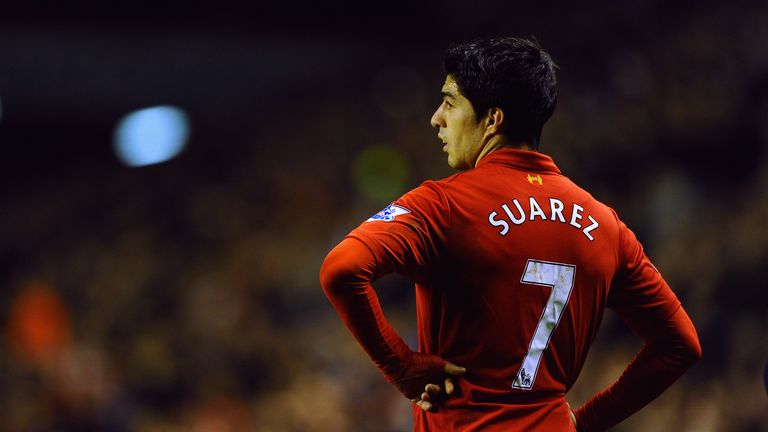 The 26-year-old has repeated his desire to leave Liverpool in several recent interviews in his homeland, blaming the British media for making his life impossible in England.
Liverpool have insisted the striker, who was last season's second top scorer in the Premier League with 23 goals, is not for sale.
"It's quite simple, the club is in complete control of the situation," Rodgers told Talksport when asked about Suarez, who is currently on international duty at the Confederations Cup in Brazil.
"I will always listen to players. I always work closely with players and always listen to their point of view but the biggest word is with the club.
"We're in a situation where we've got a player who we don't want to lose. We're trying to build something here and he's a very important part of that and because of the type of player he is, he will always give his best."
Suarez, who signed from Ajax in January 2011, received a 10-match English domestic ban for biting Chelsea's Branislav Ivanovic towards the end of last season while the previous campaign he received an eight-game suspension for racial abuse.
Despite Suarez's difficulties in England, Rodgers insists he is relaxed with the situation and is hopeful the striker with stay at Anfield.
"Sometimes interviews get put out there and highlighted but parts of Luis' interviews have been about how much he loves Liverpool, but of course that doesn't get highlighted," Rodgers added.
"It's something that happens. I'm quite relaxed about it.
"What I know is that the support Luis has had from the people here in Liverpool, the city and the football club, has been phenomenal and I know he feels that and respects that."