Ian Ayre says Liverpool have to convince Luis Suarez to stay at Anfield
Liverpool managing director Ian Ayre says it is the club's job to 'convince' Luis Suarez to stay at Anfield.
Last Updated: 16/07/13 5:21am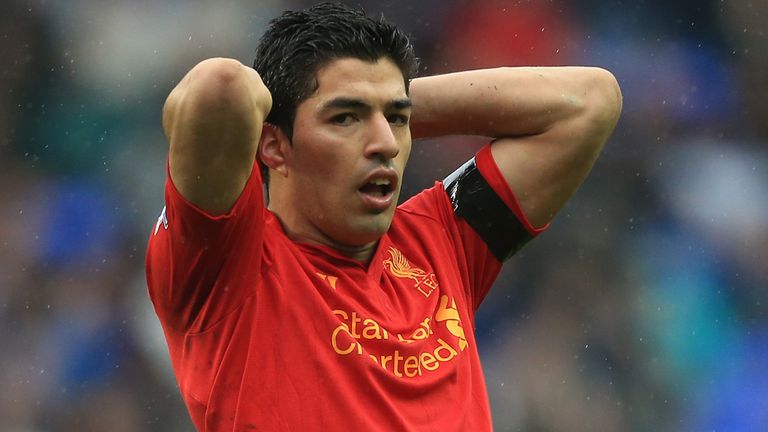 Suarez has suggested he would be prepared to leave Liverpool if the right offer came along after suggesting he is keen to remain in the Premier League.
Arsenal are reported to have had an offer for the Uruguay international rejected and Suarez acknowledged last week that he is 'flattered' to be a target for Liverpool's Premier League rivals.
Real Madrid have also been heavily linked with a bid for the 26-year-old, who will sit out the start of the new season as he completes a suspension for biting Chelsea defender Branislav Ivanovic.
However, Liverpool have not given up hope of keeping Suarez at Anfield and Ayre is confident the former Ajax forward still retains the backing of the Reds faithful.
"I don't think anyone will be against him at this point," Ayre told Bloomberg.
"He only needs to do what he did last season and everyone will feel he's in the right place and he should carry on getting the support that he deserves and gets from Liverpool.
"We'd love to see Luis put on a Liverpool shirt for this season and beyond and we hope that once he gets back things will settle down.
"This is an ambitious young player, he's talked in the media about wanting to play in the Champions League and all these things. It's our job to convince Luis that this is the right place to achieve those things."
Suarez is due to link up with the Liverpool squad later this month as he is currently enjoying a break after representing Uruguay at the Confederations Cup.
Only last week, Liverpool boss Brendan Rodgers confirmed he is in constant contact with Suarez and expressed his hope that the player would stay.
Rodgers told talkSPORT: "We communicate in some way nearly every day either through text or conversations. Over the course of the last few months and towards the end of the season there has been a lot of speculation with Luis, but the fact is it remains the same.
"We value the player. He had a terrific season for us last year and showed his qualities. Since then I've been in communication with him through texts and conversations on the phone and it [the situation] is pretty much the same. He is a valued player. He is an absolute magician on the field.
"Luis is a real competitor, a real winner. He wants Liverpool to do so well but, like every player, every manager, and more importantly every football club, they want to be working at the very highest level.
"At the minute he is on a break, he is relaxing with his family. We are in constant communication. He has got three years left on his contract, we don't want to sell him, and we hope everything will be fine for the summer.
"We want to bring in few more players to reinforce the group and we think we can put up a real fight next season."
Meanwhile, Ayre stated that Liverpool are still in the market for new signings after bringing in Simon Mignolet, Kolo Toure, Iago Aspas and Luis Alberto so far this summer.
Ayre added: "We've got other people in our sights and we'll keep plugging away. But we'll do some more business, there's no doubt about that.
"We've brought in great players who recognise we're not in the Champions League but see the size of this club, see the size of the opportunity and what we're trying to build and want to be part of it."