Brendan Rodgers explains Napoli loan move for Liverpool keeper Pepe Reina
Liverpool boss Brendan Rodgers says Pepe Reina was allowed to go on loan to give the goalkeeper more chances to play.
By Tim Oscroft
Last Updated: 26/07/13 9:30am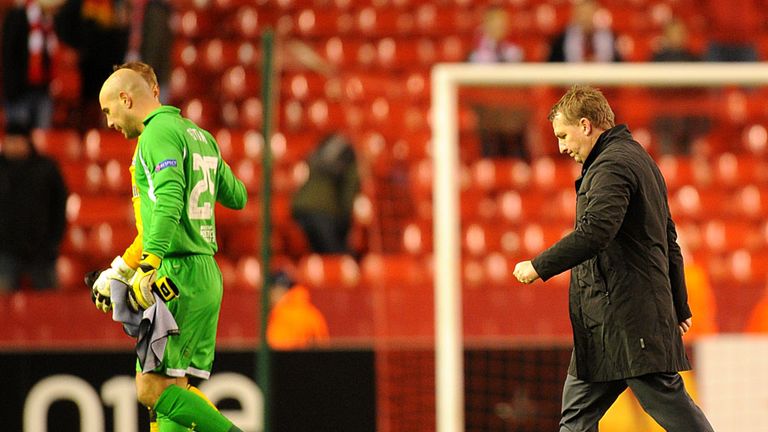 The Spain international is on the verge of completing a season-long move to Napoli in Serie A, where he will reunite with former Reds manager Rafa Benitez.
The recent arrival of keeper Simon Mignolet from Sunderland had thrown Reina's future at Anfield into doubt.
Reina was linked with a move to Barcelona last season, and Rodgers hinted that he had been steeling himself for his goalkeeper to depart the club.
"It was obviously a difficult decision. From last season I was led to believe that we were going to get an offer for Pepe that would probably see him leave the club," said Rodgers.
"On the football side, we have to protect the team, and at that stage we started our search for another goalkeeper.
"That found us Simon Mignolet, who is top class - one of the top young European goalkeepers.
"As events transpired, that move (for Reina) didn't happen and it left us with two very good goalkeepers. Both would have been fighting for the No.1 position."
Opportunity
With the 2014 World Cup looming at the end of the forthcoming season, Rodgers also felt that Reina needed a guarantee of regular football to improve his chances of making the world champions' squad.
He added: "An opportunity arose for Pepe and it was one we felt as a football club was best for him to take.
"As a senior goalkeeper, he needs to be playing. It's a very important year for him with the World Cup next year. It wouldn't have served any purpose, both for the club and him personally, if he'd been the one missing out.
"It's decided he will go to Napoli and we've got two very good goalkeepers still at the football club."
Liverpool also have goalkeeper Brad Jones, who signed a new long-term deal last December, on their books while Reina has three years to run on his current contract.
"We'll review it after the loan finishes," added Rodgers.