Liverpool forward Luis Suarez has been awarded an extra goal against West Ham
The dubious goals panel has decided to credit Liverpool forward Luis Suarez with an extra strike.
Last Updated: 11/12/13 5:41pm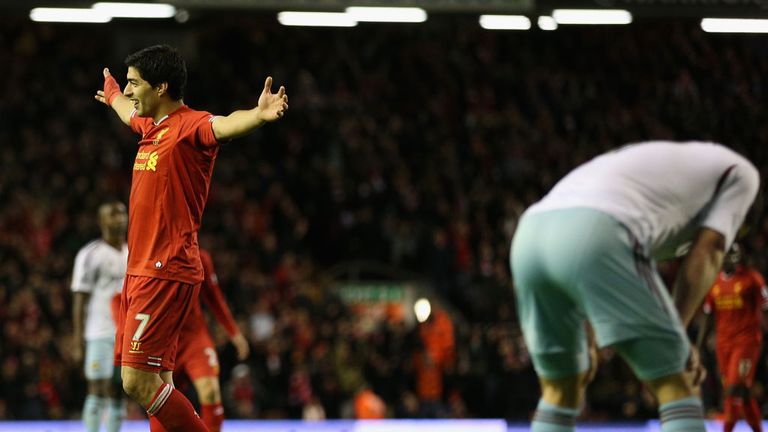 Suarez has been awarded the fourth goal in Liverpool's 4-1 victory over West Ham last Saturday, which had originally been ruled an own goal by Hammers defender Joey O'Brien.
The 84th-minute goal occurred when Suarez tried his luck from distance and his shot took a big deflection off O'Brien, leaving goalkeeper Jussi Jaaskelainen with no chance.
However, the panel has decided Suarez deserves the credit for the strike and he now has 15 for the season in just 10 games, having missed the first five matches of the campaign while he completed a suspension incurred for biting Chelsea's Branislav Ivanovic last season.
Manchester City's Sergio Aguero is now three goals behind Suarez in the goalscorer charts, having netted 12 in 14 matches.
The goals panel have also confirmed that Liverpool's second goal in the defeat of West Ham will be Mamadou Sakho's first for the club, being of the opinion that the ball had crossed the line before Martin Skrtel poked it into the net.
Dalglish enjoying watching Suarez
Meanwhile, Liverpool great Kenny Dalglish says the brilliance of Suarez is the key factor in Liverpool's good start to the season.
Dalglish signed the Uruguayan forward from Ajax in January 2011 during his second spell in charge at Anfield - and thinks the England defenders will be dreading their World Cup date with the striker next summer.
"I would have thought that, when the World Cup draw was made, there were a few English defenders thinking 'Oh no, I've got to play him again, it's bad enough twice during the season'," Dalglish told Liverpool's website. "You couldn't write the script.
"People glossed over the second goal he scored against Norwich because of the brilliance of the other three, but the technique for the second goal was fantastic as well.
"Luis has been fantastic. He's a great entertainer and he's a humble guy.
"He's somebody that really enjoys working in training. He is never a problem in training and he's fantastic on the pitch.
"It's a real joy to see him play sometimes. The goals he has scored have been hugely influential on the position that Liverpool are holding in the league at the moment (second)."