Premier League: Brendan Rodgers praises Liverpool's performance in 5-0 win at Tottenham
Brendan Rodgers felt Liverpool produced the 'most complete performance' of his reign after a 5-0 win at Tottenham.
Last Updated: 16/12/13 8:23am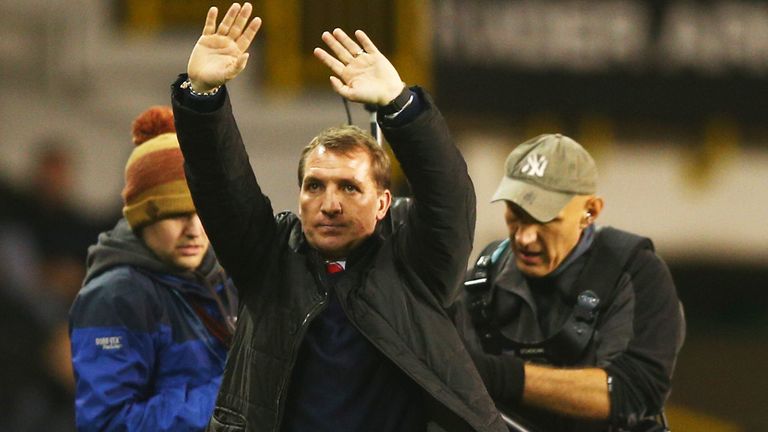 Luis Suarez scored a goal in each half and Jordan Henderson, Jon Flanagan and Raheem Sterling were all on target as Liverpool closed to within two points of Premier League leaders Arsenal.
Rodgers was delighted with the display, but insists Liverpool's ambition remains to qualify for the UEFA Champions League at the end of the season.
"It was fantastic," Rodgers told Sky Sports. "It was everything we'd wanted out of the game.
"First and foremost, our work-rate, how we pressed the ball as a team, was outstanding and that earned us the right to play.
"We got five goals and could easily have had seven or eight. That was probably the most complete performance since I've been here, and just continues the evolution of what we're trying to do.
"We just want to continue improving, continue to work on how we play. Today was great and I really enjoyed watching the team today in every aspect."
In the absence of injured captain Steven Gerrard, Henderson impressed and Rodgers was pleased to see the midfielder score his first Premier League goal of the season.
The Liverpool boss added: "We talked in the last couple of days about Tottenham that obviously the goalkeeper plays high and the back four play a high line, and Jordan's runs and Joe Allen's runs, particularly in the first half, were exceptional.
"He's an outstanding talent, Jordan. He can pass the ball, he's got good stature and, as you've seen today, his goals and assists were so important to the team."
Rodgers also praised young full-back Flanagan, who scored his first goal for the club with an emphatic finish from Suarez's cross.
"He's an incredible young player," said Rodgers. "He's a wonderful example for any player to stick at it.
"He's a youngster that no-one has asked to take him on loan, apart from one team, and he's just played in the reserves and for the Under 21 team, but it doesn't matter as his attitude every single day of his life is incredible.
"Since he's come into the team at full-back, he hasn't put a foot wrong."