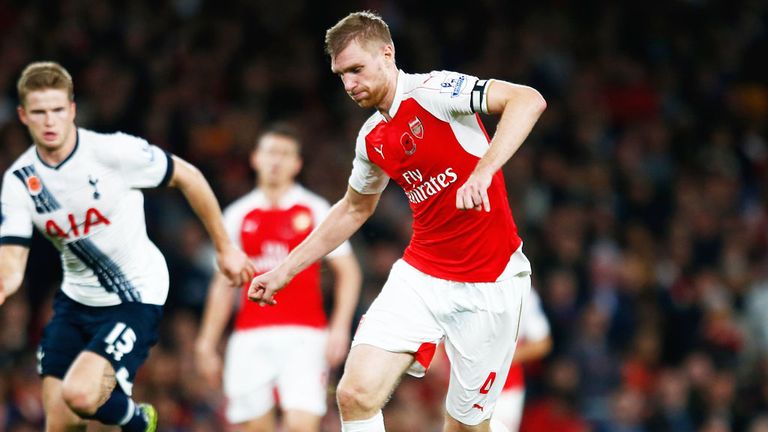 Arsenal defender Per Mertesacker says fatigue was a factor for both sides during the 1-1 draw with Tottenham on Sunday.
The Gunners rescued a point when Kieran Gibbs scored his first Premier League goal in almost three years to cancel out Harry Kane's opening strike for the visitors.
Arsenal made just one change from the midweek trip to Germany, with Gabriel Paulista dropping out of the team following the 5-1 defeat to Bayern Munich.
But with several players absent through injury, Mertesacker believes the result was a good one as the team remains unbeaten in the league since September.
"It was fun to play but we all looked a bit knackered, especially in the first half," Mertesacker said.
"We gave absolutely everything to get a draw here and we will enjoy next weekend off, a few of us, then back to duty the next week.
"We stayed with the same line-up as against Munich apart from Gabriel, and even they played on Thursday but they looked fresh in the first half and then suffered in the second.
"It is difficult to explain but to sum it up both teams gave their all on the pitch and that is why it was a joy to watch and a joy to play, especially in the second half."
Aaron Ramsey, Hector Bellerin and Alex Oxlade-Chamberlain are all expected to return shortly after the international break to ease the injury concerns of manager Arsene Wenger, who conceded ahead of the game he was worried by the number of absent players.
Mertesacker, too, feels there is only so long the Gunners can paper over the cracks, with the World Cup winner looking forward to welcoming his team-mates back.
"It is very important," Mertesacker said. "Over a short period you can replace a couple of players, but with two games a week - and the intensity will not lessen - you need a lot of players who can replace each other and come and give energy.
"That is important. It is how we beat Bayern Munich, Theo [Walcott] played for 75 minutes and then Olivier [Giroud] came on and gave us a different style and had a massive impact on the game. We need game changers.
"That is why with injuries we suffer a bit, but I'm convinced that after the international break we will have more options and therefore more confidence.
"At times we need to give more and be more convincing with our game plan. There is room for improvement but we are in a good position and we want to continue that unbeaten streak.
"Obviously with players coming back we will gain some more energy. You could see today how great it was to have Gibbs on the bench - he gave us a big lift we he came on, he was fresh and gave everyone a lift with the goal."