Arsene Wenger put the responsibility on Alexis Sanchez afterwards. "I would have rested him today but he felt perfectly alright," he told Sky Sports. "He declared that he had no problem." Perhaps, as Thierry Henry and Alan Smith said in the studio, Sanchez should have been saved from himself.
It's been a busy year. He scored a stunner at Wembley in the FA Cup final in May and was in Copa America action for Chile less than a fortnight later.
He went on to score the winning penalty against Argentina in the final, having played six matches and 525 minutes in the tournament.
There were promises of rest and Sanchez was back late for pre-season. But in terms of matches missed, that rest amounted to the Community Shield and being introduced as a substitute in Arsenal's opening Premier League game of the season - a 2-0 home defeat to West Ham.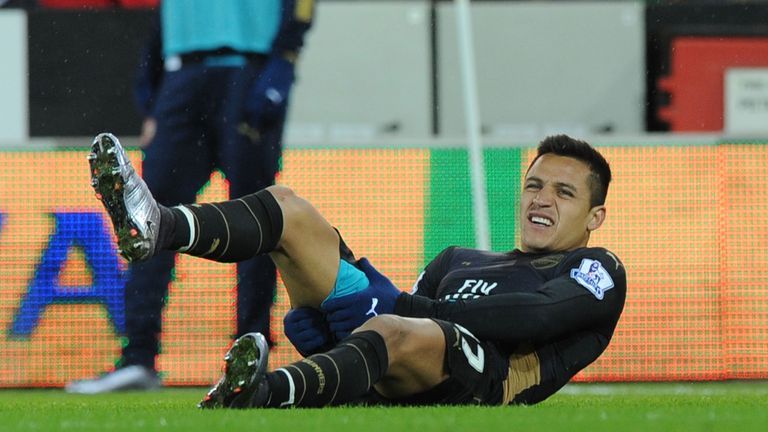 That performance and the subsequent demand for constant results in both the Premier League and the Champions League have left Wenger reluctant to rest such a crucial player. But even when the opportunities did arise, they were not taken.
Asked to justify playing Sanchez for the full 90 minutes in a 3-0 win over Dinamo Zagreb in midweek, Wenger's response was surprising. "Because a break makes him tired," said the Arsenal boss. Henry, a vocal supporter of Wenger, was among those with an alternative solution in mind.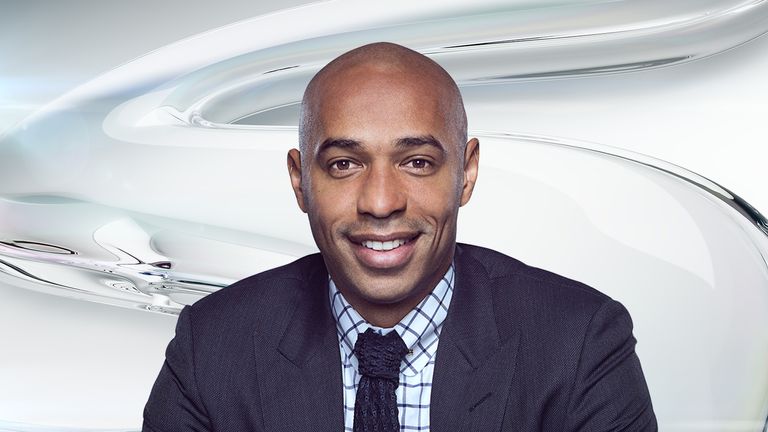 I thought at the time, the game was won against Dinamo Zagreb. He scored, he had a good game, he didn't get injured. Twenty minutes to go, take him out.
"I thought at the time, the game was won against Dinamo Zagreb," he told Sky Sports. "He scored, he had a good game, he didn't get injured. Twenty minutes to go, take him out. But I'm not a coach. I don't know how he'd have taken that coming into the dressing room, but that's your decision."
It's a perverse situation when studio pundits and the club's paying supporters are keen to see arguably the team's most popular player get a rest. But that's the situation that Arsenal fans have found themselves in. The reason is obvious. The warning signs were there.
Early in the week, Wenger had admitted to being concerned. "I am worried, because before he went away with Chile, he was a bit jaded," he said. "But if I ask him, 'Are you tired?' you can guess the answer. At some point I will give him a break."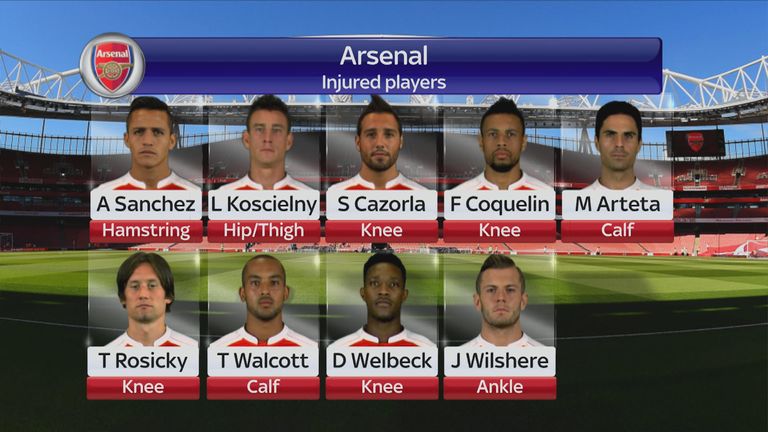 And yet, after playing him against Dinamo, there was instead praise for Sanchez's remarkable resilience with the Chilean being painted as some sort of super-human figure. "You always see signs of exhaustion but it's not because two days later, he's fine," said Wenger.
"You think: 'He's dead now.' But then he recovers and gives 100 per cent again. His resistance is remarkable. He goes to South America to play, he comes back on Thursday night and on Saturday he can play without a problem, even if he's jet-lagged."
On Friday came a caveat. "He had a little hamstring alarm but we will see how he recovers from that." At Carrow Road, we had our answer and it was one that did not reflect well on a club that is becoming notorious for its injuries.
Alexis Sanchez - Lowest average speeds in 2015/16 Premier League games
| | | |
| --- | --- | --- |
| 29 Nov 2015 | Norwich | 5.27 km/h |
| 21 Nov 2015 | West Brom | 5.39 km/h |
| 8 Nov 2015 | Tottenham | 5.48 km/h |
The statistics suggest that Sanchez might already have been playing within himself even prior to the incident. During his time on the pitch on Sunday, he had the lowest average speed of any outfield player on the pitch - 5.28 kilometres per hour - which was also his lowest so far this season.
Prior to Sunday, Sanchez's lowest average speed had been clocked in Arsenal's previous game against West Brom. The lowest prior to that? The game before that one against Tottenham. The trend was clear.
Fully fit?
Alexis Sanchez's top speed against Norwich was clocked at 30.3 km/h - his lowest top speed in any Premier League game so far this season.
In addition, there is the fact that the trademark explosiveness has not been so evident of late. This game also saw the lowest top speed - 30.3 km/h - at which Sanchez has been tracked in any Premier League game this year.
When he did attempt to close the ball down, the hamstring went and, as it turned out, so did Arsenal's hopes of victory. "I thought Arsenal died physically," said Henry. "When you lose a player like Sanchez you have five or 10 minutes where you think, 'Oh no.'"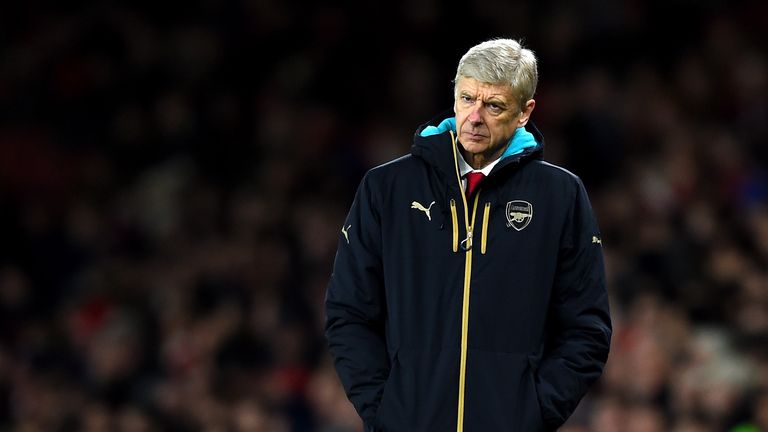 That might partially explain why Wenger was so reluctant to rest his man. It has led to a situation whereby only half a dozen forward players have played more Premier League minutes than Sanchez this season - and none of those men are at clubs involved in the Champions League.
The rest might have been on the way. The forthcoming home game against Sunderland would certainly have been another good opportunity. But the decision has been taken out of Wenger's hands and it's the games against Olympiakos and Manchester City that will be a worry now.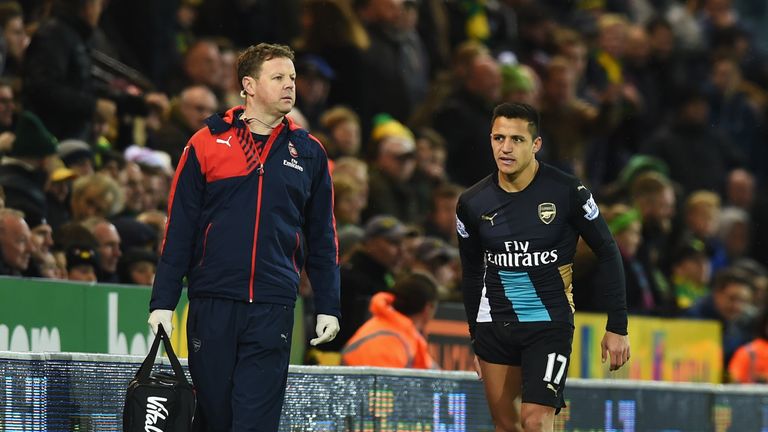 The manager remains insistent that the decision was Sanchez's to take and pointed to the lack of options with Theo Walcott, Danny Welbeck and Alex Oxlade-Chamberlain among those unavailable. "At the moment on the striker front we don't have much choice," said Wenger.
But whether the Arsenal supporters who are becoming increasingly agitated by the perceived mishandling of the squad will share these sentiments is another matter. The responsibility for managing Wenger's players may instead be seen to lie with the man paid to do just that.