Arsene Wenger insists he is "confident" that Mesut Ozil and Alexis Sanchez will sign new contracts this summer, no matter where the Gunners finish this season.
Ahead of their clash with Watford at the Emirates on Saturday, Arsenal are 11 points shy of Premier League leaders Leicester with eight games to go, and clear of sixth place by just three points.
Ozil signed a five-year deal when he joined from Real Madrid in 2013 while Sanchez signed a four-year deal from Barcelona in 2014. 
And Wenger said: "That will be done in the break, in the summer. There is nothing [at the moment].
"I am confident they are happy and would want to stay. They have two years left on their contracts. They look happy. When I talk to them they are happy and they want to extend their contracts so I don't think it is a problem." 
Wenger did confirm, however, that he will speak privately to Ozil after the midfielder appeared to concede defeat in their push for the Premier League title in an interview on international duty this week.
Speaking to German sports website Spox.com, Ozil said: "We have to be honest and admit that we mucked it up ourselves."
Wenger insists his squad must not give up their belief in the title until it is mathematically impossible and said: "We will talk about that yes, of course.
"The statement is not welcome because we have to believe, no matter if it just one chance in 100. We only have a real chance if we believe.
"You want to be fair and honest, but you want to look forward as well. The worst thing for us would be not to believe and then, if we had a good run, it was available or possible.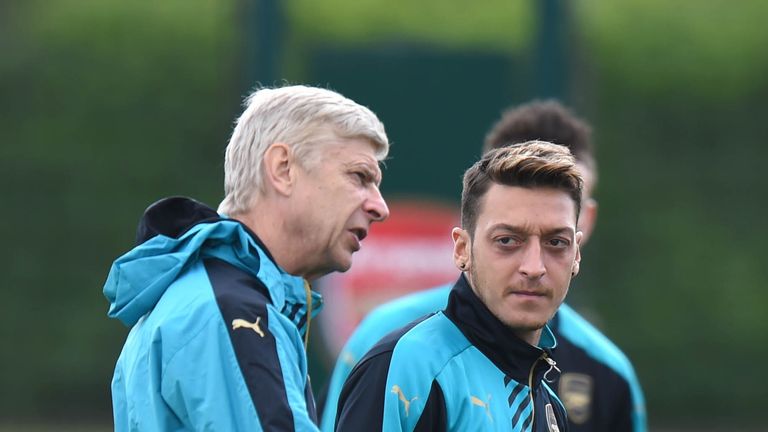 "The worst thing in life is to have the wrong beliefs. You have to make sure that you give your best and, at the end, accept that if somebody is better than you that you have given your best.
"I believe that we have to make sure that we play with passion until the end. That is the best way to get the supporters behind us. I will make sure they don't feel [like they have given up on the title]."