Arsene Wenger defends Arsenal transfer policy as club toils over new defender and striker
By Lyall Thomas
Last Updated: 31/07/16 11:04am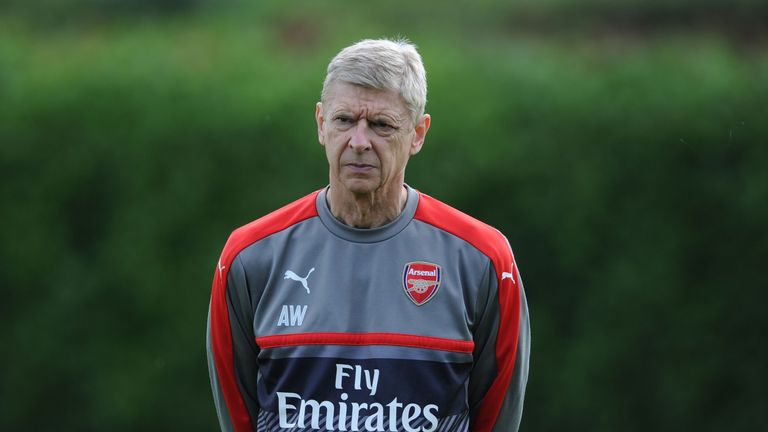 Arsene Wenger has defended his transfer policy and insists Arsenal will not just "buy to buy".
The Frenchman has confirmed the club are in the market for a new striker and centre-back, but he also echoed the sentiments of chief executive Ivan Gazidis, who this week insisted they will only spend a significant transfer fee on the right player.
Wenger was asked about Riyad Mahrez and Alexandre Lacazette, with the club having a bid turned down for the latter, but said talking about individuals in press conferences makes discussions more difficult.
"And it is difficult enough," he said. "We are still on the market at the front and the back. Unfortunately we are not alone.
"I buy players that I feel can strengthen our team. Today, you have to be very strong inside the club when you are responsible, not to just buy to buy.
"There is always a wave of opinions, and people are better informed today than all the players. They always tell you to buy but when you ask who to buy, they become much shorter, because if you look at the market in Europe there is a lot of money available, but not many players that really strengthen the teams.
"And if you look at who is spending the most in Europe, they are not the teams that won the leagues. The global investment of all the clubs around us didn't stop Leicester winning the league. So we have to focus on our quality, and try to strengthen our team.
"If you analyse well our season, we finished top of the top-four. We lost maximum points against the teams between five and nine. Maybe the games we were expected to win, we did, but against teams like Southampton and Swansea, we dropped too many points.
"On the other hand, we had a good defensive record, overall, but we can still strengthen that. And we were a bit short of goals scored. We didn't convert enough chances we created. We created the most in the league but our finishing was not as good as the season before. 
"You say we should have won the league, but Leicester lost only three games during the season and won the league. You have to respect their performance. It's not the name that wins the league, it's the quality of the performances."