Bournemouth loanee Jack Wilshere will be looking forward to taking on old rivals Tottenham on Sky Sports this Saturday. Adam Bate assesses the player's impact so far and his prospects for the future…
It is three years since Jack Wilshere started five Premier League games in a row. He scored Arsenal's equaliser against West Brom that day and followed it up with the volley that put the finishing touch to the goal of the season against Norwich next time out.
It was his first Premier League goal at the Emirates and the first time he had scored in consecutive games in the competition. It should have been the start of something. Instead, Wilshere was injured in the next game against Borussia Dortmund and has not played five in a row since.
On Saturday, that could change against Tottenham. But Arsenal's one-time golden boy is now on loan at Bournemouth, out of the England squad after an underwhelming Euro 2016 and with his reputation having taken blow upon blow following two injury-hit seasons.
In that context, the move to Bournemouth made perfect sense. After all, it is difficult to think of a young player in more desperate need of regular football. But it is also a gamble. Leaving the comfort zone of a big club can go one of two ways.
Danny Drinkwater has made a success of his career after being discarded by Manchester United, driving Leicester to the title. Tom Cleverley, meanwhile, is still struggling to convince people that the same club made a mistake in letting him leave Old Trafford.
Like Cleverley, Wilshere is not a player who necessarily makes his presence felt as much as he might in terms of both goals and assists. Even in Bournemouth's 6-1 win over Hull at the weekend, fantasy football managers would have been left disappointed.
But Wilshere's impact is being felt on the south coast nevertheless. Speaking to Sky Sports after that emphatic victory, manager Eddie Howe was quick to quash the notion that the 24-year-old had been anything other than integral to his side's good form.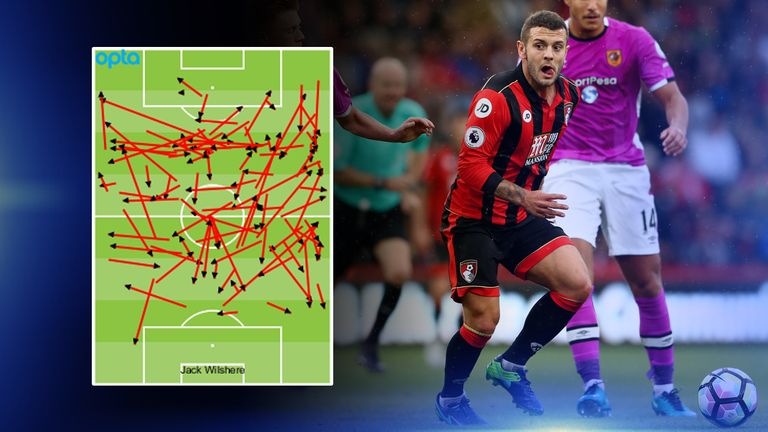 "He had a big bearing on the game today," said Howe. "Although maybe it's not evident initially on the eye, he's behind a lot of our good football. He's improving all the time."
Wilshere was involved early in the build-up to Junior Stanislas's second goal, regaining the ball, spinning away from his man and getting the 17-pass move going. It was just a small clue as to why Howe rates him as "one of the top technical midfielders in the country".
Premier League 2016/17 - Passing accuracy in final third
| | | |
| --- | --- | --- |
| Jack Wilshere | Bournemouth | 89.1% |
| Nacho Monreal | Arsenal | 88.6% |
| Alex Iwobi | Arsenal | 88.1% |
| N'Golo Kante | Chelsea | 87.3% |
| Francis Coquelin | Arsenal | 86.9% |
| Santi Cazorla | Arsenal | 86.8% |
The hallmarks of that technical quality are there in some of the numbers. Wilshere is completing 92 per cent of his opposition-half passes for Bournemouth. In the final third, it is 89 per cent - 41 out of 46. That is better than any other player in the Premier League.
Tellingly, four of the next five players on the list all play for Arsenal. The question of whether Wilshere could transfer his style of play to Bournemouth is being answered. The question of whether his body can cope with the physical demands of the league remains.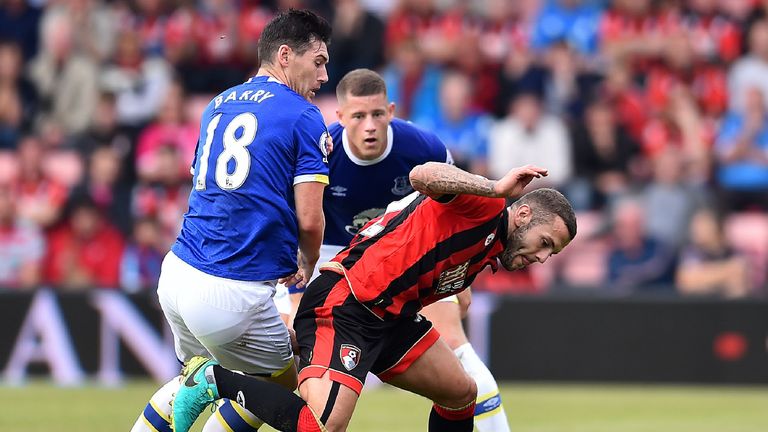 "The quality is there," said Howe. "Making sure he can perform to his best levels physically is what we're trying to help him with. Games are what he needs." The upcoming fixture against Tottenham is the ideal occasion for the next test.
Wilshere and Tottenham have history. He was even charged by the FA for leading anti-Spurs chants on the FA Cup parade last year, having been warned the previous season. He called the criticism "a bit harsh" and stressed that there are Spurs fans within his own family.


But the identity of Saturday's opponents is significant in another way too. Tottenham are a team who favour a high-intensity approach, frequently leading the way in terms of distance covered and sprints per game. These are the matches in which Wilshere has much to prove.
According to the Premier League tracking data, Wilshere has been clocked at 32 kilometres per hour in only one of his five games for Bournemouth so far. By way of comparison, eight of Mauricio Pochettino's men hit that speed in the game against Manchester City alone.
There are 14 Tottenham players who have run faster than Jack Wilshere in the Premier League this season.
No fewer than 14 different Tottenham players have surpassed it in the Premier League this season. These are the physical demands of the game in 2016. Getting around the pitch at pace is increasingly essential. Can Wilshere ever be that type of player? It is still unclear.
There is still time to address the issue, but time on the pitch is the only way that he can do it. Past history suggests that when Wilshere gets a run of games, his best form is never far away. But it's his history with injuries that he'll need to leave in the past if he's to truly push on.
You can watch Premier League football, plus England's tour of Bangladesh and the US Grand Prix on Sky Sports. Upgrade now and enjoy six months at half price!