Arsene Wenger has revealed how desperate he felt after back-to-back Arsenal defeats earlier in December.
The Gunners lost twice in the space of a week - away at Everton and Manchester City - despite being 1-0 ahead in both fixtures, meaning they lost precious ground on Chelsea in the race for the title.
They had been consistent up to that point, but Wenger says those defeats hit him hard, in particular the loss at the Etihad, where two dubious goals gave City all three points.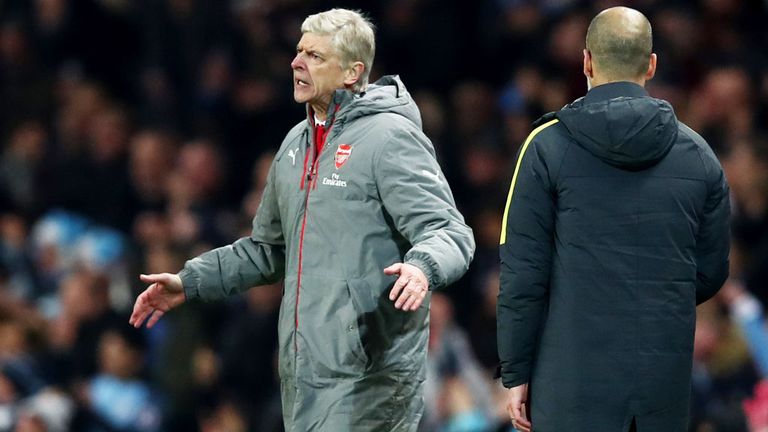 Asked if Chelsea's winning run of 12 games made their two defeats all the more frustrating, Wenger told Sky Sports: "If you had lived with me for three days after the Man City game, you would have understood, and not have asked that question in fact, because I was absolutely desperate after these two games.
"We lost under very special circumstances as well, you know. It's the first time in 20 years that I lose a game with two offside goals of that stature. On top of that we were 1-0 up in both games, we had the chances to score the second goal and third goal.
"We had to analyse and make our own criticisms, and come back with more urgency defensively, because we gave two easy goals away.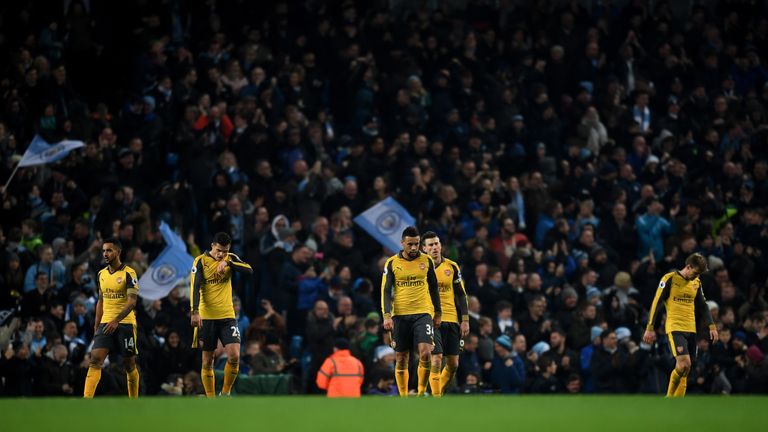 "Of course [Chelsea's run brings more pressure]. Every time you drop points you are in danger. Secondly, you hope that somebody would stop them soon, because if they win all their games until the end of the season, nobody can catch them.
"I will say what we usually say in England; it's theirs to lose now. But the only way we can keep as close as possible is to focus on performances and come back to a consistent way."
After those two defeats, Arsenal bounced back to form quickly with a narrow 1-0 win over West Brom, thanks to Olivier Giroud's late finish.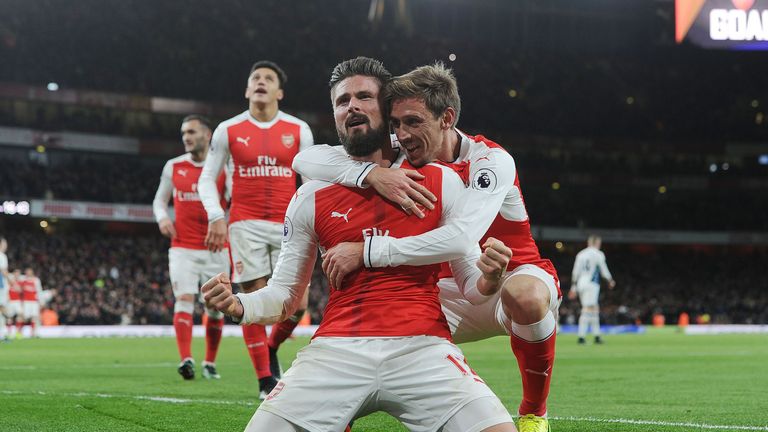 The Frenchman has found first-team opportunities harder to come by this season, and Wenger revealed that although Giroud accepts his role in the team, he doesn't always take it well.
"For me in my head he is a regular player, in his head he is a regular player, so when he doesn't play of course he is frustrated, but if he can still help the squad.
"He has different qualities from other strikers, and he has shown that again against West Brom that he is a fighter, a winner, and he uses his body well to bring other people in, and sometimes with his feet, sometimes with his head.
"So overall, when I think we need his qualities we play him. He accepts that, not well, but we are in a competitive world and unfortunately I can only start 11 players."
Arsenal host Crystal Palace on New Year's Day, live on Sky Sports 1 HD at 4pm, and said new Palace manager Sam Allardyce has adapted his style in the last five years, and is a "competent, intelligent" Premier League boss.
"He is a specialist, he is competent, he is intelligent, and he has always specialised in having an impact on the teams he has taken on in a difficult situation.
"Certainly he will create a level of urgency, and confidence will lift, and we have to even more focus on our performance, and try to be at our best to beat them.
"He is a very competent manager. I think as well in the last five or six years he has adapted to the style of the players he had, and he has been much more versatile than he was 10 years ago. Overall I think he has developed extremely well."
Hear more from Arsene Wenger on Soccer Saturday from midday. Watch Arsenal v Crystal Palace, live on Sky Sports 1 HD from 4pm on New Year's Day.