Mesut Ozil says Arsenal's "desperate" fight for a top-four finish takes precedence over his future - and even Arsene Wenger's.
This week's Monday Night Football defeat at Crystal Palace left Arsenal seven points behind fourth-placed Manchester City and was accompanied by significant numbers of supporters calling on Wenger to end his 21-year reign in the summer.
The manager will be out of contract while Ozil's deal, like team-mate Alexis Sanchez's, has little more than a year to run.
Live Monday Night Football


The German has repeatedly talked up Wenger's role in bringing him to north London and has previously suggested his future is tied to the manager's.
Speaking to Sky Sports ahead of Monday's trip to Middlesbrough - live on Sky - he said: "I think at the moment it would be wrong to really think about that, to go ahead and look at that.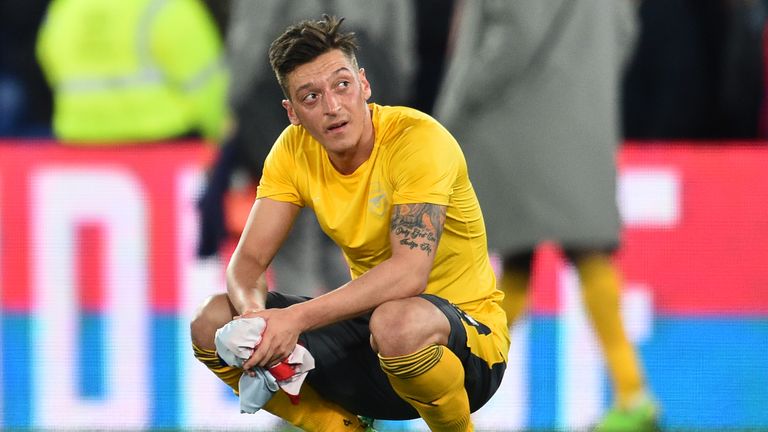 "At the moment the team we're having a more difficult spell and at this stage I'm not important and no other player is important. What's important is the club.
"We've got aims that we want to meet this season. There's still lots for us to play for. We want to qualify desperately for the Champions League for next season as well.
"So we'll talk in the summer and we'll clear things then but for the moment, all that's important is Arsenal and not me and not any other player - it's just the club.
"What we need to do is fight, to do what we can. It's not just about the boss or the fans - it's about the whole club and playing for the whole club."
Ozil repeated his belief that Wenger, Arsenal's longest-serving and most decorated manager, "deserves respect for what he has achieved here".
But he said: "As players, you can't pick your coach. You can't decide who manages the club."
Sky customers can now upgrade to Sky Sports and get 12 months for just £18 per month. Upgrade now!