Alexis Sanchez has told Sky Sports that he will decide his Arsenal future in the summer, and admits he has been "frustrated" at times this season.
The Chile international is under contract with the Gunners until 2018, but says the team have not lived up to expectations this season.
Ahead of Arsenal's Nissan Super Sunday clash with Manchester United, live on Sky Sports, he told Geoff Shreeves of his frustrations, when he will decide his future, and whether it will hinge on Arsenal finishing in the top four in the Premier League...


SHREEVES: How has the week been and how down was everybody after that poor result against Tottenham?
SANCHEZ: We have been very down about losing against Tottenham because it was a game that we really wanted to win, especially because of the rivalry between Arsenal and Tottenham. We were all very down in the dressing room straight after the game because it's one that you simply don't want to lose for the fans.
SHREEVES: Have you quite simply got to win all of your remaining games, if you've even got a chance of finishing in the top four?
SANCHEZ: I don't know if we'll have to win every game, but while we still have a chance, it remains a possibility. We're going to try to win every game because Arsenal are a big club and the first of those is on Sunday against a very good side.
When you look at the table, though, how difficult do you think it will be to qualify and is it almost difficult to believe that you still can?
SANCHEZ: Of course, we believe in ourselves and we also believe that the other sides will slip up because it isn't in our hands. It hinges on other teams dropping points. As I always say, anything can happen in the Premier League.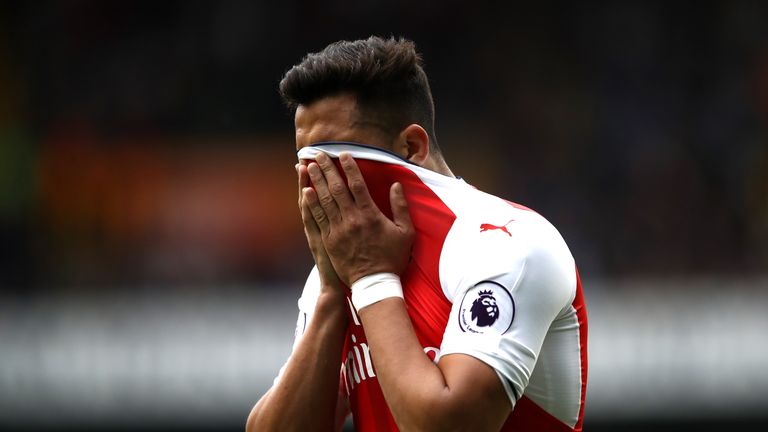 What do you make of your season so far, bearing in mind you started very well. You went on a 14-game unbeaten run, you were top of the table at one point, and it's all gone away.
SANCHEZ: I don't think it has been a very good season for me because I came here to win trophies, to be competing in the Champions League semi-finals and to win the Premier League, and I feel disappointed that we aren't in a position to win the Premier League or the Champions League. We do have the FA Cup final coming up and we'll give it our all to try to win it.
Given that you mentioned the Champions League, it leads to the obvious question: when you decide, with regard to your own future, whether Arsenal are in the Champions League [or not], will that be part of your decision?
SANCHEZ: It depends. What I want to do now is to finish the season well, try to qualify for the Champions League, win the FA Cup and then I'll sit down with the club to decide what I'm going to do.
I don't think it has been a very good season for me. I came here to win trophies...I feel disappointed we aren't in a position to win the Premier League or Champions League.
Is there any further news on your situation because Arsene Wenger has said recently that he expected you to sign, as though progress had been made?
SANCHEZ: No, we've said that the two of us will sit down together to discuss the topic in terms of what will happen and what we're going to do, what's best for the club, what's best for me, what's best for him. We'll speak once the season is over because if I speak now, that would take my focus away from what I want, which is qualifying for the Champions League and winning the FA Cup.
You seem to have cut a fairly frustrated figure at times this season. Would that be fair?
SANCHEZ: Sometimes I am frustrated, sometimes I'm not. There have been games when we've been in a position to kick on and win, but we've made a small mistake and found ourselves 2-0 down. Sometimes that gets to me because winning those points is so important if you want to win the Premier League.
How much does your body language reflect what you're actually thinking? In certain instances, sometimes you look really angry at your teammates, for instance, 3-3 against Bournemouth, were you angry that they didn't run back with the ball and is that a reflection of your character?
SANCHEZ: No, I'm not normally like that. I sometimes get angry with myself because there are moments on the pitch when I make mistakes and I don't like it when that happens. I've played for other clubs and I have to say that the quality of the players here is very impressive. There isn't a very big difference.
When I got here, I thought, 'I'll win the title with this squad.' I feel that we should win more games 3-0 or 4-0, of course, that does sometimes happen when we play very well. I think Arsenal play the best brand of football in England.
There's nothing wrong with showing passion, of course. Is that what it often is with you: showing your commitment and your passion?
SANCHEZ: As I always say, life is short and a footballer's career is even shorter. I want to win in every training session, I want to win every game I play in. That's why I sometimes feel powerless when I go home after a bad result and feel sad that the fans at the stadium haven't seen us win, and the Arsenal fans always follow us in huge numbers and make a lot of noise.
So I want to win for them and for the team. That's why it's so frustrating when you don't come out on top in games that are there to be won.
Nobody likes being substituted, but, be honest, you look like the most unhappy player in the world when you're substituted. You look like you want to kill someone…
SANCHEZ: I love football. The thing I get to do every day is also my passion. God gave me a footballing gift and when I'm substituted, I don't get angry simply because of that, but maybe because I got a pass wrong, missed a penalty or messed up a goalscoring chance, and so I get very angry with myself and I go home sad, but sometimes you have to enjoy your football and be happy.
Is it still possible to do that? To still do that at the top level when there is so much at stake and you care so much, and, obviously, you're as passionate as you are, are you the sort of person that can just forget about it easily? Or do you think about it all the time if it's gone wrong?
SANCHEZ: It's very tough if I'm honest. Every player is very different. There are players who don't mind. They go out and feel fine about it, but the ones that want to win and be champions are the ones that put in the biggest effort, go home and get angry [if it hasn't gone well]. They lock themselves in and can't sleep, which is what sometimes happens to me if we've lost a key game.
I want to win the Champions League which is every footballer's dream. I want to win the Premier League because I play here. Players who want success in football and people who want to achieve greatness in life get angry when it's not going well and demand more from themselves.
One more goal and it would be your best league goalscoring return ever, what do you put the amount of goals you've scored this season down to?
SANCHEZ: I'm very happy about that, but, as always, I demand more from myself. I think that if a player wants to be at the very top, he needs to win the Champions League and league titles. That's what makes the great players truly great.
What's it going to take for this season to be successful?
SANCHEZ: First of all, I think we need to win on Sunday. We need to give our sweat, blood and whatever else it takes. Every player needs to give their all and it has to be the same in every game. We also need to win the FA Cup final, so the aim is to qualify for the Champions League and lift the FA Cup.
Watch Arsenal v Manchester United live on Sky Sports 1 from 3.30pm on Sunday.
Grab a Sky Sports Day Pass and strap yourself in for a blockbuster Super Sunday as Arsenal face their old foe Man Utd. All the action live on NOW TV, no contract!