Arsenal defender Laurent Koscielny says no Champions League football would be "disappointing"
Last Updated: 16/05/17 11:49pm
Laurent Koscielny says no Champions League football next season would be "disappointing" for Arsenal and discusses the futures of Arsene Wenger and Alexis Sanchez.
The Gunners remain three points behind Man City in fourth spot with two games each to play and host already-relegated Sunderland live on Sky Sports on Tuesday evening.
Koscielny says that not featuring in Europe's top cup competition would not be the ideal outcome for Arsenal, but the team will keep pushing for the rest of the season to be in the mix.
"We perform every weekend to be in the top four and to fight for the title over the season. To not be in the Champions League next season would be a very disappointing situation for us but we will fight until the end to have as much of a chance to be there next season," he told Sky Sports News HQ.
"The Champions League is a competition that a player wants to play in because you play against the best teams in Europe and it is always an important competition... It is very important for Arsenal to be with the best teams in the world.
"We have a small chance [of making the top four], but in football, you don't know, especially in England. All the teams can win against each other and we need to do our job first, to have the two wins and after that, we wait for the results of Liverpool and Man City.
"I think every game is important but now we are nearly at the end of the season, we have two games and we have to win them both so it starts with Sunderland.
"I think they just want to play and show they have the quality to play in the Premier League so I think it will be a hard game but we need to dictate our game, to have the possession, to play with more movement like we played this week and to have the best result for us."
It has been a particularly turbulent season for manager Wenger, whose future at the club has been called into question more than ever before.
While Koscielny only had praise for his fellow Frenchman, he added that the players should not let Wenger's imminent decision on his future affect them on the pitch.
"It is a difficult situation when you don't know what is happening with the boss but you are professional," said Koscielny.

"We are players of this club and we just want to have the best results, not to think about our situation or the situation of the boss.
"We are all in the same boat and the top thing is Arsenal. Maybe some players don't feel great but we need to be focused on our job and not worry about Arsene.
"I don't know [if there are signs that Wenger will leave]. Sometimes I could say yes and sometimes I could say no so I think we will respect his decision. He has given a lot to this club during 20 years and done an unbelievable job so we need to respect this and we will respect his decision at the end of the season.
"For me, he is a person I like a lot. He is a big part of my life and my career so I have a lot respect for him. I can't say anything about him, just nice things."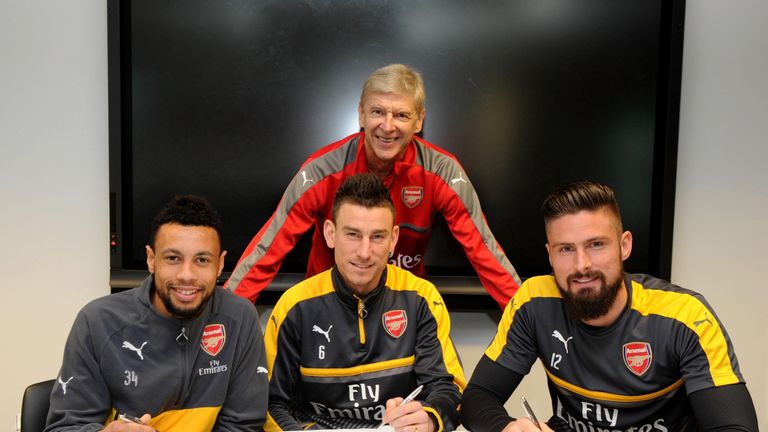 Another Arsenal man under scrutiny in recent months is Sanchez, with rumours continuing that he will leave the Emirates in the summer, but Koscienly is adamant that the players want him to stay.
"Firstly, he [Sanchez] scored a lot of goals for us but his first job is not to be a striker, it is more midfield but he is an unbelievable player. He just wants to fight and have the best result for the club," he added.
"Sometimes, he is disappointed with the result of our game but he knows that we just want to fight for each other and for the club. When you have a player like this in your team, to show the way we want to grow together, it is important and I think he has a lot of players behind him to keep him.
"I don't think there are a lot of players like him and a player like this who can be the difference during the game, it's rare. We want to keep him with us because we know he is so important for our team."
See if Arsenal can pick up three points in the race for the top four as they host Sunderland live on Sky Sports 2 from 7.40pm.