MNF Extra: Was Arsenal's back three always doomed to fail?
By Adam Bate with Jamie Carragher
Last Updated: 14/09/17 2:01pm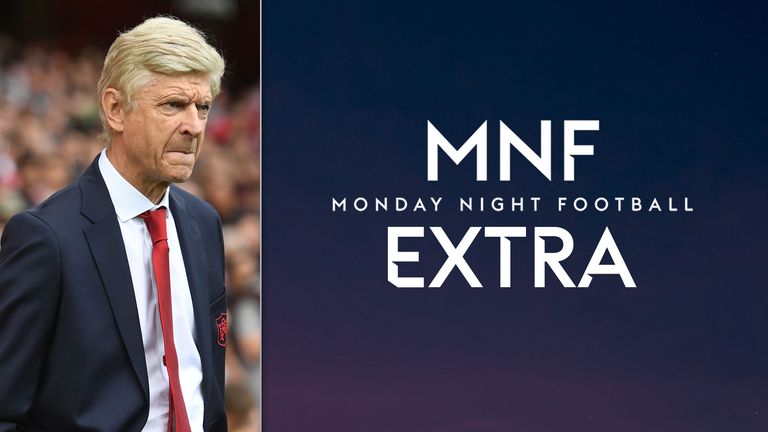 Was Arsene Wenger's belief in the success of Arsenal's back-three switch built on a myth? In the latest Monday Night Football Extra, Jamie Carragher examines the statistics that suggest Arsenal's defensive issues never went away and could have been anticipated…
As the pressure mounted on Arsene Wenger in the spring, Arsenal's unexpected switch to a back three for the first time in two decades coincided with a strong finish to the season. Not only did they win seven of their last eight Premier League games but, in lifting the FA Cup, the Gunners also showed that they could have success against the top teams too.
"It was such a great thing for Arsenal to win the FA Cup against top opposition," says Jamie Carragher. "They had won the FA Cup before against Hull and Aston Villa but this was against the champions Chelsea after beating Pep Guardiola's Manchester City in the semi-final. That was the really great thing about Arsenal's end to the season."
The team's formation shift was widely credited as a key factor in the revival. Wenger himself pointed to an added stability when facing long balls and felt that the change had given his players more confidence. "Sometimes when a team lacks confidence, just to change the system can help to believe in something different," he told Sky Sports.
As a player familiar with both systems, Carragher agrees. "Sometimes when you go to a new formation it changes people's concentration levels," he explains. "It gives the players that something to focus on because they are suddenly doing something different rather than repeating the same stuff. So it can be a mental thing that managers use."
The problem for Wenger is that such stimulus is not built to last. Arsenal's problems never really went away. So perhaps the alarm bells should have been ringing in July when he confirmed that his team would "certainly play with a three" from the start of the 2017/18 campaign. This despite a lack of significant new arrivals to help make the system succeed.
"I was surprised that he stayed with it," adds Carragher. "I thought it was something just to get them through to the end of the season. There is no doubt they got results with it but their actual defending did not massively improve. I have never really been convinced when watching them that it is going to make that much of a difference."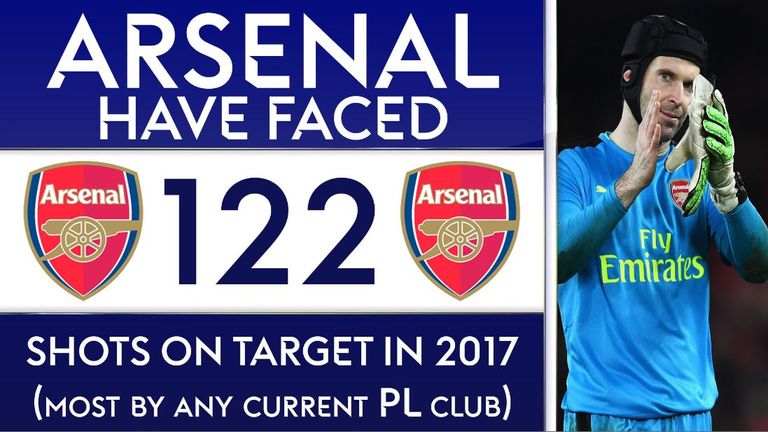 Perhaps surprisingly given the upturn in results last season, delve deeper into the statistics and it does indeed become clear that the issues remained. Arsenal's 'expected goals' stats, looking at the goals that a team might have been expected to concede from the specific shots that they allowed their opponents, reveal that this was a mere illusion of stability.
In fact, the numbers show that, on average, Arsenal would have expected to concede 1.7 goals per game with a back three last season compared to just 1.2 per game when using a back four. In that context, the three goals conceded against Leicester on the opening day followed by the 4-0 thrashing at Liverpool look like accidents waiting to happen.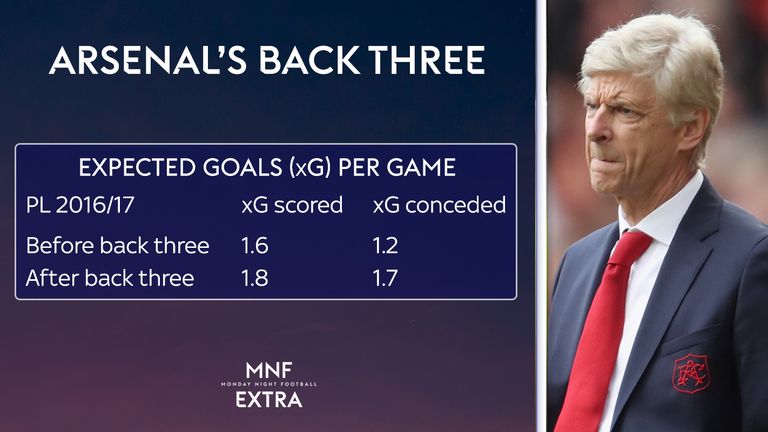 "I don't think their problems were with the system, I think they were about the mentality," says Carragher. "There are problems in midfield and that was shown against Liverpool where there was such a lack of protection for the defence. That has been happening for a long time so a system change is not going to stop that against big teams away from home."
Wenger's formation switch back in April was designed to give his players something to believe in. But could he have been the one seduced by his own scheme? Did Wenger's psychological ploy only succeed in convincing him that he had the players already at the club to make three at the back work without the need for major squad surgery?
"I was really surprised that they did not sign a centre-back in the summer considering they were going with three at the back," says Carragher. "Not only did they need more centre-backs but Per Mertesacker is a year older and, reading between the lines, if a good offer had come in for Shkodran Mustafi they would not have been too unhappy to sell him either.
"The problem you have got if you play three centre-backs is that it means you need five in your club as a minimum, probably six. I just don't think that they have got the numbers and I also don't think they have got the quality to play that system, hence why it has not had a massively positive impact defensively when switching from a four to a three."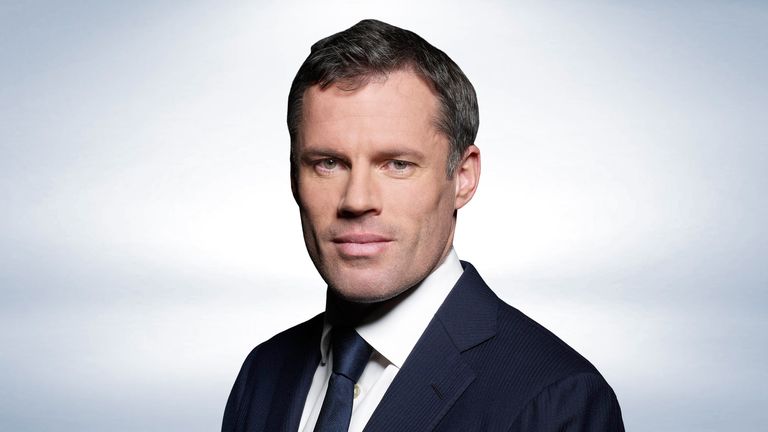 You are never going to be able to do it as effectively as a manager who has used that system year in year out.
Jamie Carragher
On Super Sunday, Wenger's Arsenal will take on Antonio Conte's Chelsea - a team transformed by the decision to make that same change of formation from a back four to a back three one year ago following a defeat at the Emirates Stadium. The difference is that Chelsea had the manager and, eventually, the players to make it succeed.
"With what Conte did last season with a back three, being the first team to win the Premier League using it, of course it is going to come into vogue and teams will start copying it," adds Carragher. "But you are never going to be able to do it as effectively as a manager who has used that system year in year out with Juventus and the Italy national team.
"He will know a lot more about that system and how to get the best out of it. If you look at Chelsea's team, they have got two real defenders in Cesar Azpilicueta and Gary Cahill, and he has done wonders with David Luiz who looks like a proper defender now too. That is just a credit to Conte's coaching." The next test of Wenger's coaching comes at Stamford Bridge.