Billy Beane, the man who inspired Moneyball, says Arsenal are an excellent example of the way to run a football club.
Beane, the Executive Vice-President of the Oakland Athletics baseball team, rose to worldwide fame in the early noughties by achieving success as the A's general manager with a relatively poor 'small-market team' in a sport dominated by super-rich teams such as the New York Yankees.
His methods, using mathematics and statistics to find undervalued players, were written about in Michael Lewis' 2003 best-selling book Moneyball: The Art of Winning an Unfair Game, which was made into a 2011 film in which Beane was played by Brad Pitt.
Beane has admitted he is a "huge fan of Arsenal" due to the way the club has stayed competitive in the Premier League and the transfer market despite the huge costs incurred by moving stadium from Highbury to the Emirates.
"There are some decisions in sport that cost a lot of money, that are good decisions." Beane told the Leaders in Sport summit.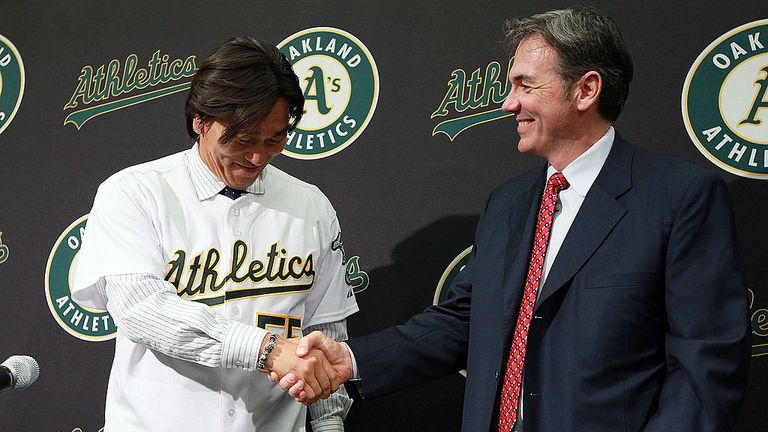 "Having a lot of money gives you access to very good decisions. Michael Jordan was worth a lot more money than he was paid by Chicago Bulls, even though he earned a lot of money.
"It's the same thing in football - there are a lot of great footballers who are worth three times their earnings, despite the fact people think they are making a lot of money.
"I won't go deep into it but I'm a huge fan of the Arsenal football club, because I think it's a really [good example], from the football field to the way it's been run, the stadium and everything. To me, it's an admirable football club. It's a football entity when all's said and done."
Beane, now 55, first became interested in football 16 years ago when he took his wife to London on holiday and has befriended football figures such as Damien Comolli, the former director of football at Tottenham who is an advocate of Beane's methods.
Just last month, Beane was linked with a consortium involved in a takeover bid for Championship side Barnsley.