Per Mertesacker 'paid no attention' to Troy Deeney comments but wants Arsenal to be tougher
By Michael Hincks
Last Updated: 17/10/17 5:40pm
Per Mertesacker admits Arsenal must be "mentally tougher" away from home, but insists he paid no attention to Troy Deeney's comments on the weekend.
Deeney claimed Arsenal "backed off" and lacked "cojones" after the Gunners fell to a 2-1 defeat at Watford despite taking the lead on Saturday evening.
Mertesacker says he does not listen to the critics, insisting the club are more than aware of what lessons must be learnt.
"I don't know what he said," Mertesacker told Sky Sports. "I don't pay attention. Anyways it was after the game I think, so I didn't watch it.
"We should concentrate on ourselves first of all, there are so many guys involved and so many opinions, which is fine, but we need to focus on ourselves and learn lessons from that.
"If we start to listen to too many people it's not worth it, honestly, I need to look at myself and think what could have been done better.
"Afterwards, it's easy to judge and easy to say words and think we are lacking something. We have to think how we can provide better performances, especially away from home, where it gets tight and difficult.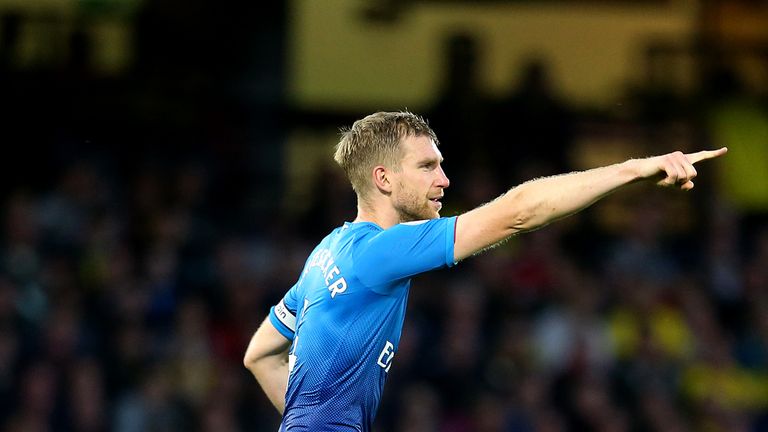 "If we start to listen to too many people it's not worth it, honestly, I need to look at myself and think what could have been done better."
Per Mertesacker
"That is all going on here. I'm not a favourite of listening too much to other guys. I haven't done that in 15 years, I'm not going to do that in my last year."
Mertesacker handed Arsenal a first-half lead at Watford on the weekend, but the Gunners failed to put the game to bed despite chances for both Alex Iwobi and Mesut Ozil.
Deeney then netted a controversial equaliser from the penalty spot before Tom Cleverley handed the Hornets all three points with a stoppage-time winner.
Arsenal converted just one of their six shots on target at Vicarage Road, while Mertesacker's goal was their first on the road this Premier League season, and the German wants his side to show greater resilience in front of goal.
"We need to be mentally tougher in front of goal. We create the chances, but sometimes we need to switch on quicker," he added.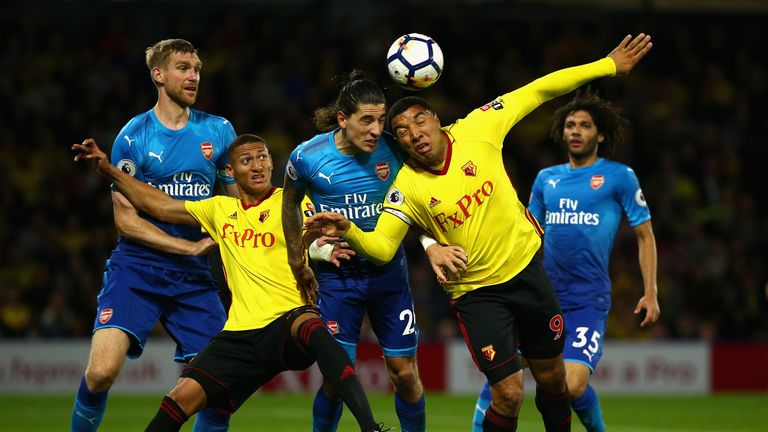 "I believe we have that mental toughness but we need to switch on and do our thing.
"We were not good enough against Watford because we missed a chance and the majority of players were still thinking about that chance. Those things, switching on, need to be quicker.
"We had everything in place. We scored from a set-piece away from home, we protected the goal well for the first 60 minutes, we had a couple of chances to go further ahead - but we didn't.
"Then you need to be really resilient in those tight moments, and make clever decisions, but that's what we lacked basically. We want to be more clever in defending our own goal."