Arsene Wenger has admitted he is "frightened" by the prospect of retirement but convinced of his continuing "mission" at Arsenal.
Wenger takes his side to Everton for a Super Sunday clash on a milestone day as he celebrates his 68th birthday and prepares to take charge of his 400th game on the road in the Premier League.
The Frenchman signed a fresh two-year deal back in May to further extend his 21-year reign at the club and while he concedes life after Arsenal will be venturing into the "unknown," he insists his motivation - as well as confidence in his capability - remains undiminished.


"I started this job at the age of 33 so I've done 35 years without having a stop at all," Wenger tells Sky Sports' Patrick Davison, shrugging off the meagre two hours of sleep he has managed following his side's return from a Europa League win in Belgrade. "There's no break; it's 35 years of total focus and dedication to football life.
"Why keep doing it? Because I love it. Because it's a job where I think you can have a very positive influence: on people's lives, on results, on the dimensions of a football club, on values - because I think first of all a club is about values, which we forget a lot today.
"I feel on a mission to carry these values through for this club because I think this club is usually respected all over the world for its values and it carries through the generations."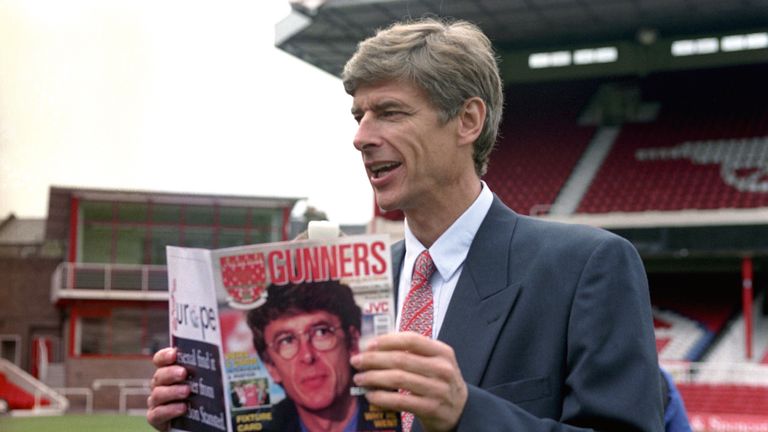 Wenger began his managerial career at Nancy in 1984 and a life he feels was "destined" to be in football took him to dugouts in Monaco and Japan before north London in September 1996, where he was hailed as a revolutionary.
Is he frightened of calling time on a club, a sport, a career he describes as a "dedication of his life"?
"Yes," he says, "Because every end is to be in front of the unknown and of course it can be a bit frightening.
"But even if it is frightening, I'm not too scared. I just want to do what I do as long as I think I can do it well and I have the motivation to do it. On that front, I have no doubt.
"After, the day will come quickly, maybe not, but I am completely focused and completely committed."
Wenger has admitted that months of uncertainty over his future damaged his side last season as they finished, despite the consolation of another FA Cup success, outside the top four for the first time in his tenure.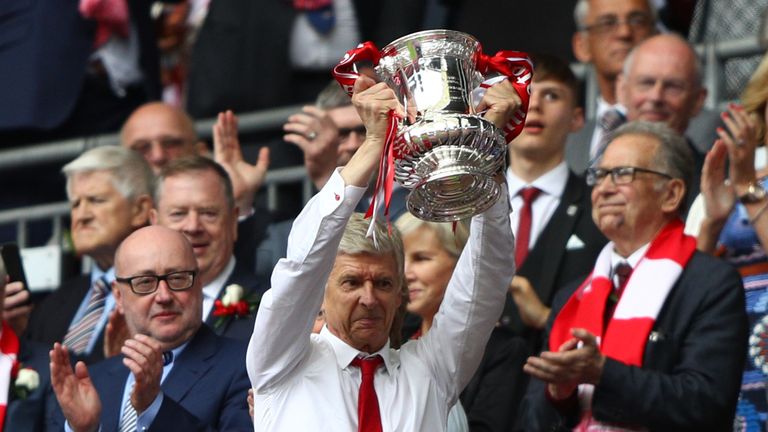 There had been tumult in the stands, too - fans increasingly divided as the wait for news dragged on - but while Wenger agrees to being "stubborn," he prefers to focus on the positives of "persistence".
"I'm a guy that's absolutely passionate and I think my family would agree that I'm stubborn as well," he says. "There's always a fine line between being stubborn and stupid but if you give up too quickly in life you do nothing well.
"Persistence is an underrated quality. If you look at people who are successful, most of them have a consistent determination to do what they want and are ready to commit completely."
The passing years, he says, have failed to take the sting from defeat but though a loss at Watford prompted fresh scrutiny of his players, he rejects claims the current crop lack his commitment to the cause.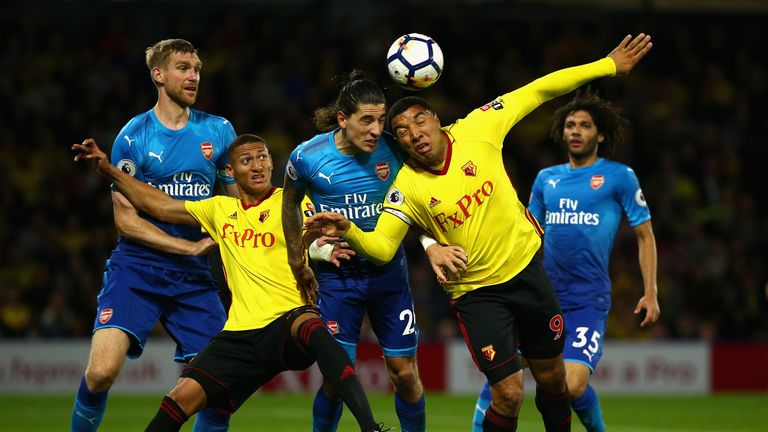 Sunday's trip to Goodison Park, though, presents the perfect chance to respond.
"It's a nightmare what happens to a manger's heart and head after defeat. It's horrible and that doesn't get better with age. But people think too many times that the players don't care. Players want to be heroes, be stars, win every game...
"I believe that they have (leadership qualities) and that's at stake on Sunday. It's what we have to show until the end of the season. We're involved in many competitions. Every team has to deal with a bad result - it's how you respond."
Arsenal sit seventh ahead of the showdown against Ronald Koeman's beleaguered Everton side, 12 points behind a swaggering Manchester City side that leads the way.
But Wenger refuses to think Arsenal's fate this season could prove all too familiar.
"Football's about the moment," he says. "What looks unstoppable in October might not be the case in December. But that can only happen if other teams continue to believe in their quality."
Wenger - in Arsenal, himself and his players - continues to believe.
Watch the full interview with Arsene Wenger in the build-up to Everton v Arsenal, live on Super Sunday from 12.30pm.