Arsenal's 2-1 defeat to Brighton on Sunday heaped further pressure on beleaguered boss Arsene Wenger. The veteran manager is responsible for the club's alarming decline but the problems now facing the next manager look hard to fix, writes Adam Bate.
Brighton have never had more than six shots on target in a Premier League game but it took them just 32 minutes to reach that number against Arsenal on Sunday, scoring twice in the process. "It is as bad a half an hour as I have seen in a long time from Arsenal," said the club's former striker Alan Smith on co-commentary for Sky Sports. It was wretched stuff.
In the end, a 2-1 defeat seemed like a lucky escape given the ineptitude of Arsenal's first-half performance but Arsene Wenger will not be able to escape the criticism. The Gunners have now lost four games in a row in all competitions for the first time in 16 years - one of them at home to the tiny Swedish side FK Ostersunds. And the away form is even worse.
It is four consecutive Premier League defeats on their travels too. The opponents in those matches have been Brighton, Tottenham, Swansea and Bournemouth. In all, Wenger's side have picked up just 13 points from their 15 away games in the competition this season - their worst record in the Premier League era. This is historically bad.
In his press conference on the South Coast, Wenger suggested that the negativity was normal after losing a cup final but it was the manner of that defeat that irked supporters. Gary Neville's in-match verdict for Sky Sports attracted a lot of attention but perhaps the most telling line was that this Arsenal side do not even play good football any more.
It was a key point because it hinted at the depth of decline Wenger is overseeing. For all the familiar talk of the need for more leaders on the pitch and discipline off it, for all the complaints about goalkeepers and defenders and holding midfielders and forwards, there was always the football. The sight of Santi Cazorla. The one-touch passing. The entertainers.
Even over the past decade, Arsenal have played over 10,000 more passes than any other team. Long before Pep Guardiola was wowing English football, it was Wenger's philosophy that reigned supreme. "Football is art, like dancing is art," he once explained. There is a reason why Barcelona so often turned to Arsenal for their next signing.
Wenger was a confirmed aesthete but one who won trophies too. "We do not try to cheat our people," he said. "We don't always manage to do it but people come to the games and we always try to give them something for the money they spend. There is always that ambition." But is the foundation still there for someone to build on? It is no longer obvious.
Mesut Ozil once called it their PlayStation football but it is just a memory now. As recently as the 2015/16 season, Arsenal still created the most clear-cut chances of any Premier League team. Last year they ranked third. Now they are fourth behind Manchester City, Liverpool and Tottenham, the three teams most often praised for their style of play.
Guardiola's City have taken the passing game to another level, Jurgen Klopp's Liverpool have come to epitomise the intensity so absent at Arsenal, while Tottenham, of all teams, have fused both of those styles into something special of their own. The Gunners are no longer even the go-to style gurus in north London - and all the old flaws are as apparent as ever.
Petr Cech was supposed to be the proven winner but he was as responsible as anyone for this latest loss. There is a lack of steel in defence, of course. But there is also a lack of quality as well. A midfield enforcer could add protection but he could not transform the tempo of this team. Who could? Not the team's new striker Pierre-Emerick Aubameyang, it seems.
The change must surely come from the top and with growing talk of Wenger going in the summer, it is likely to fall to the Frenchman's successor to begin the rebuild. One hopes he is aware of the scale of the task. The Arsenal that Wenger inherited back in 1996 was a shadow of this one in many ways - but not on the pitch, where it matters most.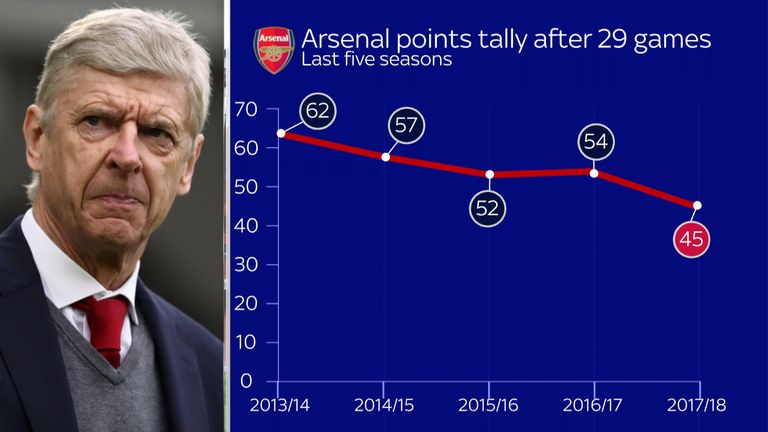 The facilities and the finances have escalated dramatically, of course, but it is worth remembering that the much-maligned Bruce Rioch finished fifth in his sole season in charge. Arsenal will not be managing that this year. Indeed, they are closer to Burnley than Chelsea. Closer to Brighton than Tottenham. Closer to bottom club West Brom than leaders City.
Rioch's Arsenal was one full of title winners in defence and a guy called Dennis Bergkamp in attack. Wenger worked his wonders in the years that followed but his replacement will be asked to do even more. "That job at that time was an absolute dream job for someone," Graeme Souness told Sky Sports. "What sort of job will the new man be walking into?
"I look at that Arsenal team today and, whoever walks in next, who can they look at and think, 'he can be my main man in that position for the next four or five years' because there isn't anyone you could say that about. I think they are so far off the rest of them and that has to be Arsene Wenger's fault. He makes all the football decisions. Who else is culpable?"
Souness knows a thing or two about inheriting a dynasty in decline. As with the Manchester United that Sir Alex Ferguson left behind, the key figures in Kenny Dalglish's Liverpool were ageing and Wenger's successor would be facing similar problems. Laurent Koscielny is 32. Ozil is 29 and so is new signing Henrikh Mkhitaryan. Even Aubameyang turns 30 next year.
A new manager with a fresh outlook would be expected to coax more from this group and it is easy to see that happening. But bridging the gap to the leaders? Where would he even start? Asked to pick out a single player in this squad whom Arsenal could begin to build their next great team around and Gunners legend Thierry Henry could not name one.


The difference between this and those other dynasties that came to an end is that there is no need for fear at Arsenal because the damage has already been done. Wenger will not be departing as a champion. Unless his players conjure up an unexpected upturn in form in the Europa League, he will not be getting the chance to end this season with a trophy either.
No, that opportunity was spurned back in May. Wenger has had his chances to retire a hero but instead he has stayed long enough to see himself become a villain in the eyes of some. It is now inevitable that his Arsenal will again finish outside of the top four - the first time that has happened to the club in back-to-back seasons since the days of Don Howe's reign.
If that is to be the end then it is a sad one. Sad for Wenger because the accomplishments of his first decade at the helm deserved better. But sad for Arsenal too, because he would be leaving behind a group of players in need of much more than a new voice. He would be leaving behind problems so big that it is no longer easy to see how anyone can fix them.