Arsene Wenger is not just leaving a job this summer. He's moving away from the house he helped build.
"It was a sad day because for me, I came here to make the first photos of the Emirates, and when the lorries came in to sort out the rubbish. I have seen this stadium worked on in every part, from your press conference room to the technical area. Of course it is part of myself."
So much has been said and written about Wenger's success and failures on the pitch in those glittering first 10 years and the 12 since, but to get a real grasp of his influence, you only need to look off it.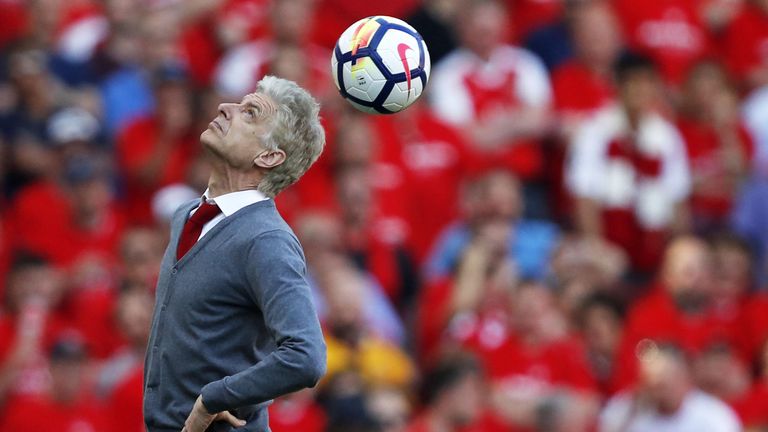 The Emirates is Wenger's grand design, and he doesn't quite know how he feels about handing over the keys.
"It's the last time and it's such a long time. Such a big love story, and of course you don't want to end it - but everything comes to an end. It will take a bit of time to reconnect and really know how I feel. It has not started to sink in yet."
On Sunday, during the 5-0 win over Burnley, Wenger rarely got off the sofa. He complained at the referee a handful of times, he got up to check on a couple of injuries, but for the majority of the game, he sat in deep conversation with Steve Bould, still caring about the outcome.
The fans sang his name as one, basking in the togetherness he has been requesting for many months, and both the club and the press offered gifts to the Frenchman as recognition of the way he has conducted himself over 22 years.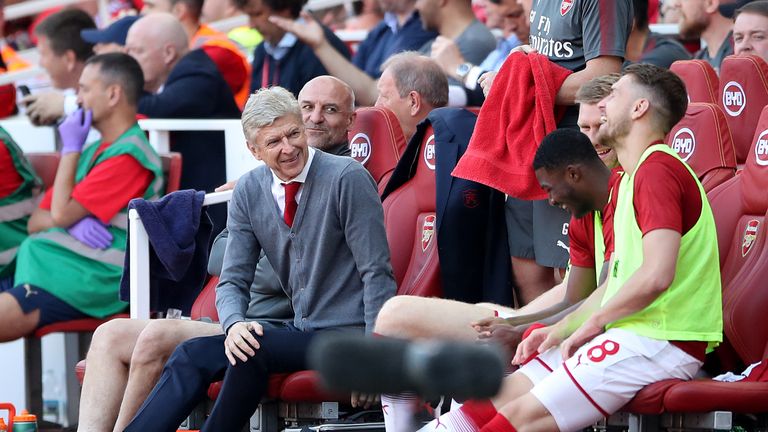 There were guests of honour; some fine words from Bob Wilson, and all those who had played over 100 games for Wenger were invited. No call for Invincible Pascal Cygan (98 appearances) yet no sign of Oleg Luzhny (110 appearances), and it says a lot that those who were in attendance were Wenger's best acquisitions from part one of his story, not part two.
But increasingly in the days since his announcement on April 20, Wenger has pointed us in the direction of this wonderful stadium, the club's infrastructure, and how he has successfully upheld that feeling of class and identity, encapsulated by Herbert Chapman's bust in the marble hallways of Highbury.
"The titles are important," he said after the game. "But over a long period integrity, values of the club and team spirit are the most important for me."
When he arrived at Arsenal in 1996, the club had already been planning to upgrade Highbury, but his quick success changed those ideas and also changed English football.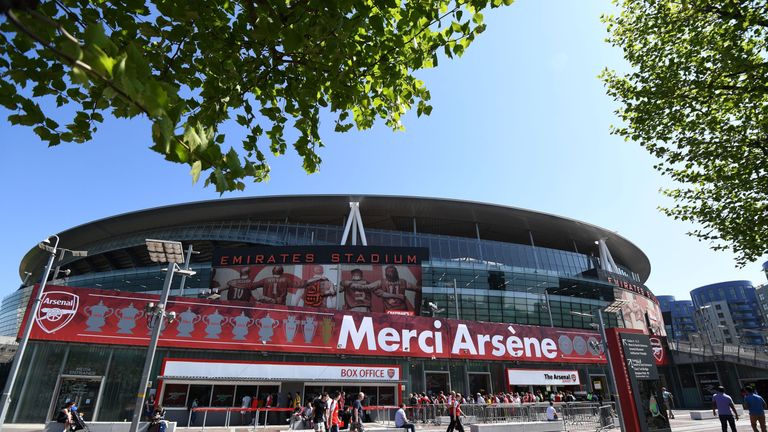 Soon, a huge plot of land down the road became the focus of campaigns, and finally an acquisition came. Wenger was at the forefront of it all.
"When we built the stadium the banks demanded that I signed for five years," Wenger said in 2016. "The banks wanted the technical consistency to guarantee that we have a chance to pay them back."
His influence didn't stop there. Wenger designed the entire dressing room, a curved structure with no corners, a nod to his strong belief in Feng Shui. It has acoustically-springed ceilings, meaning his voice can travel to all players equally. He believes if you hairdryer your players, you lose your temper, and therefore you lose the clinical thought process.
He also scrapped proposals to build a pillar in the home dressing room because he saw it as a potential barrier to communication. He had no such barriers while giving his speech on the pitch after full-time; there was silence while he spoke, with all 60,000 - and there were 60,000 this time - fixated on the 68-year-old.
Everywhere you turn at the Emirates, there are print marks of Wenger, and the man who brings his moving lorries down Hornsey Road this summer will work in an environment fit for champions.
Premier League football moved on fast in the 1990s, and Wenger was one of the main catalysts. But now, football is moving without Wenger, and the identity of the next manager is key if Arsenal are to make up the ground they have lost.
Whatever style he brings, Wenger will quietly hope the foundations he helped build and maintain are upheld. Wenger truly believes Arsenal are not far from becoming a side that brings this stadium the title it warrants.
"The new man inherits a team which is much better than people think it is, and I'm convinced, you can see the togetherness in the team is special. With the right additions this team will challenge next year."
Will he be around to watch?
"I will be happy to sit in the North Bank. The positive of that is, I can shout at the next manager from the North Bank!"